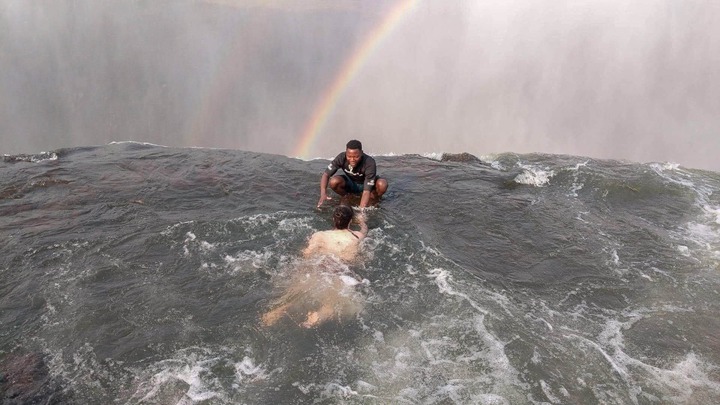 This is tge devils pool in victoria falls,the dam is located at the tip of the waterfall and tourists use the devils pool for swimming.Some people fear the pool because its too close to the edge of the falls,anyone can enter the pool besides young children for their safety,the devils pool got its name because of its sketchy and dangerous apoearance.
the pool is a great tourism experience for manny who want to be adventerous,victoria falls also has a lodge that you can book in and have lunch and breakfast.The waters has a great temperature its never too cold or too warm.tourists are accompanier by a lifeguard at all times when they enter the devils pool so its not as dangerous as they think.
The pool has a depth of 4 metres and the water levels are very slow and low,there are no heavy currents that can push anyone down unless if its after a heavy rain.Manny people have witnessed the pool and been inside for cooling off,Its sketchy and a bit unsafe if you have panick attacks because the falls are very high and have a height of almost 600 feet to the base.
Content created and supplied by: victornipho20 (via Opera News )