In 2020, beaches once packed with screaming kids, surfers, and sunbathers were suddenly barren. The pandemic cleared out the most popular vacation spots, and there were fewer people sifting through whatever the waves brought to shore. That's why those who did escape their homes to soak in the vibrant sunshine and saltwater breeze found some truly incredible stuff. No one expected to make these bizarre discoveries.
Floridians had a rough year: COVID and the pressures of being a swing state made sure news headlines were pointed right at the Sunshine State, and disastrous hurricanes wreaked havoc across iconic beaches. The disturbed sands, however, were how Mark O'Donoghue first spotted these rusted "spikes."
WTLV/NBC News
Ship Ahoy!
Mark O'Donoghue was walking down Florida's Crescent Beach when he came across sharp spikes rising from the sand. With his knowledge of marine history, he knew right away that it was ship wreckage. Confirmation from a local archaeological program proved him right, adding that the ship was from about 200 years ago.
Chuck Meide / Lighthouse Maritime Archaeological Program (LAMP)
29. LEGO
Before 2020 took a deep dive into hell, there were some happy surprises coming from the ocean. Some time in February, millions of LEGO pieces washed up along the coast of the British county of Cornwall. How these marine-themed LEGO found their way into the ocean has been put together, piece by piece.
Tracey Williams / BBC
The Lost LEGO
Dating back to back to 1997, the marine themed-LEGO were being shipped across the ocean to be sold in stores. When a huge wave smashed into the cargo ship, 62 containers holding the LEGO pieces were swept into the sea. Ironically, the assortment of squids and sea serpents were swimming in the ocean until 2020.
Cornish Plastic Pollution Coalition / Facebook
28. Ice Balls
We should've read the signs early on that the year was going to be a wild one, especially after the weird weather phenomenon on the shores of Lake Michigan. Holland State Park officials noticed bizarre boulders appearing along the shoreline back in February, but they were not the rocks they were used to. The round balls were completely made of ice.
Leda Olmsted / Daily News
Science In Action
Park employee Sean Mulligan said the balls varied from the "small size of a baseball to the large inflated balls people use for yoga." A sudden change in climate conditions created these ice balls: When the temperature falls just below freezing, soft ice collects. It's the force of the waves that forms the ice into round balls or boulders.
Ken Scott Photography / YouTube
27. Pleurobrachia Pileus Specimens
Just as 2020 seemed to calm down around the beginning of the summer, it had another small thing to throw at mankind. Along the shores of Blackpool in England were hundreds of tiny jelly-looking creatures. Experts arrived on the scene to figure out what exactly the public was dealing with.
Carter the Kid Animal Expert
Blob of Hope
After much debate, Debbie Williams of the Lancashire Living Seas Project put forth the winning theory. She believed the ominous looking blobs were specimens of Pleurobrachia pileus, better known as the sea gooseberry. When news spread about the harmless nature of the sea gooseberry, the people of Blackpool breathed a sigh of relief.
Biodiversity of the Central Coast
26. Neptune Ball
On beaches in Spain and south Australia, as well as Mediterranean waters, scientists started to realize a new trend in biodiversity. Small balls of seagrass were piling up in these areas, dragging along with them our plastic trash. After much studying, researchers realize what these tiny balls are up to.
Oplats/Wikimedia Commons. (CC BY-SA 4.0)
Cleaning Up House
It seems like the ocean is fighting back against pollution. When seagrass sheds its leaves in the fall, the remaining part of the plant, which is called the Neptune ball, washes ashore, absorbing large amounts of microplastics. This natural cleaning of the ocean just shows how important it is to take care of every part of our ecosystem.
Heather Dine / NOAA Photo Library
25. Giant Squid
South Africa's Adéle Grosse was taking her usual stroll along Britannia Bay beach when she spotted a giant squid washed up ashore (we can't show dead animals). With her husband, she hoped to return it back to its ocean home, but she realized the great giant was already dead. According to invertebrate zoologist Michael Vecchione, this was very strange.
Public Domain
Unlocking Mystery
It's not typical to find one of these marine animals washed ashore, and no one knows how the squid arrived at its final destination. Scientists took some of the vertebrae's DNA to study and learn more about these mysterious creatures of the deep. Hopefully a loss like this can be understood and avoided in the future.
Danté Fenolio / NOAA OER
24. A "Sea Mouse"
A discovery in December of 2020 had two Scottish men baffled and intrigued: Along the Northern beach of Granton, the capital of Edinburgh, they captured this furry friend for a moment to take pictures, then set it free back into the ocean. They were lucky to find someone on social media to help identify the widely unknown creature.
Foraging in Edinburgh / Facebook
Found Out
The photos were posted onto Facebook, and Matt Richardson joined the conversation with the answer, calling the creature a "sea mouse." The nickname isn't the most accurate description, as it is a kind of sea worm that feeds off other species of worms and small crabs at the bottom of the sea.
Tidepool Tim / YouTube
23. An Odd Corpse
In Great Britain's Ainsdale Sand Dunes National Nature Reserve (below), a mysterious and greatly disturbing corpse washed ashore: "It had four flippers," a man told the newspaper, "which made it look most weird. And it was furry. It was approximately 15 feet long and had bones sticking out everywhere...[It] stunk, too."
Ainsdale Sand Dunes and Ribble Estuary National Nature Reserves / Facebook
Clearing Up Speculation
With the photo of the marine carcass posted on Facebook, people were coming up with all sorts of explanations. Some believed in was horse or a cow, others believed it was something paranormal. Stephen Ayliffe, a member of Natural England, said the remains were most likely from a washed up whale.
Dr. Louis M. Herman / Public Domain
22. A Satellite
Not everything found ashore is from the ocean. An unidentified object was found on a beach in Guam, and locals agreed they spotted the object descending from the sky in a ball of fire. Find out where this UFO came from was on the top of their minds...
genopsyism / Reddit
Science Gone Wrong
That same day in April 2020, over 3,000 miles from the Guam beach was China's Xichang Space Center, where scientists were on a mission to put an Indonesian satellite into orbit. Instead of making it to space, the rocket broke into pieces and fell back to Earth... specifically onto the Guam beach.
genopsyism / Reddit
21. The Obelisk
A mirrored monolith popped up in the middle of beaches in the US, Germany, Great Britain, and many other countries, too. Speculation ran rampant, and with typical 2020 flair, some people predicted these structures meant the end of the world. But then Tom Dunford came clean.
The Utah highway patrol / Facebook / Ziar Piatra Neamt / Courtesy of Nic Mattson / Atascadero News
Installation of Discovery
A designer from Great Britain, Tom confessed to BBC that he wanted to be part of the new trend. "When I saw the first one pop up (in Utah) I thought it was brilliant," he said. "The second one popped up and I had a text from a friend which said 'You're the man that can do this on the island.'" The mirrored tower was soon taken off the beach and sold at $1,100 for charity.
ROB DA BANK/TWITTER
20. Sneakers
On the Dutch island of Terschelling, citizens were startled early one morning when they discovered thousands of running shoes covering the sand. Apparently, a cargo ship lost one of its containers during a violent storm, turning the beach into an outdoor Foot Locker.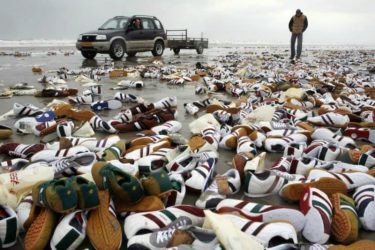 19. Piano
One afternoon, underneath the Brooklyn Bridge in New York City, someone came across a piano. Although the body was perfectly intact, it no longer played. No one ever found out who it belonged to.
18. Rubber Ducks
Back in 1992, a massive shipping crate full of hundreds of thousands of rubber ducks fell overboard in the middle of the ocean, and still to this day, massive amounts of these bath-time toys still occasionally wash up on the shores of various countries.
17. Giant LEGO
Not much is known about the Dutch painter and sculptor who calls himself Ego Leonard other than he works with large-scale fiberglass LEGO art. These oversized toys occasionally find themselves on shores all over the world.
16. Perfectly Formed Snowballs:
A Siberian beach was found blanketed in perfectly formed snowballs in 2016. This was due to an extremely rare phenomena causing pieces of ice to roll up and then become smoothly polished by the elements. Did someone say epic snowball fight?
15. Giant Eyeball
In 2012, someone came across a giant eyeball while walking along the shore in Fort Lauderdale, Florida. People naturally wanted to believe it came from some kind of undiscovered sea monster, but scientists determined it belonged to a massive swordfish.
14. E.T.
One afternoon, a person thought they saw a lifeless body floating in the shallow ocean water. Upon further inspection, it was actually a life-sized doll of E.T.! Talk about discovering something alien!
13. Bananas
In 2007, six enormous crates of bananas fell overboard from a ship traveling to Cuba. Almost all of them somehow made the long journey to the shores of Terschelling in the Netherlands. Yep, that's right. The same place that was the recipient of those thousands of pairs of running shoes. Weird...
12. Inscribed Rocks:
While people were taking a stroll along a beach in Oakville, Ontario, they came across a stack of rocks with inspirational and personal messages inscribed on them. Did whoever wrote them ever find their soulmate?
11. Mechanical Hand
Someone dropped a mechanical prosthetic hand into the water near Staten Island, New York, and it quickly washed ashore. Who did it belong to? Apparently, one very clumsy robot.
10. SpaceX Debris
On the beach of Elbow Bay in the Bahamas, people were in shock when they found massive chunks of metal lying in the shallow waters. Where did they come from? They were pieces of one of SpaceX Falcon 9's crashed rockets.
9. Intact Shipwreck
This ship, called Navagio, is a tourist attraction in Greece. It was built in 1937 and was used to smuggle cigarettes. After it was destroyed in a massive storm while trying to flee the Greek Navy in the 1980s, it eventually washed ashore on a beach in Navagio Bay.
8. Strange Gelatinous Blobs
Throughout 2015, about a billion of these weird gelatinous blobs of jelly called velella washed up on west coast shores of the United States. As dramatic and bizarre looking as the incident was, marine biologists actually said it happens roughly once every three to six years.
7. Doritos
On the beaches of North Carolina one morning, a massive shipping container full of Doritos washed ashore. Thousands of bags of the popular snack were strewn all over the sand, much to the delight of the hungry beachgoers.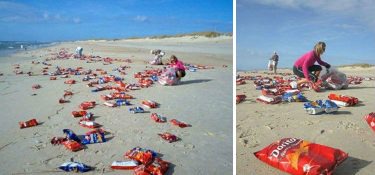 6. Flyswatters
In 2012, off the coast of Alaska, a cargo ship lost several crates of flyswatter with college sports teams' insignia printed on them. Insects beware, Notre Dame is coming for you...
5. Harley-Davidson Motorcycle
After a devastating tsunami hit Japan in 2011, one man's Harley-Davidson motorcycle was swept out to sea. Incredibly, it was found 5,000 miles away on a beach in British Columbia!
4. Dead Birds
Roughly 6,000 deceased waterfowl washed up on the shores of Georgian Bay in Ontario, Canada. Scientists believed they all consumed botulism-laced fish, and although die-offs of large numbers of birds isn't extremely unusual, the number of waterfowl had scientists quite startled.
3. Drugs
In 2013, off the coast of Japan, someone found six backpacks stuffed with packages of cocaine. The total weight of the narcotics was 78 kilograms, and police estimated the find to be worth $70 million!
2. Sea Mine
When one family came upon this mystery object at the beach, they initially thought it was some kind of buoy that made its way onto the land. In reality, however, it was actually a World War II-era mine!
1. Giant Pipes
Early one morning in August 2017, beach walkers in Norfolk, England, were greeted with massive sections of metal pipes. Some of them were as long as 1,500 feet and eight feet in diameter! They had reportedly broken off a Norwegian tug boat after it collided with an Icelandic container ship on its way to Algeria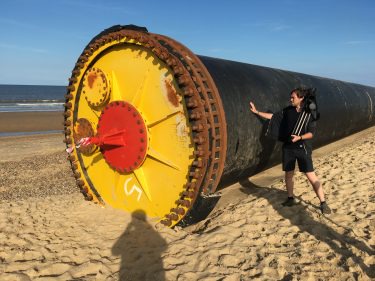 SHARE
Source: https://hermoments.com/s/most-bizarre-beaches?as=799&asv=1&bdk=0
Content created and supplied by: Wesley4658 (via Opera News )