Who Are You Deceiving? – See What A 17-Year Old Boy Was Caught Doing That Got People Talking
If you are yet to follow me, click on the "Follow" button at the top right corner of this page to keep receiving interesting updates from me anytime I post.
Have you ever wondered why people do what they do? Have you ever wondered why some people appear to be deceptive? Often times, people do what will make others wonder why they did what they did. It's no longer rare to see people trying to deceive others as some derive maximum joy from it. Here's a practical example of what I'm trying to tell you.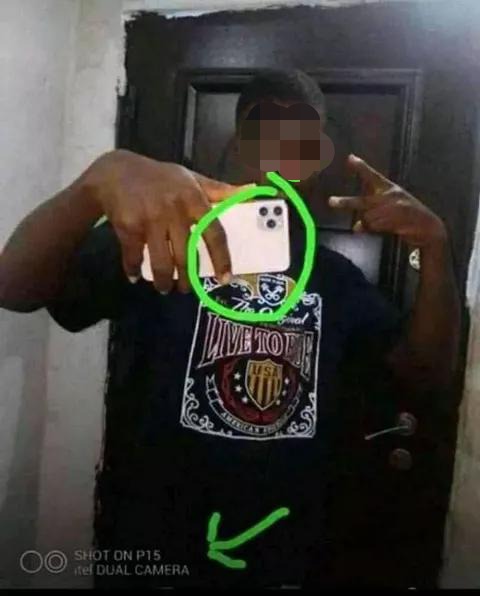 Presently, this image is making rounds online and people are seriously trolling this young guy for his poor deceptive skills. Taking a close look at the picture above you will find the boy pretending to be wielding and flexing the latest version of iPhone on his hands. A closer look at the picture shows that it's all lies and deceptions. He can't receive us.
Firstly, you will need to take a look at the watermark at the down left corner of the photo. There, you will find the real name of the camera taking the picture. The name written there was entirely of another smartphone brand and not iPhone.
Secondly, the quality of the picture is so bad and lacklustre for what iPhones offer. Even 6th generation iPhones can't offer this kind of picture quality.
Apparently, the boy carved out a shape similar to that housing the cameras on Iphone 11s. He carved it out and fixed it on his phone to look exactly like that of iPhone 11. However, he failed in his attempted deception as many were quick to point the deceit out.
Do you think he is deceptive? Or is he trying to show off? What do you think?
Follow me for more interesting updates.
Content created and supplied by: Pascal_writes (via Opera News )