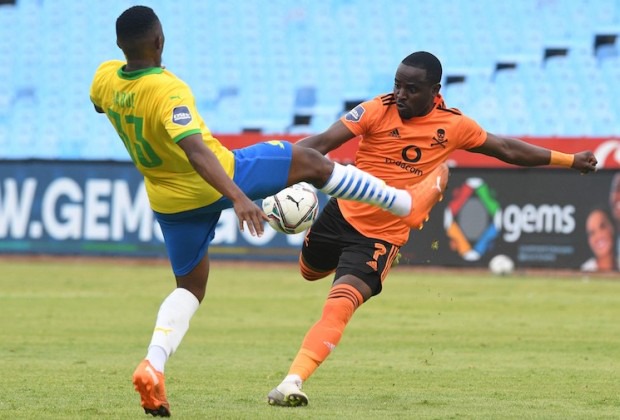 The current PSL top scorer award holder Mhango has been told to forget about the figures he reached last season and try to find ways to score goals again this season in order to remain relevant at Orlando Pirates.
Ghaba as popularly known, shared the top scorer award last season with Peter Shalulile, has just managed to score 2 goals in the league this campaign from 560 minutes played and is 11 goals behind this campaign leading top scorer in Bradley Grobler.
His current scoring record has left his countryman Chancy Gondwe converned ahead of Malawi's Africa Cup of Nations qualifiers games where they will play against South Sudan and Uganda this upcoming month.
"Mhango needs to understand that he is at Orlando Pirates and they have many options which will make them not to entirely depend on him," Gondwe advises his countryman.
"The competition is high at Pirates and he also need to show the coach that he wants to play and then he must deliver with every chance he gets. As a striker scoring goals must be your main priority and must be a way to silence critics and being able to remain in the team. There is no way that you can be dropped if you are scoring goals.
But when your not scoring the coach will have to look at other options available. Pirates coach cannot continue picking Mhango because of what he achieved last campaign. His current form must be a license that keep him within the team," Gondwe talking to KickOff.com.
"I need to talk to him personally because the national team depends on him. We need him to score goals for the team, but that must start from his club first. He need to perform at his club. He needs to pick himself up and find ways to get back into the team in order to score goals again."
Mhango's form has declined significantly and has left him with only 3 goals in 15 appearances in all competitions, leading to worries for the Flames' star man.
"I know that the Malawians think differently and only have interests of their own players at heart all the times, but at Pirates it works differently. Mhango needs to show the coach how much he wants to play. This is a new campaign and goals are needed again for him to remain in the team," Gondwe concludes.
Content created and supplied by: GeneralMelo (via Opera News )