10 New Directions For WWE After WrestleMania Backlash 2022
Huge WWE returns, Edge recruiting more members and SummerSlam's main event being set?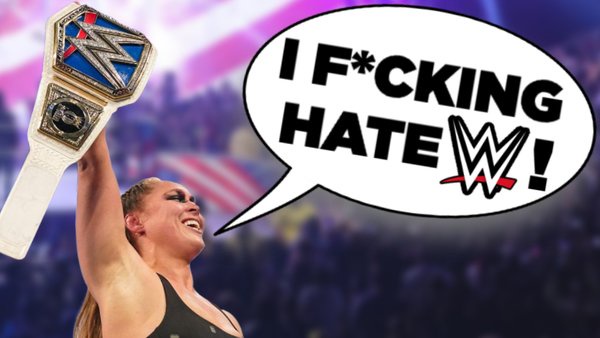 This year's WrestleMania Backlash was a concise, tight reminder that WWE's roster can entertain even when the creative team half-arsed it during the pay-per-view's build. Come Sunday, matches like Ronda Rousey vs. Charlotte Flair, Edge vs. AJ Styles, Cody Rhodes vs. Seth Rollins and a house show-riffic six-man delivered the goods.
Where-oh-where are they going next?
The answer? In lots of different directions. It might not have seemed like it heading in, but Backlash did drop hints all over the place about what's coming at Money In The Bank and SummerSlam in a few months. It didn't, however, really offer much for the upcoming Hell In A Cell show - WWE will deal with that as it comes.
'Mania Backlash featured big title changes, new faction members being revealed, and continued one star's roll towards the ultimate prize. Now, despite going into the show with an alarming lack of focus, Roman Reigns can look forward to some titanic clashes that'll surely put bums in seats.
Here's what WWE will have planned for the next couple of months. MITB and SummerSlam glory awaits a certain someone...
10. Madcap Moss Getting Repackaged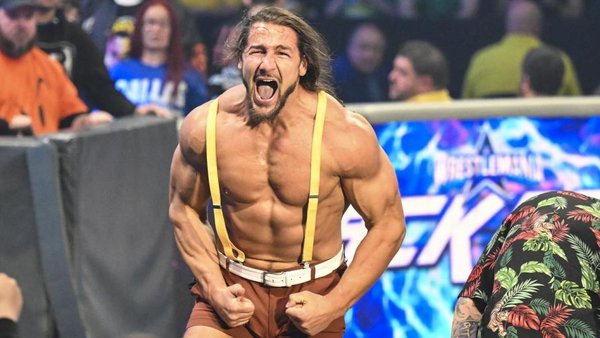 It's about time, let's be honest.
Madcap Moss once around turned up in those f*cking braces for a bout with his old 'Happy Folks' mate Baron Corbin. The 10-minute affair was given this pay-per-view's "death spot" (sandwiched in between the SmackDown Women's Title gimmick match and the main event six-man tag), but it wasn't awful.
Moss picked up the win, and WWE's next hurdle will be repackaging him into something different. One thing's become clear: Madcap cannot keep hurling naff jokes out there during promos. Something's got to give there - it'd be wise to totally switch him up into something different.
Creative can start with his ring attire. It's confusing that Moss has split from Corbin but still dresses like they're teaming up. The guy requires a wardrobe change, then he can phase out the gags and become a much more serious, well-rounded character. He deserves the chance to be something more on WWE TV.
9. Bobby Lashley Going To SmackDown?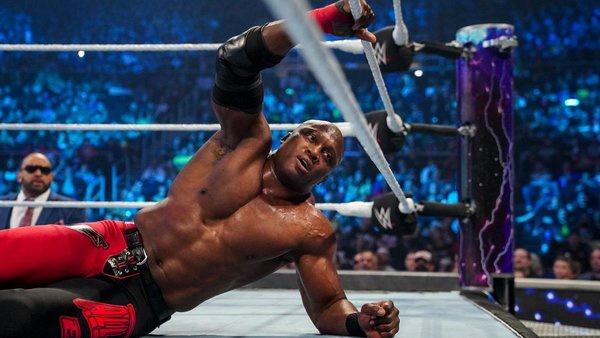 Rumours abound that WWE's next Draft will actually occur in late-July rather than the standard slot in October. If so, then that only gives some workers a few more months to kill time on their current brands before seeing a change of scenery. Bobby Lashley is one of those workers.
He's currently lost in the shuffle on Raw.
Theoretically, Lashley could work as a babyface challenger for Roman Reigns later this year. Of course, that depends on who WWE wants to dethrone the 'Tribal Chief'. If it's Drew McIntyre, then Bob shouldn't head to SmackDown. If it's Cody Rhodes, then he can. After all, he wouldn't be fighting for house room with a babyface champ if Cody wins it.
Lashley has been a Raw stalwart for years now. He's someone that WWE must be looking at as a possible Draft pick for Friday nights, especially now his only role on Mondays is to get hammered by heel giants like Omos.
8. Rhea Ripley = Raw's Top Heel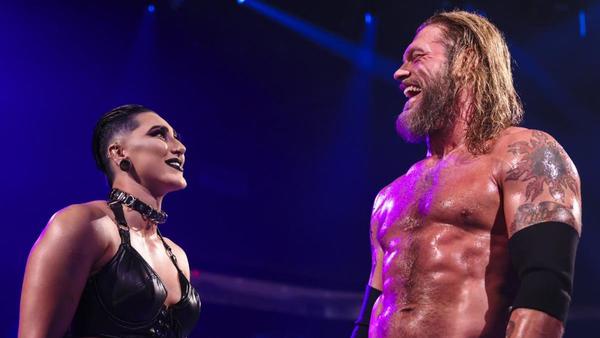 It might've been one of WWE's worst-kept-secrets of 2022, but Rhea Ripley linking up with Edge and Damian Priest in the Judgement Day faction makes perfect sense. She was going absolutely nowhere in tag-teams with the likes of Nikki A.S.H and Liv Morgan, and that had to change.
Seeing Rhea look to Edge as her leader is pretty sweet.
This booking represents hope for Ripley. She should parlay 'Mania Backlash's reveal into a major heel run on top of the Raw women's division. Now, that doesn't mean WWE needs to move on from Bianca Belair as champion right now, but they should start making plans for Rhea's coronation.
Edge's group will start racking up titles (because that's what villainous stables do) sooner rather than later. It'd be a bit of a letdown if this opportunity passed Ripley by and didn't lead to the stardom she's always merited on the company flagship.
Let her be a bad ass, please.
7. Edge Recruiting One More Member
Emphasis on "one".
Edge's updated Brood shouldn't become the nWo 'B' team or Nexus. In other words, it cannot be allowed to degenerate into a revolving door of wrestlers who need a quick rub or have nothing else to do. That, ladies and gents, isn't good enough for something this potentially-excellent.
A sharp-suited legend like Edge works as leader, and both Damian Priest and Rhea Ripley are fine supporting cast members. If WWE wants to get the most out of Judgement Day though, then they'll add in just one more member and lock the doors. Tommaso Ciampa would be this writer's top pick for that spot.
He has the menace, the experience and the WWE tenure (on NXT, at least) to make the most of it. That said, it'd be fine if Vince McMahon fancied experimenting with someone totally left field. Just...do not add members in willy nilly or give up on newbies too quickly.
6. Charlotte Flair Taking Time Off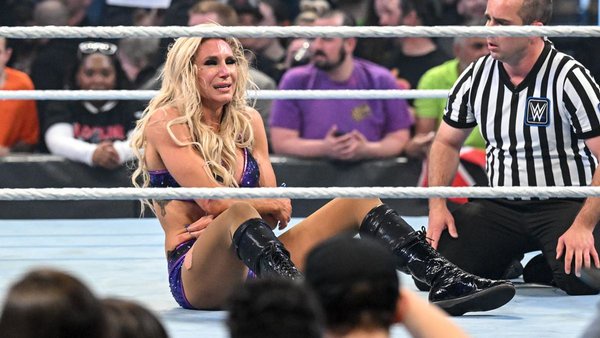 Say cheerio to Charlotte Flair for now; the dominant SmackDown star will waltz off WWE screens and walk down a different aisle. She's taking a sabbatical after 'Mania Backlash to marry AEW's Andrade El Idolo. All the best to the happy couple, but this is a necessary break for Flair as a character.
She'd started to dominate Smackers for all the wrong reasons, and it's true that Ronda Rousey was the last hope for a division that'd stacked full of no-hopers. Apologies if that's harsh, but it's plain truth. If Rousey couldn't make Charlotte say "I Quit", then who else could?!
The good news: WWE came through when it mattered.
Flair has been running pretty hard lately, and there's been a lurking dissatisfaction with the way she's handled compared to some others. Some believe Charlotte has been shoved down fan throats for too long, so some time away will do her career the world of good.
5. Ronda Rousey Turning Heel
That also opens doors for some others.
Ronda Rousey is visibly finding it hard to enjoy playing babyface. The important word there is "playing", because that's exactly what the ex-UFC fighter is doing. There's nothing organic about her smile, her high fives for fans or even her celebration after winning the SmackDown Women's Title.
Turning Ronda heel and casting her as someone who looks down on pro wrestling/WWE life is essential. Rousey has already been very outspoken in interviews about this sort of thing, so it'd be a more comfortable character for her to play. At least it wouldn't seem like she's going through the motions or pretending to be someone she isn't.
Then, maybe Bayley could return and fight for the honour of WWE fans worldwide. She'll be cheered when she comes back anyway, and it's important that creative stops fighting against the tide in the women's division.
Ronda hating on WWE and holding the belt out of spite would work.
4. WWE Unifying The Tag Belts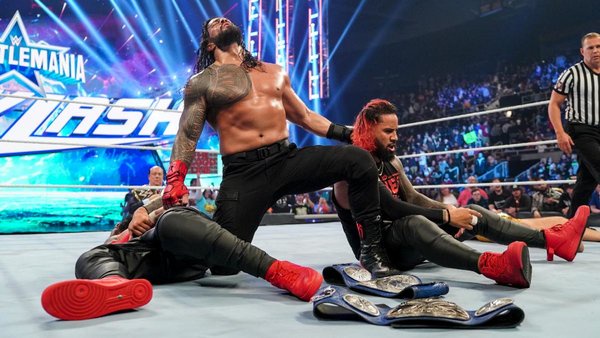 If that six-man headliner at 'Mania Backlash achieved one thing, it was buying WWE some more time before unifying both the Raw and SmackDown Tag-Team Titles. They'll probably do that soon, and might even lock The Usos vs. RK-Bro inside Hell In A Cell on 5 June.
Why not? The promotion don't exactly have many viable options for the cage on that pay-per-view. Sticking a tag bout in there, especially if they ramp up the violence between both duos over the next few weeks on TV, could turn out to be an inspired idea.
Remember Jimmy and Jey vs. New Day in 2017? Yeah, think a sequel to that.
WWE don't really have enough top-tier tag-teams to warrant two separate divisions right now. "Touring" champs who flit between Raw and SmackDown would be the best bet going forwards, and it'd also compel the writers to book non-title feuds that build fresh challengers ahead of schedule.
3. Drew McIntyre's Winning Streak
There's only one main event that sounds right for September's Clash At The Castle stadium show in Cardiff: Drew McIntyre vs. Roman Reigns. WWE's problem is how to get there without giving in to temptation and having the pair collide at HIAC, MITB or SummerSlam.
Christ, the calendar is pretty busy eh?!
Understatement of the year contender there, granted. Still, there's an easy way to keep Drew busy in the interim and make sure he's a fire-breathing dragon (ahem) before getting to Wales - WWE should give McIntyre a healthy winning streak. Honestly, he doesn't need to lose at all before Clash.
Fans will forgive this, because Drew is believably dominant and likeable enough that peeps won't turn on him before September. Multi-man gimmick bouts like Money In The Bank wouldn't count either, 'cause McIntyre wouldn't be taking a fall or tapping out even if he didn't haul down the briefcase.
That's reserved for somebody else anyway...
2. Cody Rhodes Winning MITB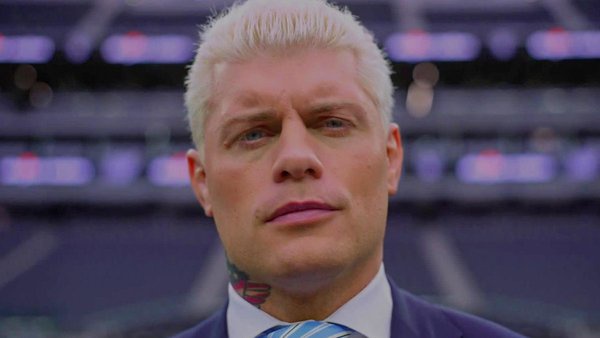 ...and he's the grandson of a plumber.
Cody's entire WWE comeback story has revolved around the notion that he craves the WWE World Title and must win it as a tribute to his fallen father Dusty. There's a stunning thread of truth running through the whole thing, and that's what makes it so special.
Rhodes hosted an ad for Money In The Bank at 'Mania Backlash. He's the face of the show's build, and that can surely only mean that Cody will be heavily involved come 2 July at Allegiant Stadium. There, in Las Vegas, he should pull down the briefcase and confirm his intentions to win the Undisputed belt from Roman Reigns.
That has to be in the back of Vinnie Mac's mind as a possible roadmap for the summer months. Cody walks like a star, talks like a star and wrestles like he believes he's the best around. Having MITB in his hands would only be a temporary thing though.
1. Then Challenging At SummerSlam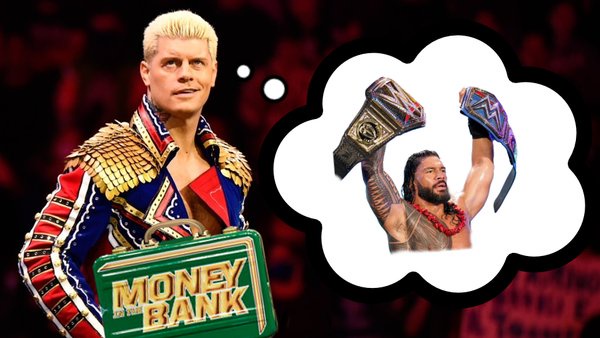 SummerSlam destiny awaits.
Nissan Stadium in Nashville will host this year's "Biggest Party Of The Summer". That's the ideal time to pull the trigger on Cody's Money In The Bank cash in and propel him towards a date with Roman Reigns and the Undisputed WWE Universal Title.
Cody vs. Roman is big enough to main event that pay-per-view. The story writes itself; Rhodes took himself out of the WWE game and danced off to create an entirely new platform for himself. Then, when that failed, he returned to find that Reigns had taken over. That'd be how the champ would view it, at least.
Meanwhile, heartfelt promos from Cody would rally support in his corner. Surprise MITB cash ins are played out now anyway, and it's not like Rhodes would be the first to name his date. In fact, something like that is in-character for him.
Content created and supplied by: Wrestlinguy (via Opera News )
Opera News is a free to use platform and the views and opinions expressed herein are solely those of the author and do not represent, reflect or express the views of Opera News. Any/all written content and images displayed are provided by the blogger/author, appear herein as submitted by the blogger/author and are unedited by Opera News. Opera News does not consent to nor does it condone the posting of any content that violates the rights (including the copyrights) of any third party, nor content that may malign, inter alia, any religion, ethnic group, organization, gender, company, or individual. Opera News furthermore does not condone the use of our platform for the purposes encouraging/endorsing hate speech, violation of human rights and/or utterances of a defamatory nature. If the content contained herein violates any of your rights, including those of copyright, and/or violates any the above mentioned factors, you are requested to immediately notify us using via the following email address operanews-external(at)opera.com and/or report the article using the available reporting functionality built into our Platform See More