10 Genius Wrestling Decisions Made Up On The Fly
Outstanding grapplers like Shawn Michaels and CM Punk not only stealing the show, but saving it too.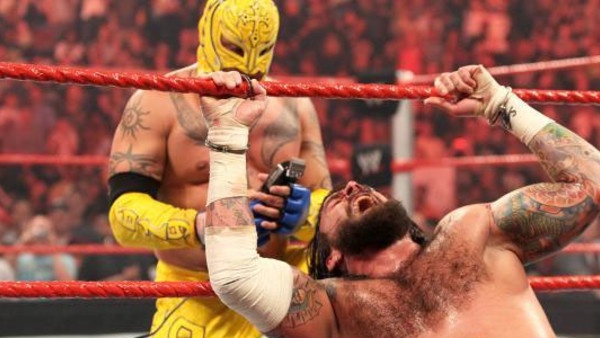 Improvising promos and calling matches on the fly has led to some monumental moments in pro wrestling.
It's how we ended up with such famous lines as Ric Flair's "With a tear in my eye" and Chris Jericho's "A little bit of the bubbly!", and legendary spots like Kurt Angle relentlessly belly-to-belly suplexing Shane McMahon threw pexiglass until it broke.
WWE in particular has received its fair share of criticism over the years for overly scripting promos and telegraphing finishes, and not giving its Superstars the freedom they desperately want to get over. But sometimes, the superstars come up against moments where they have to call spots on the fly, and ultimately sink or swim on live TV in front of thousands of fans in attendance, when catastrophic circumstances happen in matches.
If you ever want to know how great a wrestler truly is, look to see how well they do under pressure. With it being far too much for some, and crumbling under the stress of it all. But grapplers like these are so good at what they do they can ad-lib when necessary and turn the whole match/angle around for the better...
10. The Kabuki Warriors Vs. Becky Lynch And Charlotte Flair (TLC 2019)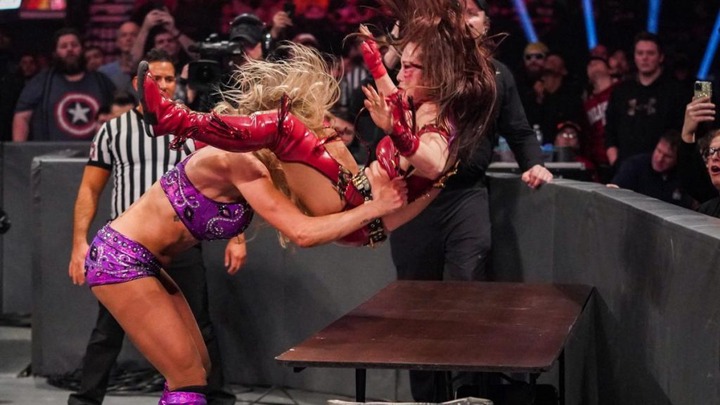 Kairi Sane suffered a devastating concussion in her match at TLC, when she teamed with Asuka to defend their Women's Tag Team Championship against Becky Lynch and Charlotte Flair in the headline attraction of the show.
Somewhere in the match Sane got hurt, and it was evident to most watching in spots with Charlotte where she could barely stand when taking a spear and a powerbomb. With WWE's rigid safety protocol with concussions, it's a wonder WWE didn't immediately take Sane out of the match.
But as soon as Becky realised Kairi was hurt, 'The Man' did everything she could to protect her for the rest of the match. Most notably in fan footage from the event showing Becky shrewdly rolling Kairi under the ring to prevent her from getting any more hurt than she already was.
Becky was the one who took control of the match as it was turning chaotic and disorganised, proving to everyone why exactly she was the female face of the company. Becky communicated with Asuka after hitting a Bexpolder on her that they quickly need a new finish to the match, with Kairi out of action. And that's how we got the rushed but excellent finish of Asuka solely pulling Becky off the ladder with a rope (wrapped around it), picking up the win and keeping the titles for her and Kairi.
9. The Rock Vs. Hollywood Hulk Hogan (WWE WrestleMania X8)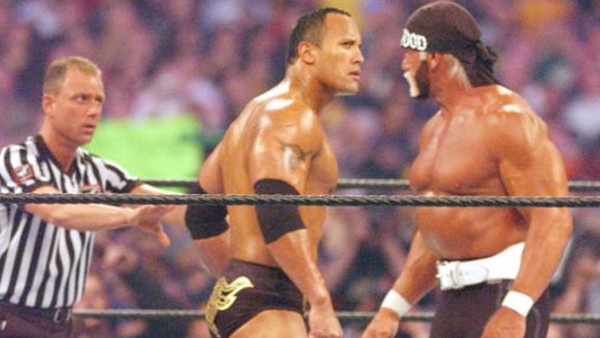 The Rock squaring up against Hollywood Hulk Hogan at WrestleMania X8 in their classic "Icon vs. Icon" encounter drew one of the loudest reactions ever for a pro wrestling match.
But what's fascinating about the match is Rock entered as the beloved biggest babyface in the company, and Hogan came to the ring as the vile villain who casually tried murdering The People's Champion on a Raw prior to 'Mania by driving a truck into him. Yet, as the match played out, and a rush of nostalgia came over the audience for seeing their childhood hero Hogan on a WrestleMania card for the first time in nearly 10 years, the crowd turned on Rock and started cheering The Hulkster without interruption.
Hogan threw Rock to the mat at one point, with Rock's gut telling him to sell it like a heel and as if he had been hugely embarrassed in front of 68,000 people. Rock and Hogan, two of the best ever to listen to a live audience, knew instinctively what to do and immediately swapped roles in the match.
Rock on a Q&A video posted to YouTube spoke of that moment:
"What that decision did, it gave 68,000 people the runway and the platform to not be conflicted in that moment, they went, ohhh, and you can hear 68,000 people go, ahhhh, because what it did, it immediately identified, great, Rock is the bad guy, Hulk Hogan is the good guy, it's OK that I cheer for Hulk Hogan because of how Rock just reacted."
8. Mankind Vs. The Undertaker (WWE King Of The Ring 1998)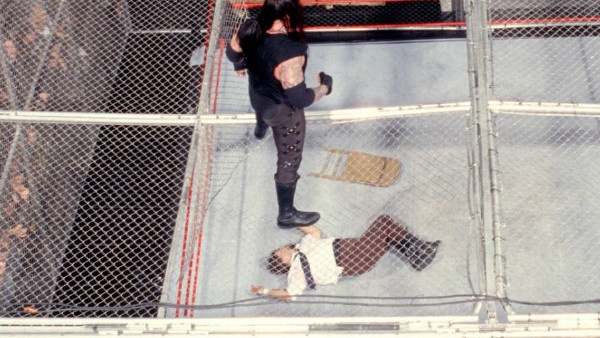 Mankind and The Undertaker's Hell in a Cell match maybe the most famous encounter from the celebrated Attitude Era. Heck, the match has its own Wikipedia page after all.
It's deserving of it though, with the brutality and threshold of pain Mick Foley took in the match being unbelievable, and contributing to Foley living with nagging pain for the rest of his life. The most vicious part of their Cell encounter was the (unplanned) spot where The Dead Man chokeslammed Foley through the top of the cell. Foley was knocked unconscious and suffered a plethora of injuries, and Undertaker for real thought he may have died.
Backstage personnel swarmed the ring to check on Foley's wellbeing. Terry Funk included, who was gravely concerned for his good friend Mick. Needing to stall and save some time as Foley was being seen to, Undertaker and Terry Funk impulsively started brawling, with Undertaker chokeslamming Terry Funk out of his shoes in a memorable moment. It gave Foley just enough time to get his bearings and finish the match and take more vicious abuse to his body.
7. The 2005 Royal Rumble Match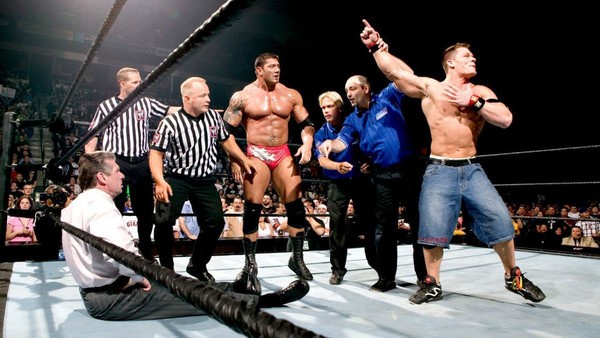 The memorable ending to the Royal Rumble main event in 2005 has been widely discussed, scrutinized and analysed for years by fans and journalists. It's often said anything can happen in World Wrestling Entertainment, and that was no more evident than Batista and John Cena screwing up the finish to the 30-man match.
The plan had always been for Batista to eliminate Cena cleanly and dominantly to boost his status going into his first time headlining WrestleMania against Triple H for the World title. But as know that didn't exactly happen, with Batista trying to powerbomb Cena but their balance being so off it sent both of them over the ropes and crashing down hard on the ringside floor at the same time.
At first WWE executives scrambled to see if they could find a camera angle that showed Cena's feet touching the floor first. When they couldn't locate one, the announcers started hyping the drama of the double elimination as Vince McMahon furiously marched to the ring to restart the match (and legitimately tear both his quads on live TV in the process).
Only adding to the drama and fanfare, Vince off-the-cuff ordered the match to restart, and Batista threw Cena over the tope rope decisively for the win.
6. Rated-RKO Vs. D-Generation X (WWE New Year's Revolution 2007)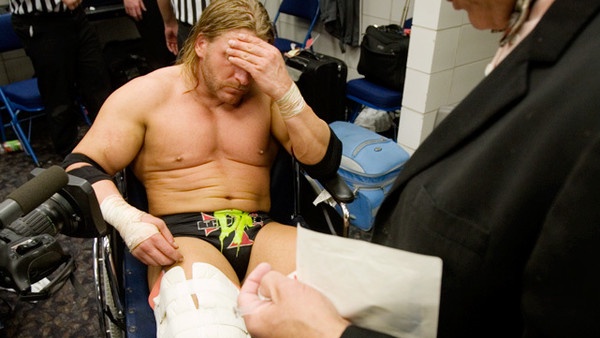 If you ever need evidence of Shawn Michaels being one of the best ever to lace up a pair of boots and being an outstanding in-ring general, look no further than New Year's Revolution (2007) when he tagged with Triple H to take on Edge and Randy Orton for the World Tag Team Championship.
Towards the end of the match Triple H, after a hot tag, ended up taking out Edge and delivering a spinebuster on Orton that tore his quad. HHH quickly realized the extent of the injury, with the referee immediately throwing up the dreaded X sign. 'The Game' was barely able to stand, but tried to hobble through the remaining spots they had planned out in the match. Shawn took note of Triple H's struggle and right away went to work on saving the match.
HBK hit a suicide dive through the ring on Orton, took out the referee without hesitation, started throwing chair shots at Rated-RKO like a man possessed, and laid out a bloody Orton with an elbow drop through the announce table as the match ended in a no-contest.
Throwing together a finish like this on-the-spot is an underappreciated career highlight for The Showstopper.
5. Ric Flair Vs. Jack Veneno (Wrestling In The Dominican Republic)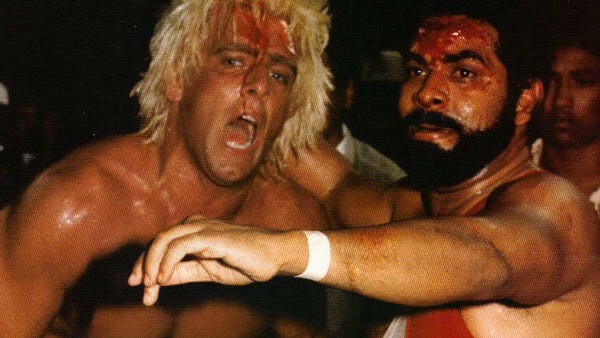 'The Nature Boy' and travelling/defending NWA World Heavyweight Champion Ric Flair took on local legend Jack Veneno in the Dominican Republic in 1982 in a match famous for its unrecognized title change finish.
Flair was always supposed to go over, but fan support grew so strong and intensified for Veneno throughout that Ric was in real danger if he came out on top (as planned). Roddy Piper accompanied Flair on the trip, with the intention being he would screw Veneno out of the title. But when Piper tried to interfere Flair saw the incredible sight of soldiers around the ring pointing rifles directly at Piper's head, almost daring him to do a run-in. Only in pro wrestling...
Realizing the gravity of the situation, and wanting to get out of the ring alive and not being torn apart by the local crowd, Flair instructed Veno to quickly roll him up into a small package for the impromptu win, yelling at him "Put on the belt! Do you hear me? You're the f***in' champion! Wear the f***in' belt!" So Veneno celebrated, and Flair and Piper ran for their lives out of the building.
4. Bret Hart Vs. Stone Cold Steve Austin (WWE WrestleMania 13)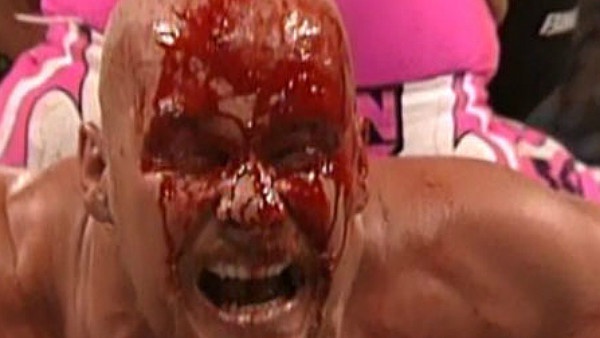 For years in their highlight and promotional videos, WWE featured the legendary image of Stone Cold Steve Austin wailing in agony and drenched in his own blood as Bret Hart had the sharpshooter locked in on him.
What's so astonishing about that spot is it was called on the fly and went against all company policy.
WWE had a strict no blood code in 1997, but Bret strongly believed if Austin was going to pass out in the sharpshooter he needed to get some colour to save face, so suggested the idea to Austin prior to the match. Steve was unsure, being relatively new to the company, and didn't want to be part of anything that would end up burying him. He had seen firsthand how the Curtain Call had severely stalled Triple H's push. So Steve and Bret decided to make a judgement call in the ring whether or not he would bleed.
Feeling the momentum of the classic match they were building, Steve chose colour. It happened when Hart threw Austin hard on the guard rail and amazingly bladed Austin in front of ringside fans and Vince McMahon on commentary, with no one being none the wiser and thinking Austin cut himself hardway.
Austin has spoken of the spot on Talk is Jericho noting that:
"I'm so glad he did because, had I would have done the same exact thing, the way I sold that, I can't say I'm blowing smoke up my a*s, but, I sold it like a motherf*cker. Had I not had all that red sh*t on my face, streaming through my teeth, and then you see how much blood I actually lost, and it wasn't one of those gore fests, because you can go too hard and get too much and it becomes distracting and hard to watch. This was not hard to watch. This just added so much level to the struggle that I was going through, but was not just a turnoff. So, it became one of the most iconic images, in my opinion, in the history of the wrestling business. I'm not going to say the most, but one of the most."
3. Chris Jericho Vs. Neville (WWE Monday Night Raw)
Chris Jericho proved once again how valuable of a veteran he is for working with younger talent when taking on Neville on Raw in 2016.
The finish was supposed to be Neville trying to land a Frankensteiner on Jericho, only for it to be shrewdly reversed into the Walls of Jericho. But Neville legitimately badly injured his ankle from a simple baseball slide in the match.
He tried to persevere, but kept buckling under his own weight, which meant Jericho had to quickly improvise. He rolled Neville up for a quick 1-2-3 to save Neville any more agony, but referee Charles Robinson hadn't realized Neville was hurt and stopped the count at 2 when he saw Neville's shoulders weren't directly on the mat.
Jericho once again then had to improvise and ended up in a heated exchange with Robinson in the corner that got him disqualified when he got persistently in Robinson's face. Jericho didn't panic under pressure of live TV and did everything he could to protect Neville and stay true to his shady heel persona. There's a reason his trucks have 'G.O.A.T' on them after all.
2. CM Punk Vs. Rey Mysterio (WWE Over The Limit 2010)
A lot was riding on the outcome of the 'Straight Edge Society Pledge vs. Hair match' between CM Punk and Rey Mysterio at Over the Limit 2010.
Early on Mysterio hit a headscissors takedown on Punk, which sent him crashing face-first to the ringside barrier, which caused Punk to be busted open hardway. Under WWE's strict rules and regulations, the match had to be stopped for nearly three minutes as the referee and medical official tried to stop the blood flow, which felt so much longer for the performers and fans in attendance that night. Especially Punk, who visibly started growing agitated throughout the process, with the crowd turning on the match and boos raining down on the ring.
As soon as Punk got the all clear, he made the decision right there and then he was gonna get the crowd back into the match no matter what. He sprinted at Mysterio and hit a baseball slide on him, sending him hurling to the ringside floor. He then spent the next few minutes beating the holy hell out of Mysterio and taunting the crowd.
When most wrestlers would have found the pause in the match as a negative, Punk turned it into a positive; tactically waiting to attack Mysterio.
Blood continued flowing from Punk's forehead afterwards, but he refused further medical attention, not caring about the consequences and wanting to deliver a worthwhile match, that ended with Punk losing and having to have his head shaved.
1. Jay White Vs. Juice Robinson (NJPW G1 Special)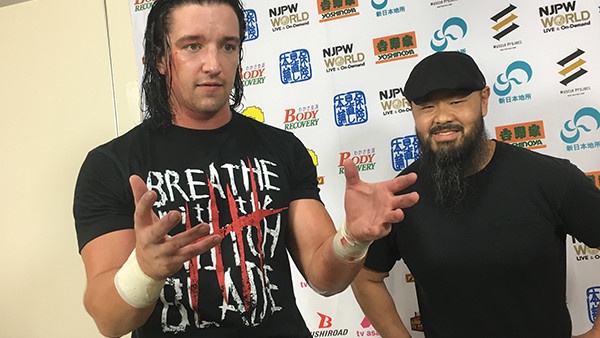 When Jay White suplexed Juice Robinson into the guard rail in their IWGP United States Heavyweight Championship match, Robinson hit so hard that that Jim Ross, doing commentary behind it, was thrown out of his chair and suffered legitimate rib and lung injuries.
It would have been easy for White to have abandoned kayfabe and check up on Ross, but White went the complete other way and doubled down, continuously taunting Ross. Josh Barnett, an MMA legend and Ross' commentary partner, became enraged. He took off his headset and started chasing White around the ring to a huge pop from the crowd. It enabled the competitors to stall as Ross was checked on at ringside and took Jay White's chicken-s*** heel persona to a new level.
It's a testament to White. Most wrestlers would have been scared beyond belief if Josh Barnett started furiously chasing them. White got such strong heat over it too. Whether intended or not, it gave White the rub from Barnett's legitimate MMA background, and it gave NJPW the confidence to invest and push in White more than ever before.
Robinson ended up winning the match, but White came out the star.
Content created and supplied by: Wrestlinguy (via Opera News )
Opera News is a free to use platform and the views and opinions expressed herein are solely those of the author and do not represent, reflect or express the views of Opera News. Any/all written content and images displayed are provided by the blogger/author, appear herein as submitted by the blogger/author and are unedited by Opera News. Opera News does not consent to nor does it condone the posting of any content that violates the rights (including the copyrights) of any third party, nor content that may malign, inter alia, any religion, ethnic group, organization, gender, company, or individual. Opera News furthermore does not condone the use of our platform for the purposes encouraging/endorsing hate speech, violation of human rights and/or utterances of a defamatory nature. If the content contained herein violates any of your rights, including those of copyright, and/or violates any the above mentioned factors, you are requested to immediately notify us using via the following email address operanews-external(at)opera.com and/or report the article using the available reporting functionality built into our Platform See More