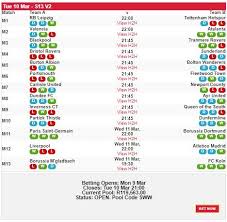 soccer 13th is one of the best soccer bets that most of us go for on our weekends off most people all over the world can agree with me that we all play this type of game for just sides income or as a hobby.
we have the following matches today.
Liverpool vs Everton
Fulham vs Sheffield United
Burnley vs West Brom
Bristol City vs Barnsley
Cardiff City vs Preston North
Hudders field town vs Swansea City
Nottingham Forest vs Blackburn Rovers
Queens Park Rangers vs Bournemouth
Millwall vs Wycombe Wanderers
Norwich vs Rotherham United
Reading vs Middlesbrough
Sheffield Wednesday vs Birmingham City
Stoke City vs Luton Town
for all these matches you can change your life by just putting a little cent into every match above her is how you can bet
you put loose, win, and draw.
but you can beat the matches by closing every match. good luck
Content created and supplied by: Globaltalk12 (via Opera News )