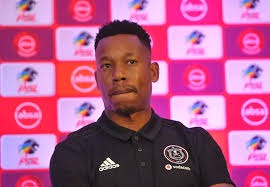 Happy Jele, popularly known as Magents is a South African footballer who plays the position of centre-back and right-back for Orlando Pirates in the Soccer League. He is a living legend in South Africa's football and his success is evident.
The South African footballer was born in Middleburg, Mpumalanga. He was born on the 1st of January 1987. Magents for the longest time had been playing for the Walter Stars Football Club before he joined Pirates on 1st August 2006, at age of 19-years-old and has been in the team ever since. His first match for the team was in September 2006, against Maritzburg United.
Having been in the club for more than a decade, Happy is one of the top paid football players in South Africa, receiving around R160,000 a month which adds up to R2 million a year. Apart from football, Quinton is also a brand ambassador for Barloworld Centrurion and Lexus. He is a motivational speaker and owns several businesses.
The Orlando Pirates football player first started with a Toyota FJ Cruiser SUV and he currently moves about with a line of luxurious Lexus cars including RC350 F-sport, RX 350 and RCF-sport, among other cars.
It is not known where the footballers lives presently. He however has shared photos of his significant other and daughter on social media and they seem to be a merry family.
In the latest, Happy Jele news the Orlando Pirates defender has urged everyone to play their part to help contain the spread of covid
Content created and supplied by: Amantlemahle (via Opera News )