WWE went in different directions with the men's and women's Royal Rumble matches
While there are other meaningful matches on every WWE Royal Rumble pay-per-view card, the Royal Rumble matches themselves are the true highlight of the annual event. In 2021, both the men's and women's side featured impressive performances that saw the winners last nearly a full hour before securing their shot at a world title at WrestleMania.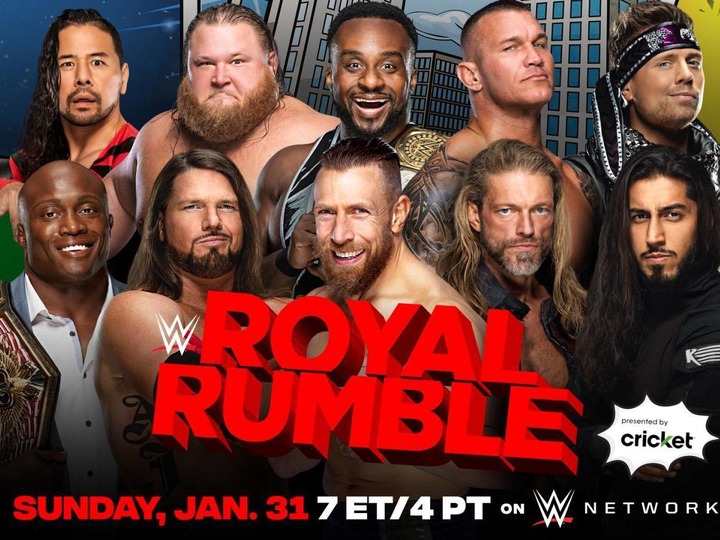 On the women's side, Bianca Belair battled from the No. 3 spot, outlasting 29 other women before last eliminating Rhea Ripley. While Belair represents the new blood on the WWE roster, the men's side was won by a legend when Edge last eliminated Randy Orton to secure his title shot. Edge's win was the second time he had won a Royal Rumble match, this effort coming 11 years to the day after his previous victory.
Those two matches will be the lasting memories from the 2021 WWE Royal Rumble pay-per-view, but the card was filled with entertaining and satisfying action from top to bottom.
CBS Sports was with you the whole way through the event, providing results and grades as the action went down. Read on for everything you need to know coming out of the Royal Rumble and scroll further for highlights from the show.
2021 WWE Royal Rumble results, grades
Women's Tag Team Championship -- Charlotte Flair & Asuka (c) vs. Nia Jax & Shayna Baszler (Kickoff Show): Flair and Asuka got things off to a good start, with Flair handling Baszler before Asuka took the fight to Jax. Baszler and Jax eventually took over by isolating Asuka and wearing her down while an anxious Flair paced on the ring apron. Flair eventually got the hot tag and ran through Baszler before hitting a double Natural Selection and scoring a near fall. Ric Flair's music hit, leading to a distraction that almost allowed Baszler to score a roll-up on Charlotte. Lacey Evans then interrupted from ringside, including pulling Charlotte's arms out while she was in the Figure Eight. Ric handed Evans something to load her fist and hit the Women's Right when Charlotte locked in the hold again, setting up Jax to pin Charlotte after a leg drop for the win to capture the titles. The match was fine, but the ending was entirely predictable and the tag titles continue to be more prop than valuable asset. Jax & Baszler def. Flair & Asuka (c) via pinfall to win the titles -- Grade: B-
WWE Championship -- Drew McIntyre (c) vs. Goldberg: McIntyre hit Goldberg with the Glasgow Kiss dropped him with a spear before the match started, taking the action outside where Goldberg threw him into the ring steps before spearing him through the barricade. McIntyre eventually made his way back into the ring for the bell to ring, starting the match. McIntyre hit a Claymore seconds later, but Goldberg kicked out. Goldberg followed with two more spears for his own near fall. McIntyre again kicked out after a Jackhammer. McIntyre hit another Claymore, scoring the pin and retaining the title. After the match, Goldberg nodded, told McIntyre "You passed the test," and the two shared a handshake and hug. The match was short, as expected, and followed the "Goldberg Formula," for better or worse. For a match nobody really wanted to see, it was as inoffensive as possible, if unspectacular. McIntyre (c) def. Goldberg via pinfall to retain the title -- Grade: C+
SmackDown Women's Championship -- Sasha Banks (c) vs. Carmella: Banks was one step ahead early, but interference from Reginald allowed Carmella to take over the action outside put Banks on the defensive. Carmella continued to blast away at Banks with elbows and forearms and Banks began grabbing at her knee after hitting a meteora, allowing Carmella to continue running the match. Carmella threw Banks from the ring, where she was caught by Reginald. After Banks hit a huricanrana on Reginald, he was ejected from ringside, but Carmella hit Banks -- and the floor -- face-first on a suicide dive. Banks started rolling but Carmella countered a frog splash by getting her knees up and then locked in the Code of Silence to nearly force a submission. Moments later, it was Banks who got the submission with the Banks Statement, retaining her title. Carmella is a limited worker in some ways, but when she is working heel against a very good wrestler like Banks, she can more than hold her own playing into nastier offensive tendencies. Not everything here was smooth, but Banks is so good and Carmella good enough that there was plenty to like. Banks (c) def. Carmella via submission to retain the title -- Grade: B
Women's Royal Rumble: Bayley and Naomi started as No. 1 and 2, respectively. There were no eliminations before Bayley had to deal with her rival in No. 3 entrant Bianca Belair. After coming out at No. 4, Billie Kay settled in at the announce table rather than enter the ring before the first NXT entrant of the night, Shotzi Blackheart. Contestants continued to pile up as no eliminations were scored until Shayna Baszler dumped Blackheart for the first elimination of the match.Former superstar Jillian Hall was the first true surprise entrant of the night, forming an alliance with Kay to form "Billie and Jilly." Victoria also made her return, entering the match at No. 10. Participants continued to pile up in the ring with eliminations hard to come by before Hall was finally the second woman out, followed by Kay and the match settled into a more familiar rhythm after Rhea Ripley entered the match and she and Baszler began to clear out the ring.
Ric Flair's music hit -- with Charlotte already in the ring -- though Ric was only there to escort Lacey Evans to the ring, wearing the same robe as Charlotte wore earlier in the night. Charlotte and Evans battled immediately before an angry Flair turned her attention back to the rest of the participants. Mickie James also made her return, coming in at No. 19. Another return came at No. 21 with Alicia Fox, but R-Truth's music hit right after and he announced he was at the wrong Royal Rumble before being pursued by 24/7 title seekers, only to be pinned by Fox to win her the 24/7 belt.
Ripley continued to impress, scoring several eliminations. Belair also continued hanging around despite her No. 2 entry into the match. In the near-elimination spot, Naomi was thrown from the ring but landed on her back with her feet in the air, she then used Belair to climb her way back into the ring. Alexa Bliss entered at No. 27 and as she was preparing to transform as in recent weeks, Ripley eliminated her from behind. Nia Jax entered and she and Baszler went on a run of eliminations to thin the field late before brawling with each other and Jax eventually eliminated Baszler and was the eliminated by Lana before Natalya entered in the No. 30 spot to complete the field.
The final four in the match came down to Natalya, Belair, Flair and Ripley. Belair eliminated Natalya first and then Ripley and Belair teamed up to knock Flair from the match, leaving Ripley and Belair as the final two women in the match. The two battled back and forth in an extended segment with several near eliminations before Belair managed to knock Ripley from the ring with a clothesline to win the match. This was a bit of a rocky match at parts, many of the bigger issues being matters of production than in-ring, though some stretches dragged a bit. Belair is a great choice to win and coming down to Belair and Ripley showed how bright the future of the women's division is for WWE going forward. Belair also set a record for longest entry in a women's Rumble match. Bianca Belair won the women's Royal Rumble in 56:49 -- Grade: B
ORDER OF ENTRY ORDER OF ELIMINATION
1
Bayley
Blackheart (Baszler)
2
Naomi
Hall (Kay)
3
Bianca Belair
Kay (Morgan)
4
Billie Kay
Storm (Ripley)
5
Shotzi Blackheart
Victoria (Baszler 2)
6
Shayna Baszler
Garrett (Ripley 2)
7
Toni Storm
Riott (Bayley)
8
Jillian Hall
Morgan (Royce)
9
Ruby Riott
Brooke (Ripley 3)
10
Victoria
Royce (Flair)
11
Peyton Royce
Wilson (Baszler 3)
12
Santana Garrett
Bayley (Belair)
13
Liv Morgan
Fox (Rose)
14
Rhea Ripley
James (Evans)
15
Charlotte Flair
Kai (Ripley 4)
16
Dana Brooke
Rose (Ripley 5)
17
Torrie Wilson
Cross (Carmella)
18
Lacey Evans
Carmella (Ripley 6)
19
Mickie James
Bliss (Ripley 7)
20
Nikki Cross
Evans (Baszler 4)
21
Alicia Fox
Moon (Jax)
22
Mandy Rose
Naomi (Jax 2)
23
Dakota Kai
Tamina (Jax 3)
24
Carmella
Baszler (Jax 4)
25
Tamina
Jax (Lana)
26
Lana
Lana (Natalya)
27
Alexa Bliss
Natalya (Belair 2)
28
Ember Moon
Flair (Belair 3)
29
Nia Jax
Ripley (Belair 4)
30
Natalya
Winner: Belair (56:49)
Men's Royal Rumble: No. 1 entrant Edge attacked No. 2 entrant Randy Orton before Orton even made it to the ring. They continued to brawl around ringside until Sami Zayn entered at No. 3 and took out the leg of Edge, helping Orton work him over. Mustafa Ali joined in on the attack at No. 4, with Edge facing increasingly long odds until Jeff Hardy entered to help even things up.The first elimination came when Dolph Ziggler entered the match and immediately eliminated Jeff Hardy. Carlito was the first surprise entrant, coming into the match at No. 8. Orton was shown being helped to the back by officials, limping after the attack of Edge. Damien Priest was the first NXT star to make his way into the match, coming in at No. 14 and making his first appearance in a Royal Rumble. The Miz destroyed Bad Bunny's DJ booth on his way to the ring, leading Bunny to walk to the ring, distracting Miz and John Morrison and allowing Priest to eliminate both. Bunny then hit a crossbody from the top rope to the outside on Miz and Morrison. Daniel Bryan, one of the favorites coming into the match, made his entrance at No. 17. Kane returned at No. 18, chokeslamming many of the current entrants and eliminating Dolph Ziggler and Ricochet before being tossed by Priest.
Bobby Lashley made a big entrance, running through Dominik Mysterio and Priest, eliminating both before a big showdown with Big E that saw both men brawl and exchange counters before the surprise entrance of The Hurricane, who was quickly tossed by Lashley and Big E. With Edge still in the match, Christian entered the match at No. 24. Christian helped Riddle, Bryan and Big E eliminate Lashley. Big E was eliminated from the match when Omos reached into the ring and pulled him to the floor. Omos also eliminated Rey Mysterio, giving some big help to AJ Styles.
Seth Rollins made his return at No. 29, his first match since Survivor Series, after which he took time off to be with Becky Lynch for the birth of their child. Braun Strowman was the final entrant into the match. Strowman went on a run of eliminations, bringing the final six to Rollins, Riddle, Edge, Christian, Bryan and Strowman -- although Orton had not actually been eliminated when he was taken to the back. Rollins eliminated Bryan after hiding out on the outside of the ring and then eliminated Riddle to bring the match down to Strowman, Rollins, Edge and Christian. Edge and Christian worked together to eliminate Strowman and Edge eliminated Rollins, seemingly winning the match, but Orton ran back into the match and hit an RKO. Orton's attempt to eliminate Edge backfired, however, as Edge reversed and tossed Orton to the floor, winning the Rumble from the No. 1 spot, lasting more than 58 minutes to win his second Royal Rumble. This dragged far less than the women's Royal Rumble earlier and didn't feel like it relied on as many gimmicky surprise entrants, though there were some. Edge was an interesting choice and told a great story as he's taking one more ride to WrestleMania and a shot at a world championship. Edge wins the Men's Royal Rumble match. Edge won the men's Royal Rumble in 58:28 -- Grade: A-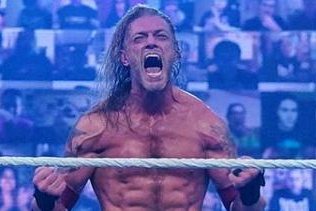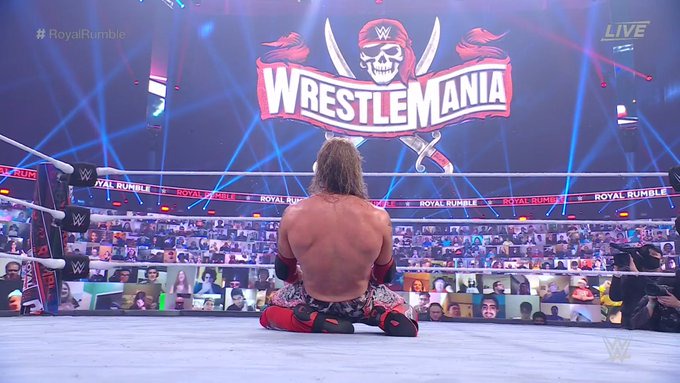 ORDER OF ENTRY ORDER OF ELIMINATION
1
Edge
Hardy (Ziggler)
2
Randy Orton
Zayn (Big E)
3
Sami Zayn
Woods (Ali)
4
Mustafa Ali
Ali (Big E 2)
5
Jeff Hardy
Carlito (Elias)
6
Dolph Ziggler
Elias (Priest)
7
Shinsuke Nakamura
Miz (Priest 2)
8
Carlito
Morrison (Priest 3)
9
Xavier Woods
Ziggler (Kane)
10
Big E
Ricochet (Kane 2)
11
John Morrison
Kane (Priest 4)
12
Ricochet
Nakamura (Corbin)
13
Elias
Otis (Corbin 2)
14
Damian Priest
Corbin (D. Mysterio)
15
The Miz
D. Mysterio (Lashley)
16
Riddle
Priest (Lashley 2)
17
Daniel Bryan
Helms (Lashley 3)
18
Kane
Lashley (Bryan)
19
King Corbin
Big E (n/a)
20
Otis
R. Mysterio (n/a)
21
Dominik Mysterio
Cesaro (Strowman)
22
Bobby Lashley
Sheamus (Strowman 2)
23
Hurricane Helms
Styles (Strowman 3)
24
Christian
Bryan (Rollins)
25
AJ Styles
Riddle (Rollins 2)
26
Rey Mysterio
Strowman (Edge)
27
Sheamus
Christian (Rollins)
28
Cesaro
Rollins (Edge 2)
29
Seth Rollins
Orton (Edge 3)
30
Braun Strowman
Winner: Edge (58:28)
Content created and supplied by: News24_RSA (via Opera News )
Opera News is a free to use platform and the views and opinions expressed herein are solely those of the author and do not represent, reflect or express the views of Opera News. Any/all written content and images displayed are provided by the blogger/author, appear herein as submitted by the blogger/author and are unedited by Opera News. Opera News does not consent to nor does it condone the posting of any content that violates the rights (including the copyrights) of any third party, nor content that may malign, inter alia, any religion, ethnic group, organization, gender, company, or individual. Opera News furthermore does not condone the use of our platform for the purposes encouraging/endorsing hate speech, violation of human rights and/or utterances of a defamatory nature. If the content contained herein violates any of your rights, including those of copyright, and/or violates any the above mentioned factors, you are requested to immediately notify us using via the following email address operanews-external(at)opera.com and/or report the article using the available reporting functionality built into our Platform See More