The 2015–16 Premier League (known as the Barclays Premier League for sponsorship reasons) was the 24th season of the Premier League, the top English professional league for association football clubs, since its establishment in 1992. The season began on 8 August 2015, and was scheduled to conclude on 15 May 2016.[6] However, the match between Manchester United and Bournemouth on the final day was postponed to 17 May 2016 due to a suspicious package found at Old Trafford.
Premier League
LCFC lift the Premier League Trophy (26943755296).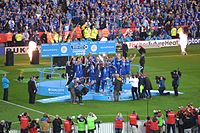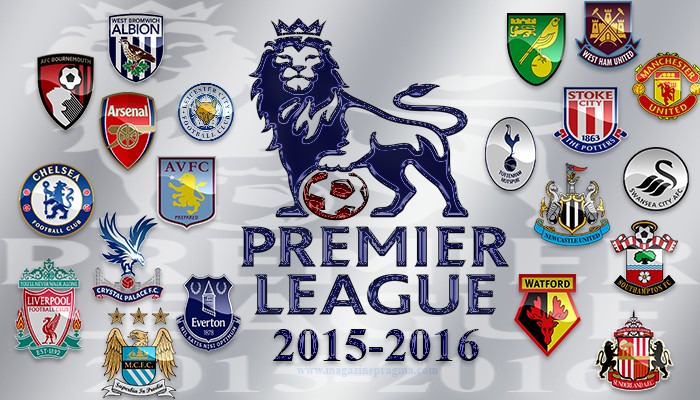 Season
2015–16
Dates
8 August 2015 – 17 May 2016
Champions
Leicester City
1st Premier League title
1st English title
Relegated
Newcastle United
Norwich City
Aston Villa
Champions League
Leicester City
Arsenal
Tottenham Hotspur
Manchester City
Europa League
Manchester United
Southampton
West Ham United
Matches played
380
Goals scored
1,026 (2.7 per match)
Top goalscorer
Harry Kane (25 goals)[1]
Best goalkeeper
Petr Čech (16 clean sheets)[2]
Biggest home win
Manchester City 6–1 Newcastle United
(3 October 2015)[3]
Biggest away win
Aston Villa 0–6 Liverpool
(14 February 2016)[3]
Highest scoring
Norwich City 4–5 Liverpool
(23 January 2016)[3]
Longest winning run
6 matches[4]
Tottenham Hotspur
Longest unbeaten run
15 matches[4]
Chelsea
Longest winless run
19 matches[4]
Aston Villa
Longest losing run
11 matches[4]
Aston Villa
Highest attendance
75,415[5]
Manchester United 2–1 Swansea City
(2 January 2016)
Lowest attendance
10,863[5]
Bournemouth 1–3 Stoke City
(13 February 2016)
Total attendance
13,851,698[5]
Average attendance
36,451[5]
← 2014–15 2016–17 →
Chelsea began the season as defending champions of the 2014–15 season. Bournemouth, Watford and Norwich City entered as the three promoted teams from the 2014–15 Football League Championship.
Leicester City won the championship for the first time in their 132-year history, with 2 games to spare, after Tottenham failed to beat Chelsea at Stamford Bridge on 2nd May 2016, becoming the 24th club to become English football champions, and the sixth club to win the Premier League. Many commentators consider this to be one of the greatest sporting shocks in history, especially considering that Leicester spent half of the previous season at the bottom of the table before finishing 14th. Aston Villa, one of seven teams who had played in the Premier League since its inaugural season, were relegated from the top flight in England for the first time since 1987.
Content created and supplied by: ThePhenomenalNeGo (via Opera News )