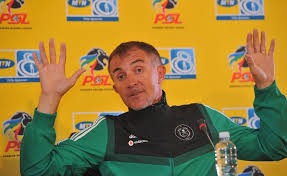 Micho Sredojevic, the former Orlando Pirates coach was back in court in the New Brighton Regional Court in Port Elizabeth on Thursday to face charges of sexual assault stemming back on Monday 7 December during the Cosafa games in Port Elizabeth and he was there representing Zambia, when Micho touched the bums of a 39-year-old woman when she was delivering coffee to him, at the Wolfson Stadium. 
It is alleged that before the incident, earlier on she asked Sredojevic if he would need sugar with his coffee,
He said, 'no' but he needed another type of sugar, pointing at her private parts.
It is alleged she complained about his conduct and her boss warned Sredojevic not to do it again.
"Later on that day the lady again went to deliver coffee at the same stadium and this time Sredojevic allegedly touched her buttocks."
Sredojevic was arrested and granted R10 000 bail, and the case was postponed to 25 February 2021.
In his younger days, Sredojevic played for Svoboda Ljubljana, Sindelic Belgrade, Grafica Belgrade, FK Zorka Subotica, and FK Pionir Subotica. He was appointed as the head coach of Orlando Pirates on 14 June 2017 and resigned in 2019 under mysterious circumstances because police documents show that it was alleged that Micho approached a 51-year-old cleaner at roughly 6am, asking for sex and attempting to undress, at the toilets at Protea Hotel Wanderers in Illovo, and the complainant screamed and ran away. woman opened a case against Sredojevic at the Norwood police station. Though when he resigned, he said it is for "personal reasons" with one year felt on his contract with the Soweto giants.
Content created and supplied by: Rambado (via Opera News )