Having Grandparents can make your life fun and sad at some point. We used to visit my old parents with my cousins when we were young, we would sit around the fire and granny would tell us stories of her youth.
There is one story I always laugh when I think about it. She said that she was a boxer and no man would stand in front of her in the boxing ring, all of her opponents will always lose the fight because she had the best fighting skill they would ever think of. She told me that she won a boxing tittle 6 times in a row, but I didn't believe her.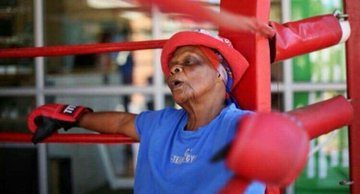 Photo cred: Twitter
One day, I went to a boxing venue to join a boxing club. I went to the ring while I wait for the manager and I didn't believe what I saw. My Granny was against the ropes and I didn't believe this was true. She was tired from the fight, the sad part was that she lost the fight. She was no longer young, her heart wants to, but her body doesn't allow her.
Tell us your view on this story. Like and share this page with friends
Content created and supplied by: INFO-NEWS (via Opera News )