10 WWE Storylines That Were Only Good For One Moment
The amazing creative highs from some awful WWE lows.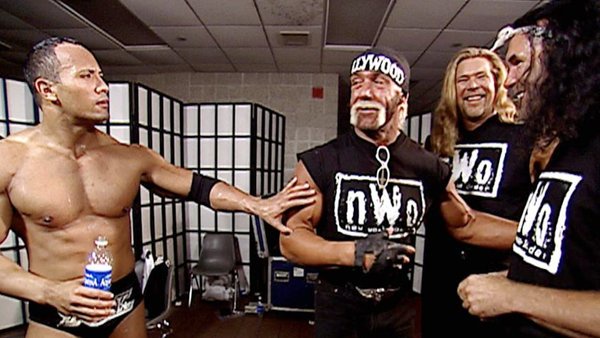 It never really used to be acceptable for a storyline to only have one flashpoint.
In eras before gifs generating more interest than matches and promos, wrestling companies needed to do much more create singular moments in order to sell tickets. Multiple beats that moved the story along theoretically moved the needle too, ensuring that tensions between advertised stars were at a fever pitch right as they were entering Your Town, USA.
The talent and television arms race in the 1990s changed much of that, with viewers lured in by one-offs that did more for the characters than the feuds. Then, by the mid-2000s, WWE had started diluting rivalries with endless rematches, making it harder than ever for rivalries to resonate.
Of course, creating more than one lasting memory from an angle takes planning and commitment and present day WWE has little of either. And even that change didn't come overnight - Vince McMahon's impetuousness has been there the whole time, as evidenced in the examples below.
From the stories that wasted their potential to the sludgy angles with one shining light, there have been far too many yarns left un-spun...
10. Shayna Baszler Obliterates The Field En Route To The Man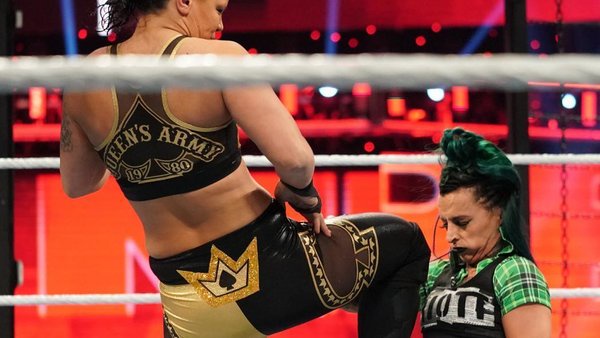 After two incredible years dominating everybody in front of her in NXT, it had been a trying couple of months for Shayna Baszler when she entered the 2019 Elimination Chamber.
A loss to Rhea Ripley on the only edition of the black-and-gold brand to ever defeat AEW Dynamite in the key demographics was compounded by her failure to win the Royal Rumble the following month, and a formal debut on Monday Night Raw went pretty weird pretty quick when she bit a chunk out of Becky Lynch's neck to remind 'The Man' that she hadn't forgotten about their Survivor Series dust-up the prior November.
Then, on one amazing night, she was unstoppable.
Tearing through everybody in her path in exhilarating fashion, 'The Queen Of Spades' punched her ticket to WrestleMania and punched (and kicked) the sh*t out of the best of Raw's Women's division along the way. Lynch had beaten everybody, and was walking with a swagger of somebody who couldn't be stopped. It was irresistible force/immoveable object stuff, if only for one glorious night.
9. The McMahons, The Undertaker & The Lockbox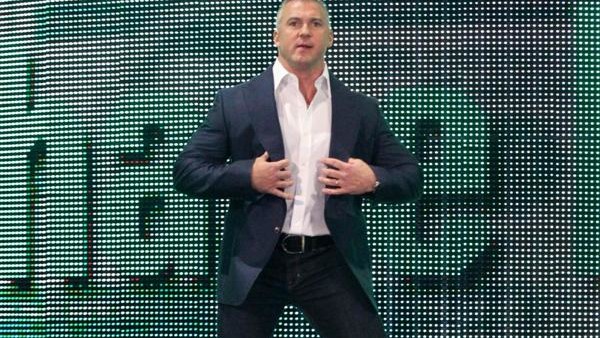 It's easy to be critical of the criminally boring Hell In A Cell match The Undertaker and Shane McMahon had at WrestleMania 32, even with 'The Money's bananas dive from the top of the ginormous structure.
It's easier still to land a potshot at WWE's pathetically lazy retconning of the stipulation the very next night, and a never-again-referenced lockbox that apparently contained some dark McMahon family secret.
It's frustratingly impossible to knock Shane McMahon's amazing return.
Rocking up on the February 22nd 2016 Monday Night Raw to interrupt his father Vince giving sister Stephanie a clandestine award, 'Shane O'Mac' received a thunderous response from the crowd, and ticket sales soared following the announcement that he'd take on 'The Deadman' at the 'Show Of Shows'.
Ultimately, the whole thing was pretty weird, which is perhaps why it peaked here. McMahon existed in a unique space as somebody with a huge Attitude Era following that hadn't been over-exposed through relentless nostalgic pandering. His departure from the company years earlier had been shocking, but made this surprise all the sweeter.
8. Shawn Michaels' 2002 Return Feud With Triple H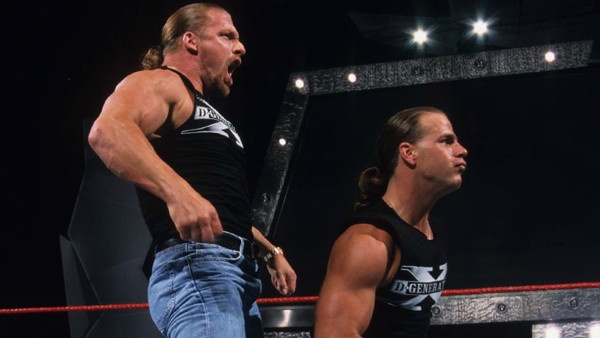 Shawn Michaels gave Triple H what may have been his last true classic match of his prime years when he returned at SummerSlam 2002, and went on to briefly hold the World Heavyweight Championship ahead of a full-time comeback in 2003.
There was lots to enjoy about 'HBK's comeback - but most of his big angle was naffer than his Survivor Series haircut. Michaels had convinced his D-Generation X dudebro to join the Monday Night Raw roster for "fun and friendship" (jesus f*cking wept for one of His newest followers...) but when 'HBK' balked at being Hunter's manager, 'The Game' used the DX shtick to flatten Michaels with a Pedigree.
Pretty good, all this. Nuanced disagreement between two top stars, a cool bit of a fan service and a nice twist in a heel turn that ripped it away.
They just couldn't follow it up.
With a while until SummerSlam, the company and wrestlers themselves got lost in a hammy add-on that saw Michaels bludgeoned by a mystery attacker. Hunter, feigning concern, promised to find out who it was g*ddamn it...before a hokey reveal that it was him all along to absolutely nobody's surprise because the turn had already happened. It was a long way short of the initial intriguing pitch.
7. The Alliance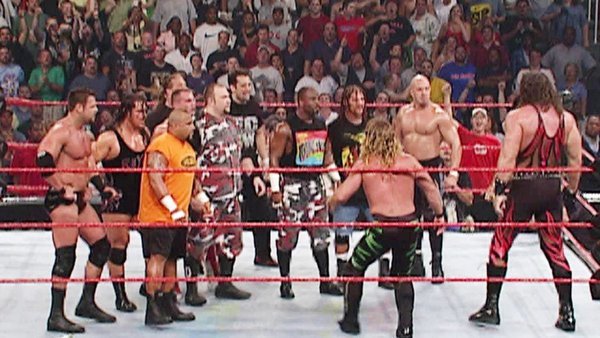 By July 2001, WWE had bodged the WCW Invasion to such a bewildering degree that it was deemed necessary to include an existing batch of ex-ECW wrestlers to shore up the ranks.
On the July 9th Monday Night Raw just weeks before an Invasion pay-per-view without an obvious main event, the company turned the WCW faction heel, incorporated several WWE talents as part of this extreme addition, allowed Paul Heyman to cut a cathartic promo about the demise of his organisation, and then revealed that the groups from Extreme Championship Wrestling and World Championship Wrestling were on the same page under the management of both Shane and Stephanie McMahon.
The last part of that wasn't necessary, obviously, but expectations had dipped so low that the entire angle being converted into more McMahon family drama was the least of anybody's concerns. It made for one exhilarating night of television, even if there was almost nowhere left to go but down afterwards.
6. Enzo & Cass Break Up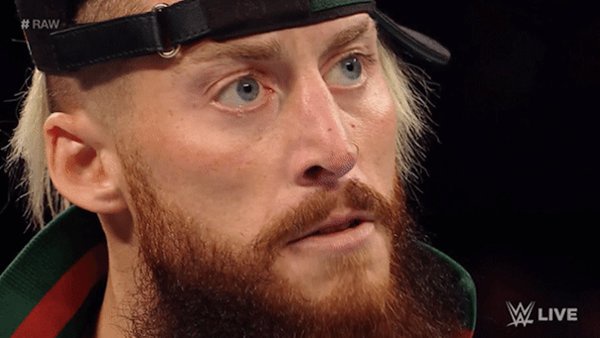 Though it ultimately doomed their act in WWE after the fact, Big Cass' 2017 heel turn on Enzo Amore was made by his mate's ability to actually behave like a normal human being.
It was a skill that often separated him from the stoic Sports Entertainer-bots on the main roster. Though it'd go some way to alienating many colleagues and fans, it was to his benefit here - Amore somehow found a way to summon actual tears from his bug-eyed expression as Cass ripped into a friendship that had once made them one of the most popular acts in the entire company.
After building some genuine momentum following a 2016 call-up, their push seemed to collapse at the rate Amore's ego grew. Cass' rationale - Enzo was a f*cking massive pain - allegedly wasn't too great a leap from the truth either, even if those were the feelings of others rather than Cass himself.
Weeks of protracted beatdowns and a serious injury to Cass killed the bit. Nothing they managed after the original split recaptured the tear-soaked sadness in Enzo's eyes.
5. Brand Warfare 2017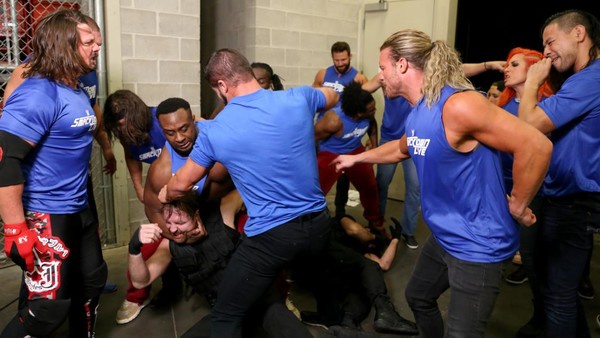 It's fundamentally pretty f*cking stupid when, every November without fail, wrestlers suddenly start giving a sh*t about which show they're on to such an extent that they'll literally fight for it and against those on the opposite side.
That doesn't mean very occasionally - literally once - it can't be entertaining.
After a fairly milquetoast set-up to an awesome Raw Vs SmackDown Survivor Series match in 2016, the company went harder on the hostilities second time around. In a shocking conclusion to the October 23rd 2017 edition of Monday Night Raw, Shane McMahon declared that the show was "under siege" and set his troops on an unsuspecting Raw roster.
A series of shots found the crew raiding the locker rooms, parking lots and anywhere else the Raw wrestlers were hanging out. Strength in numbers overwhelmed the red brand over and over again, even when Shield members Dean Ambrose and Seth Rollins tried to get the jump. It ended with General Manager Kurt Angle being dragged out to the ring to be verbally humiliated by McMahon before they exited.
It was so pointless. But it ruled.
4. Bianca Belair Vs Bayley
An interminable 2021 post-WrestleMania series between Bianca Belair and Bayley over 'The EST's newly-won SmackDown Women's Title was only saved by one thing, and it shouldn't really come as a surprise what that was.
Modern day WWE doesn't deserve its best workers, but that's what 'The Role Model' is, and Belair's not that far behind. The two were given approximately 48 hours notice that their Hell In A Cell pay-per-view match was going to take place in the titular structure after the company spaffed out the original main event between Roman Reigns and Rey Mysterio on the go-home SmackDown. This was less than ideal considering the state of the story.
For weeks that felt like months, Bayley had laughed at Belair. That was it. A couple of nightmarish uses of the ThunderDome aside, there hadn't been any attempt to elevate the bad material beyond the bad dialogue, and a match between the two at WrestleMania Backlash had already extinguished most of the heat.
Remarkably, the Cell clash ruled. The Challenger artfully revealed her own weaknesses just so the Champion could directly contrast them with strengths, including-but-not-limited-to all the spots with Bianca's hair and a wicked spot in which Belair launched the ring steps all the way across and out of the ring. Her victory subsequently felt conclusive too.
They were back to the laughing sh*t on the very next SmackDown. The match had been an oasis.
3. Diesel Vs King Mabel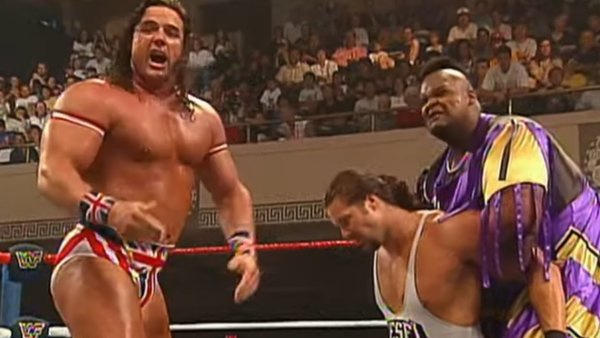 The British Bulldog's 1995 heel turn ultimately wasn't the answer to Vince McMahon's financial woes any more than King Mabel or faltering WWE Champion Diesel, but the evil scheme that brought about Davey Boy Smith's switch was the lone highlight of a rotten SummerSlam programme.
Considered the nadir of 'Big Daddy Cool' box office-tanking year, the Mabel idea was sound only in McMahon's mind because the Men On A Mission man was so physically immense. A limited tag team wrestler winning King Of The Ring to get the title shot at the August showpiece was always going to struggle, and when it did, the company elected to flip the Bulldog to try and build heat for for Diesel's next feud as well as give the impression that he might lose this one.
It was artful to a point too - SummerSlam brought about questions of Lex Luger's allegiances due to his pre-existing tag team with Smith. That question was answered at the pay-per-view when he fought off an interfering Sir Mo on Diesel's behalf, but it'd be his last act in the angle before his shocking to jump to WCW just weeks later.
2. The Summer Of Punk
The biggest swing begat the biggest miss in 2011 when CM Punk scooped out the rotting insides of WWE and thrust them into the eyes and ears of the braying masses.
That was the point of the "Pipe Bomb", beyond elevating Punk to such a degree that he ended up working for the company for three more years instead of doing what he'd once intended and actually leaving WWE behind. It was dramatic and incendiary, but set the bar way too high for the flailing creative forces to top after the fact.
Everything Punk said that night was true. Too true. Truer now than ever, in fact, which has only served to undermine the significance of the original angle - the WWE Championship match between the 'Voice Of The Voiceless' and John Cena at Money In The Bank 2011 is a monument to how well that promo sold a pay-per-view, but not for how an iconoclast managed to affect any lasting change.
And the less said about everything after that (again), the better.
1. The New World Order Arrive In WWE
Night One.
WWE couldn't make their mind up on what to do with on arguably WCW's greatest ever creation on Night One.
The New World Order were supposedly agents of chaos, brought in by Vince McMahon as a "lethal dose of poison" on his show, but their debut at 2002's No Way Out pay-per-view badly undermined the messaging.
A insincere show-opening promo was supposed to register as the lads obscuring their evil schemes, but instead came across as slightly weak and meandering. That fans were legitimately thrilled to see the trio in WWE didn't help, either. A listless beatdown of Steve Austin later in the show resulted in yet more apathy - the three were evidently going to be neither lethal nor poison, even if the theme music still ruled.
Their night was saved by one segment, and it was a masterful burial by The Rock on all three. 'The Great One' hit the cheesiest elements of their former WWE personas in a manner so impeccably attuned to the audience of the day that the whole scene felt perfectly of-the-time.
Within weeks, the entire idea felt like an ancient relic.
Content created and supplied by: Wrestlinguy (via Opera News )
Opera News is a free to use platform and the views and opinions expressed herein are solely those of the author and do not represent, reflect or express the views of Opera News. Any/all written content and images displayed are provided by the blogger/author, appear herein as submitted by the blogger/author and are unedited by Opera News. Opera News does not consent to nor does it condone the posting of any content that violates the rights (including the copyrights) of any third party, nor content that may malign, inter alia, any religion, ethnic group, organization, gender, company, or individual. Opera News furthermore does not condone the use of our platform for the purposes encouraging/endorsing hate speech, violation of human rights and/or utterances of a defamatory nature. If the content contained herein violates any of your rights, including those of copyright, and/or violates any the above mentioned factors, you are requested to immediately notify us using via the following email address operanews-external(at)opera.com and/or report the article using the available reporting functionality built into our Platform See More