Pep Guardiola's Man City cruised past a dropping-in-form Liverpool at Anfield on Sunday to take a 5 point gap at the summit of the Premier League. In what was the biggest match of the weekend Man City claimed all 3 points after a series of blunders from Liverpool goalkeeper, Alisson, led them to win the match.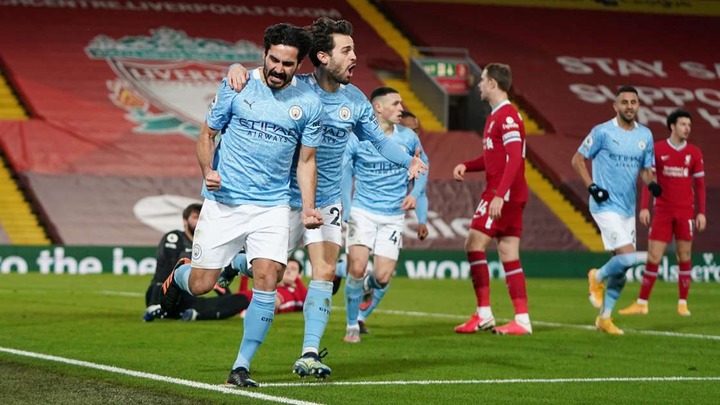 Anfield is no longer a formidable fortress
Last season the Reds only lost 3 league matches in their title-clinching season yet all those defeats happened away from home. This season the Liverpool have already lost 5 matches, with 2 home losses which included a shocking 1-0 defeat to Burnley. In fact prior to the Burnley defeat Liverpool held a record number of unbeaten home games with their last Premier League home defeat coming at the hands of Crystal Palace in April 2017. A match where former Reds striker Christian Benteke clinched the winner.
Man City penalty woes versus Liverpool continue
Riyad Mahrez, Kevin De Bruyne and now Illkay Gundogan. All of these players have missed a penalty against Liverpool in their last 4 league matches played against the Reds, the exception being Kevin De Bruyne's penalty goal in City's 4-0 thrashing of the then recently crowned champions at the Etihad last July. With all these penalty misses it seems by now Pep Guardiola's team should realize that something needs to be done to improve their penalty success rate against Liverpool as it was hardly surprising a when Illkay Gundogan sent his first-half effort sailing high above the crossbar and became a new name in Man City's penalty failures against Liverpool.
Sterling's stellar performance
Raheem Sterling and youngster Phil Foden undoubtedly were the best players on the pitch at Anfield. Sterling came into this game on the back of 3 goals in his past 4 matches and although this hasn't been his most prolific season, he did look a real menace on the left flank and showed time and time again throughout the match by making light work of Liverpool right back, Trent Alexander-Arnold. It was Sterling's brilliant dribbling that led to the Reds conceding a penalty which was then missed by Gundogan. Sterling later closed the match off with a goal of his own to top off his outstanding performance. Another Man City player that was no where behind in brilliance was the young Phil Foden. The 20-year-old displayed a very good performance, assisted Illkay Gundogan in the box for the second goal of the match and topped it off with a stunning shot that found its way over the head of Alisson and went into the back of the net for his fifth goal of the season.
Content created and supplied by: CouchTalk (via Opera News )