Kaizer Chiefs coach Gavin Hunt believe his team can finish In the top 3 teams this season with 15 games left.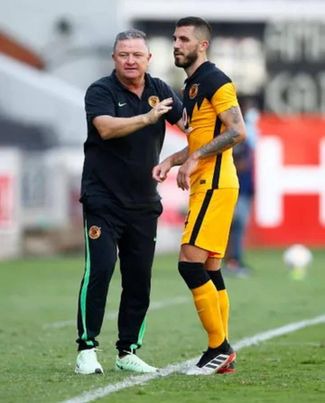 Elton Mduduzi has commented on Gavin Hunt's statement.
This is what he said.
How is he gonna do that when he got there and started dividing the team?
Players have no team spirit anymore because this one is not talking to Katsande Mathoho Khune and Mphahlele,
He still benches Zuma when he is the only hope for goal scoring opportunity,
He then disrespected Cardoso by giving Nukorvić an armband...
Just by that It is then clear that the team is divided.
He has his favourite players which we as fans myself personally can also easily believe in them but he doesn't even have a game plan for them.
He wants to finish at Top 3 with the attitude of following thr social media comments.
"PLAY NTSHANGASE,TAKE OUT MATHOHO,KHUNE IS MISSING MINNIE DLAMINI,BENCH HIM"
Nxaaa...Stuart Baxter didn't listen to social media people about Nkatha but we still won the league.
Smart Coaches see danger and leave to protect their profiles and then there's Gavin who wanna be remembered by taking Kaizer Chiefs(such a big team though) from top 2 to relegation zone.
What do you think about Elton Mduduzi and Gavin Hunt:
Bathini Tshabe
If they can b consistent on winning their games why not we all know my team Pirates is not winning drow drow like Sundowns and Swallows Fc ,I agree with u Mr Hunt.
Charles Mawewe
With the way we are playing we should just forget about that. Please stop giving us false hope. Supporting Chiefs is not easy.
What did we do to find ourselves in this situation we are now a laughing stock. No team fears us anymore.
I am even scared for Wednesdays game. It's better when Chiefs is not playing.
Olwethu Shai Mkho Makhanda
If you can just pick a gud team you can.Just try 1 of our line ups we used last season and then you can add there.
experience is a need stop using these young boys all the time.
Abel Thoane
Really u guyz?? Dis is de same coach who knows much abt football in general wena you dont even know what number Jersey is ur Number1 goalkeeper is wearing.
He is amongst the best coach ever in de country.He knows what his vision is.
but wena you don't even hve a Vision abt your life in basic level.
Source https://soccerzela.com
Content created and supplied by: Timzen_news (via Opera News )