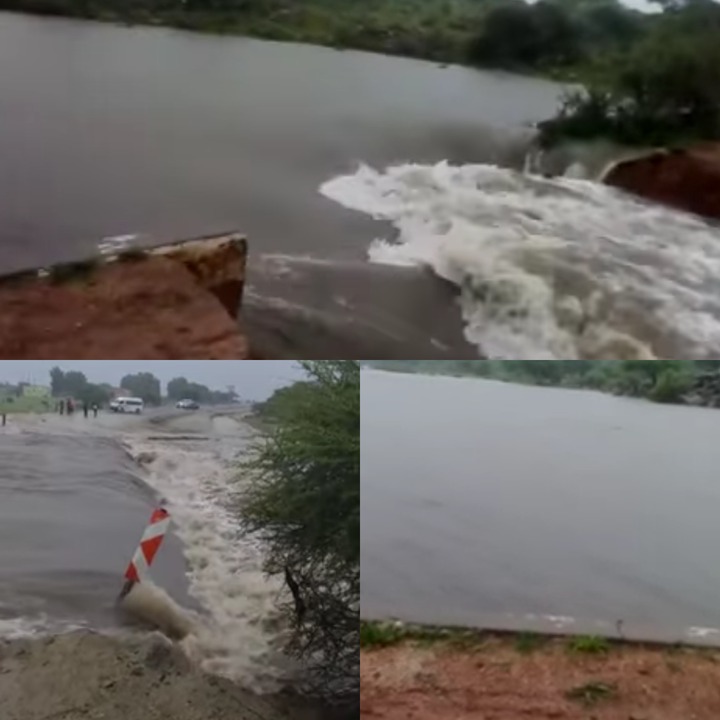 Kuruman and vryburg, Avoid avoid avoid. A Piece of the road got washed away and That piece of road has now turned into a raging river.
Do not attempt to cross, I Repeat. Do not attempt to cross motorists and truckers are urged to use a detour route.
Many parts of the country have experienced rainfall that seems to be non-stop since last week, it is believed to have been started by the floods from the hurricane that ripped through Limpopo & Mpumalanga coming from Mozambique.
We have experience rainfall ever since and it seems to not be stopping at any moment now, and at this rate we are not sure if he's going to last the whole month or even continue further, but in the meantime citizens of the country has to be extra cautious on the roads, and to try to put measures in place in order to protect themselves and their furnitures in their houses from water damaged.
Motorists also has to be very cautious when driving on these back roads because it is easy for his vehicles to slide on the road, this can also be avoided if the motorist just drive within the speed limit and try to be extra vigilant.
The deaths that have been experienced due to the floods have not been recorded, but we have sadly lost some individuals to the water that was raging across the country.
Many people are finding the government at fault for not preparing the Citizens of this country properly against these rating rainfall that has ripped through the nation, & destroyed there roads that were built with substandard means because of corrupt tenders acquiring process.
People are now left on their own to find their way around the country through these destroyed roads, many are left without roads to get to their jobs and shopping centres. And this seems to not be any government aid to assist ordinary citizens to navigate the flooded roads.
People are starting to notice that this government is good for nothing but taking people's money through taxes and not repaying them through good service delivery, now people will be left without Roads and it will take many years before the government builds New Roads.
https://m.facebook.com/story.php?story_fbid=2099470133526712&id=265615323578878&sfnsn=scwspmo
Content created and supplied by: Crime_spotter (via Opera News )