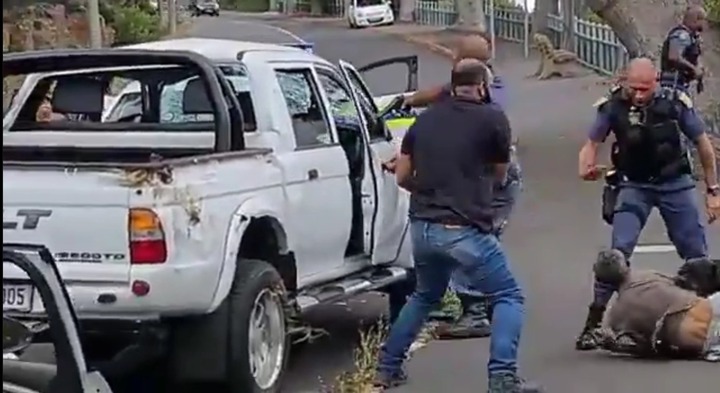 Carjackers are known for running the show on the South African roads as they are known for getting away with crime on most of the occasions.
A few arrests have been made and motorists have been living in constant fear as they know they will be always be the target of the armed robbers.
A video was posted today on social media platforms of a high speed chase that took place in the Western Cape Province on Tuesday the 23rd of February 2021.
Todays events were labelled by many as a strong message that has been sent to other carjackers that the police are fully alert and they can be easily nailed.
In the video, carjackers are said to have robbed a resident a Toyota colt bakkie and fled from the scene.
Police officers were alerted of the incident after an alarm had been raised of a motor vehicle theft. The members followed up on the given information and managed to track down the suspects to Fishhoek were they were headed towards a certain location.
The members spotted the hijacked vehicle as they followed up using two vehicles. They got to a mountain pass on Boyes Drive between Kalk Bay and Muizenberg and this is where all the drama unfolded.
When the suspects noticed that they were being followed, they tried to block the members from intercepting them and even tried to speed the vehicle up. This however had little effect as the members fired warming shots and intercepted the suspects vehicle.
This was one incident which made people smile as it was action packed. Among those who shared a video of the incident is Yusuf Abramjee who used his Twitter handle to show the action packed incident.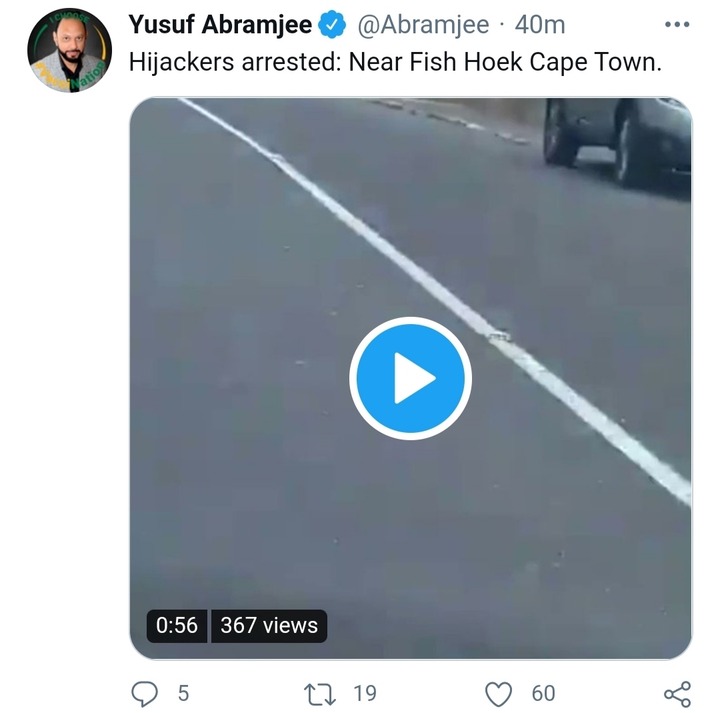 The cameraman was visibly shaking and failed to capture some of the key moments of the drama which infuriated many people who watched the video.
It was described by another user as a nuve adrenalin rush which was filled with some swearing on some parts by the officers who were pursuing the suspects. The cameraman must have been in for some bumpy ride as the whole incident unfolded.
When watching the video, those few seconds would definitely make your heart beat fast and hard.
What makes your mind clear and gives you the awesome feeling is that the suspects finally got arrested.
You can click this link to watch the video of the high speed chase that happened today.
Content created and supplied by: AfricanChannelNews (via Opera News )