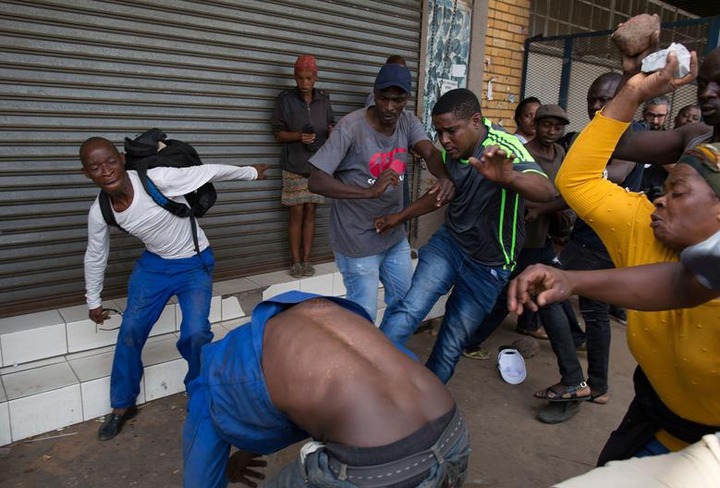 At times when people see a thief getting attacked in public, one ceases to remember how much pain they cause on them through robberies.
The same can be said of the events which unfolded on the 23rd of February 2021 when one attempted thief suspect got severely attacked.
This was after two thieves had embarked on a mission to rob some medicines when one person spotted them on their tracks and raised an alarm.
People who were on the scene all shifted their attention to the two suspects. One of the thieves managed to find a swift escape route from the scene before mob justice was administered to them.
His accomplice who he had planned to carry out the robbery with was brutally attacked by the members of the public as he tried in vain to escape the wrath of the masses.
Others were throwing fists and kicks on the helpless suspect who at this time could barely even protect himself.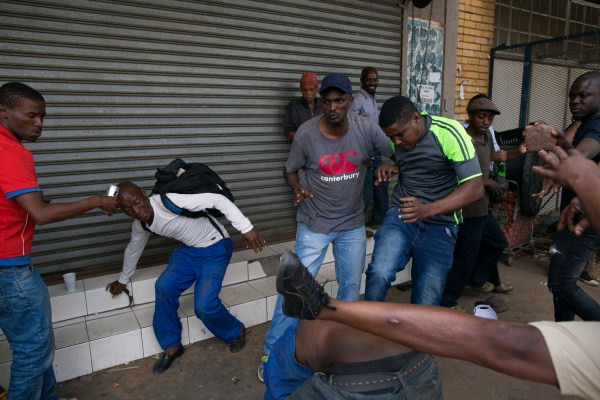 Many felt sorry for him after he was severely assaulted by members of the public at Pan Africa in Wynberg near Alexandra.
When the police came, he was stained with blood all over and investigations began. It was later established that he was trying to steal a box containing medicines.
One lady who witnessed the incident claimed that one of the two suspects reportedly grabbed a box of medicine from a company vehicle that was parked outside Yarona Building, 3rd Street, Wynberg to deliver boxes of medicines at a pharmacy shop.
It is alleged that inside the box was vaccine for Covid-19. They were spotted on their act and a crowd of people started charging towards them.
One of the suspects escaped from the scene while his accomplice was caught and got assaulted by the angry mob.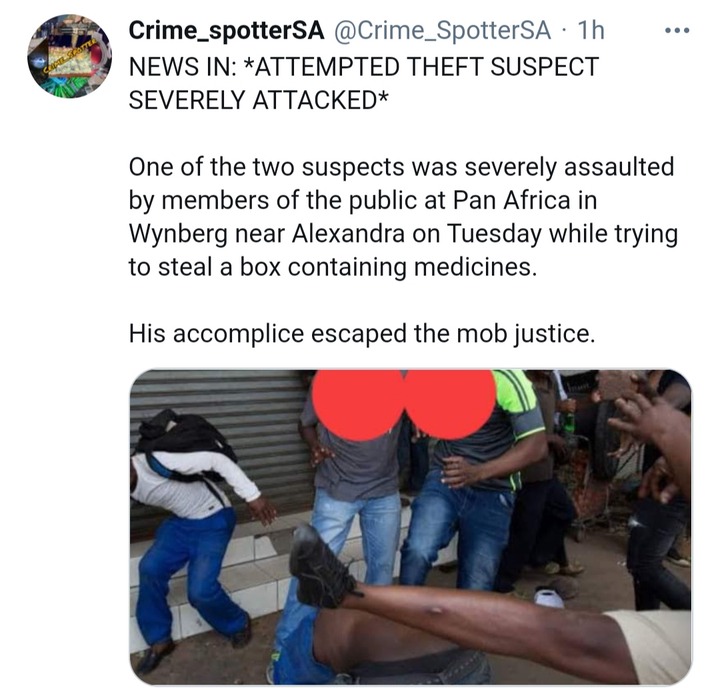 The suspect was later taken to an unknown location by the driver and the delivery men after they had got approval from the police officers who were on the scene.
Some were quick to label the suspect as lucky to be alive as mob justice in South Africa usually results in fatalities.
It cannot be ruled out that the suspect was in need of medical attention as the community members were just attacking him on every part of his body while he could hardly protect himself.
In some townships, a tyre is placed on suspects neck and the community members will set him on fire.
Content created and supplied by: AfricanChannelNews (via Opera News )