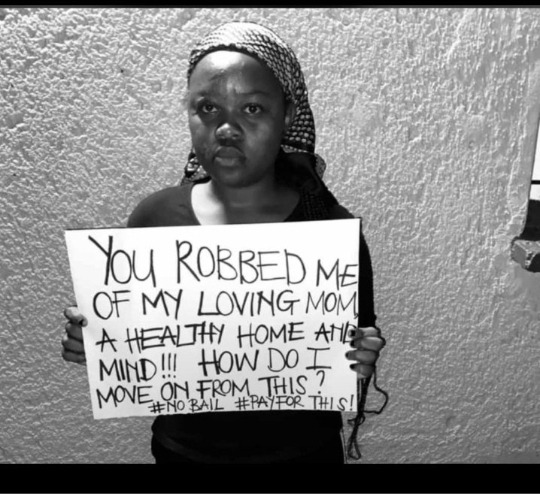 Gender Based Violence has been a huge problem for many years in this country. The country has a large number of femicide yearly.
It is very sad that the fight for violence against women and children to end, does not look like it is going to end anytime soon. Many women in our country die in the hands of a man.
On social media, not a month goes by without a hash trend attached to a woman who was killed by a man and mostly it is their partner. The past week the name attached to a woman named Tsakani Joyce Chabalala.
Her daughter sadly expressed her pain and started #JusticeForTsakaniJoyceChabalala, she accompanied the caption with a sad picture of herself standing and holding a paper written "YOU ROBBED ME OF MY LOVING MOM, A HEALTHY HOME AND MIND! HOW DO I MOVE ON FROM THIS?"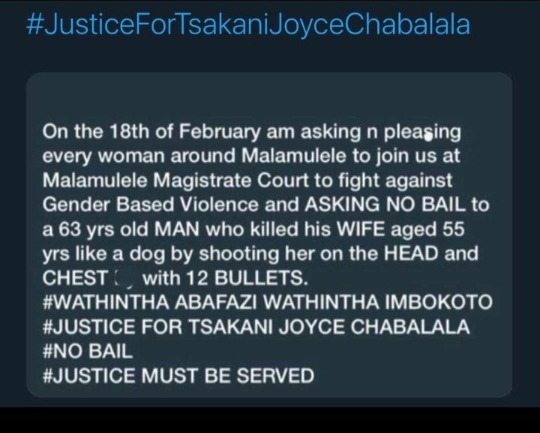 The pain of losing a mother is hard to deal with, especially if it was not a natural death and seeing the people who are responsibile walk free makes it even harder.
She asked people from and around Malamulele to join at Malamulele Magistrate Court, as they fight that the 63 year old man who shot his wife, the late Tsakani Joyce Chabalala with 12 bullets on the head wnd chest doesn't get bail.
Content created and supplied by: Augustus_tee (via Opera News )