This year, intensifying gang rivalries have driven the violence to crisis levels reported by Briefly.co.za . The murder rate was "about twice as bad as what we've seen before," said Jean-Pierre Smith, the city's mayoral committee member for safety and security.
"When the army leaves from this place, the shooting is carrying on to" he said to News24, asking not to be named for fear of alerting the authorities. Too many gangs were making money off the drug trade, he explained. And there were far too many guns on the street.
Briefly.co.za reported that Police forensic experts are on the scene of an incident in which former leader of the notorious Hard Livings gang, Rashied Staggie was shot and killed in Salt River, Western Cape, on Friday morning. He was shot while sitting in a car outside his house in London street. In 1996, vigilante group, Pagad, shot and set alight Staggie's twin brother, Rashaad in the same street. Provincial police spokesperson Novella Potelwa said to News24 Staggie died upon arrival at a nearby hospital. "The 58 year old died on arrival at a nearby hospital. Information at the disposal of the police indicates that the deceased was sitting in his vehicle when two unknown suspects emerged, fired several shots at him and fled on foot.
Crime scene experts are currently on the scene combing for clues that could assist the murder investigation. Woodstock police have reinforced deployment in and around the Salt River area according to a report on News24." 'Family too emotional' Family members have started to gather at the home of Rashied Staggie in Salt River. A large media contingent has also gathered in London street in Salt River where Staggie was shot and killed. Staggie was sitting in a vehicle in front of his house on Friday morning when two suspects fired several shots at him through the windscreen.
A relative says the family is too emotional to speak to the media. In 2004, Staggie was convicted of burglary from the Faure police armoury and sentenced to 13 years in prison. He was released on parole nine years later. Staggie and his twin brother Rashaad were notorious gang leaders in the 1990's. Rashaad died in 1996 when he was shot and set alight by Pagad in the same street where Friday morning's killing took place.
By the time the twins were teenagers they were active drug dealers and were able to make some money. As they got older they became more aggressive and influential in the Cape Town underworld. By the 1990s the twins were notorious gang leaders and their gang the Hard Livings had members all around the Cape Peninsula. The Hard Livings gang participated in a range of crimes such as armed robbery, dealing of guns and drug distribution. The Hard Livings had clashes with rival gangs the Americans and the Mongrols. Under the rule of Rashied Staggie, the Hard Livings took part in violent gang wars that led to a bloodbath in the streets of Cape Town.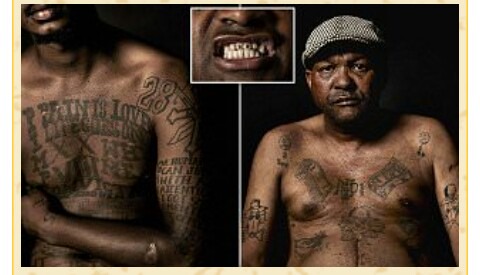 The third theory relates to allegations that Staggie defrauded foreign nationals. Because of his reputation as a prominent and well-connected figure in the drug trade, Staggie was apparently approached by Nigerians trying to invest in Cape Town's drug industry. Staggie is said to have taken their money but failed to deliver on his promise to invest the money in the drug trade for them, keeping it for himself instead.
The night before the military arrived, just a few blocks from Mr. Myburgh's home, a young man named David Hermanus was gunned down. In retaliation, gangsters sprayed a nearby house with bullets, injuring a man and his 18-year-old niece. Another man, Garth Adams, was killed the next afternoon, about an hour before the patrols began."This is how we're living," said Mr. Myburgh. "For us, this is normal."Gangsterism is less a syndrome of the Cape Flats than its dominant governing force. Early gangs took root amid the turmoil of forced removals from the 1960s, '70s and '80s, when tens of thousands of families were evicted from neighborhoods designated for whites. Unemployment has remained high in much of the area; in Mitchells Plain, less than 37 percent of the population has a job.
Content created and supplied by: Solomon1996 (via Opera News )