Unsolved Cases - Hosted by Psychic Medium Diva is a page that helps get closure on cases that police failed to solve. If you can go to the page you'll see some of the cases that she worked. Her predictions do come true. She also has a huge following on social media. Sometimes even when there's someone missing people will recommend Psychic Diiva because of the good work that she does.
This time Psychic Diiva shed a light on the case of Dimakatso Ratselane who was brutally stabbed by her husband. Her husband 49 times and since then the man went into hiding.
Here's what Psychic Diiva about the case of Dimakatso Ratselane.
"DiVA's FINDINGS 
"His current thoughts are to get money and may have to sell his car for cash. He has suicidal thoughts, although he has no regrets. His intention was to kill her, he thought she was dying that is why he left her and went on the run. He has thoughts of fetching one child which could be a son. Another child probably a daughter he hates as much as his ex wife.
He seems to have travelled quite far. A woman, which may be a relative or girlfriend has kept him up to date with police and media reports.
He was jealous over his wife because she earned more than him. I believe he may have demanded money from her and when she said no he lost it.  
He still has his car and appears to have a younger male with him. He moves around a lot and is trying to get cash to leave Lesotho and go across the border. The younger male appears heartbroken and afraid.
He is not done yet he feels that if he is going to jail he wants to finish what he started and go after those he hates. He is not sorry and would do it again . 
I feel he may be hiding in a very rural area where an older woman, a younger woman with a young child are living.
I feel he is in the North East of Lesotho and wanting to go across the border between Maseru and Butha Buthe. He may also attempt to come back into SA to collect something before heading up North. I believe SA police in conjunction with border police are on the alert and that an arrest will be made in the near future."
Source: Facebook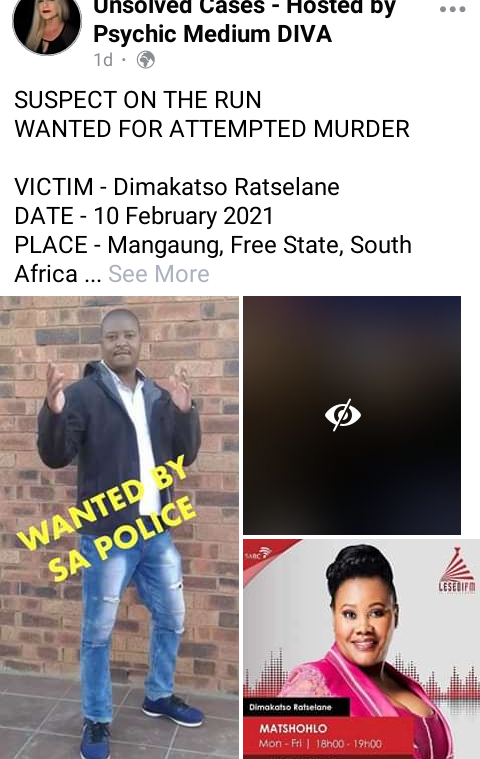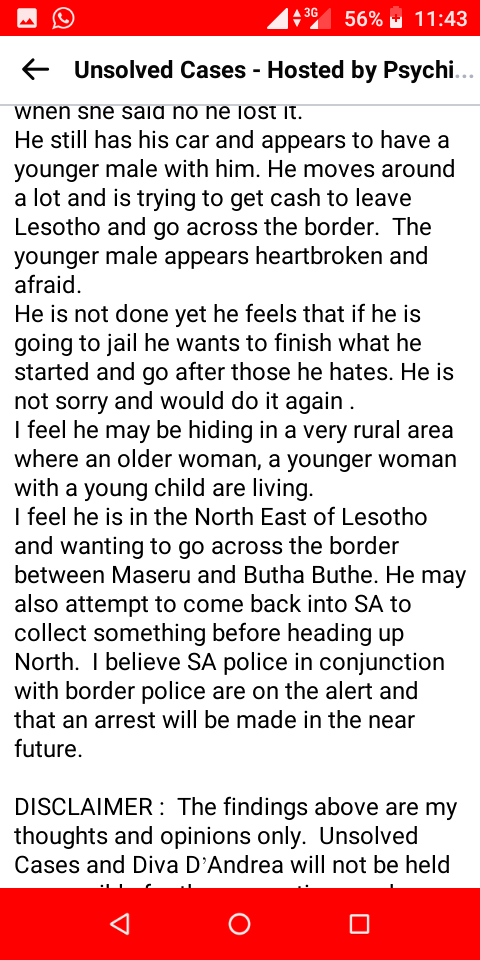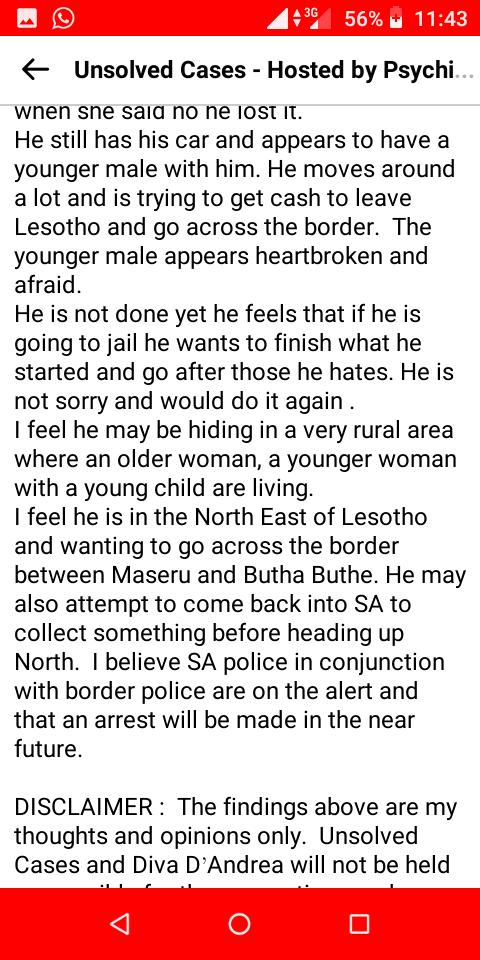 Screenshots credit: Facebook
Content created and supplied by: Progy.com (via Opera News )