A teacher from Mohlakeng in the West Rand; Gauteng has been a menace to school children for many years.
Instead of teaching children he would tell them that they had sexy legs which means they are good in bed. He did not stop there but managed to sleep with some of them.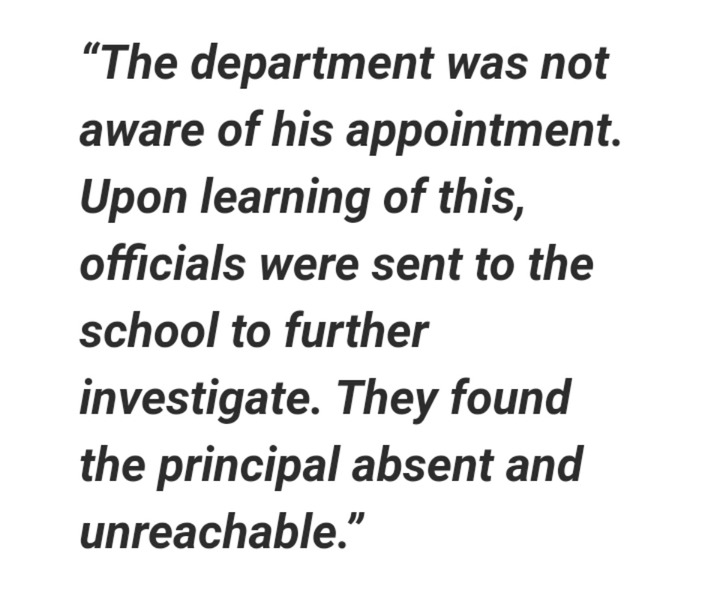 He did this while busy telling others that he wants to bed them. The 50 year-old unnamed teacher faced 7 counts of sexual misconduct; when he was fired from Phahama secondary school in 2014.
He launched an appeal which was dismissed. This teacher thinks he is above the law because the Education Labour Relations Council; said it agreed with his firing but said; correct procedures were not followed in doing so.
The Education Labour Relations Council; instructed the Gauteng department of education to pay him R2000; a reward for being a pervert who belongs in prison; as far as I'm concerned.
The spokesperson for the Gauteng department of education Steve Mabona; confirmed that the teacher was indeed expelled from Phahama secondary school; for harassment and sexual misconduct
It is not known how he managed to find another school and became a deputy principal in Kagiso. As the leopard who does not change its stripes; he was once again accused of his old behaviour.
The Gauteng Department of Education does not know how he got back into the system. Obviously if they failed to follow correct procedures to fire him; they will also not follow proper procedures to make sure he is kept out of the education system.
The new school in Kagiso has resorted to putting him on precautionary leave while his matter is being investigated. The Gauteng department of Education officials went to the school to find him when they first found out that he is working there but he evaded them.
According to Mabona the Gauteng department of education only met with the school in Kagiso on Wednesday 10 February; this year.
He should be on the list of sexual offenders. He should be named and shamed. He should be in prison as secondary school children are under age so he continues to commit statutory rape because they don't call a spade a spade.
The parents seem not to realise that they can lay a charge of statutory rape against the school teacher. They can even sue the department of education for vicarious liabilty.
https://www.dailysun.co.za/News/perverted-teacher-sent-home-20210212
Please like; share; comment and follow me for more news.
Content created and supplied by: TingTong1105 (via Opera News )