MKM
OPEN LETTER TO ELIAS SEGOBELO MAGASHULE, POPULARLY KNOWN AS ACE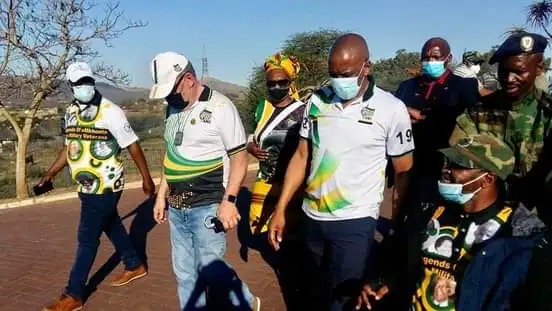 Progressive Greetings companion Ace. Presentations are excessive as we probably are aware each other quite well. In any case, simply note that I am Mojaki Keoabetsoe Mojaki and I am as yet an individual from the ANC in goodstanding.
I'm composing this letter with deference and believing that I am keeping in touch with recent head of our association, one longest serving director of an area on the historical backdrop of the ANC.
At the point when the ANC was sent off subsequent to joining the North and South districts in the FS you submissively declined to be chosen as the principal director for a then Revolutionary robust, Patrick Terror Lekota. Agents to that gathering in Qwaqwa were not content with you for declining and to show disdain toward you they chose your nearest partner and companion, Pat Zanemvula Matosa.
Cde Ace, I should give it to you, you truly know how to play your cards. However Matosa was the common director, as a substitute and liveliness, a great many people thought and recognized you as the executive.
It was you, not Pat Matosa who adequately made the organization of Terror Lekota impossible. It was through your stubbornness that the territory saw Lekota not finishing his term and subbed, not by you or Matosa, but rather companion Ivy Matsepe-Casaburi (unexpectedly brought up third house from the home of Patrick Terror Lekota).
Dear companion Ace, I was a branch secretary when your common leader panel was first disbanded and you were redeployed to National Parliament. I can't count how frequently you came to areas in the FS and invested energy with the people who actually recognized you as the executive despite the fact that ntate Mosala and Nobby Ngomane were driving the between time structure. All things considered, I was sad not to be in your internal circle as my devotion was to the ANC and not people. I won't make reference to names of your partners in Thabo Mofutsanyana, Fezile Dabi, Lejweleputswa and Xhariep that shaped your "Center", however I know them. Doing as such will be hostile to progressive.
Cde Ace, I am not composing this letter to relate your set of experiences or uncover your inconspicuous strategies to recover power at whatever point you lose it. It won't help anybody to layout your system of utilizing weakness and requirements of individuals to control and request their backing to your finesse impulses. In any case, I am writing to help you to remember a portion of the things you should know as some you articulated.
So often I heard you say
1. THE ANC IS BIGGER THAN ALL OF US
We comprehended you to mean than people can't see themselves as more noteworthy than the system. We join the ANC as people and assuming that we don't submit to its choices then we are allowed to go.
Yet, it seems as though you possibly trusted that when YOU were in administration.
Casca Mokitlane, Pat Matosa, Charlotte Lobe, Thabo Manyoni, Mxolisi Dukwana, to make reference to however not many were all once shut to you and when they neglected to tune in and do as you say, then, at that point, they were neglecting to pay attention to the ANC which is greater than them.
Is it not apparent since what you implied was that you are the ANC and you're greater than all people?
2. THE Center MUST HOLD
This was your beloved sentence. Do you actually recollect? You generally stressed that upper designs have the ability to overrule choices of lower structures. You used to remind premiers under your chairpersonship that it was the ANC in government not them. Do you recall that? The benefit for you was that when at last you turned into the head there wasn't any different individual as the seat of the ANC.
Thusly, my dear past executive, the middle held, and that middle was you.
3. Pioneers COME, LEADERS GO
Gracious! How noteworthy that was. At whatever point you reshuffle councilors you generally cherished saying that. I recollect the last time you tended to us as chiefs and boss chiefs, you confidently said that multiple times. You were in a roundabout way saying goodbye to us as you were certain that you will be chosen as the Secretary General of the ANC.
Around then I comprehended you to say opportunity arrives when one should give approach to new individuals to lead. I thought you implied that when opportunity arrives to give up the stick one ought to do as such nimbly.
Dear confidant Ace, I have decided to utilize just these three expressions that you adored so beyond all doubt to remind you and attempt to convince you to do as you said. I simply need to offer you a conradely guidance as you gave such to such countless confidants.
I won't utilize your renowned expressions, for example,
- O tla tsamaya pela dieta (you will stroll alongside your shoes)
- Ke mariha ho dula ho bata ka ntle ho ANC. (It is everlastingly winter and cold external the ANC)
- Ha o sa bape le nna o tla ja dikatana. (Assuming you're not with me you will eat clothes)
No, moetapele, I will not help you to remember those expressions since they will never concern you.
Friend Ace Magashule, (Please comprehend that I am utilizing "companion" as the prefix of all ANC individuals not really in the setting it implies).
I'm not going to converse with you about pioneers you obliterated and eliminated from initiative only for not consenting to do as you needed. I won't discuss branches and locales that opposed your directs on the grounds that they went against the approaches of the ANC. No, moetapele, I won't make reference to councilors excused on Qwaqwa by you for dismissing debasement and bungle.
In any case, I need to converse with you about your direct as a pioneer you need us to have in you.
Expert Magashule, you're a person. The ANC is greater than people. Would you be able to sympathetically recognize that as a rule.
Elias Magashule, the middle should hold. The ANC took a goal at its 54th meeting. Sadly that impacted you. Having been chosen by the meeting doesn't mean you are currently over the ANC. You're a chosen MEMBER and it doesn't mean you are the ANC or over different individuals. Along these lines when the gathering, and on between meetings the NEC execute the choice of the ANC individuals, let the middle hold. Keep the principles or that standard will mess with you.
Segobelo Magashule, you were given an honor to be a pioneer. You're the longest serving administrator of the ANC and we regard that disregarding the way in which you usurped power for quite a long time. As you accurately said that pioneers come and pioneers go, I think your opportunity has arrived to venture down generous and leave your inheritance with no guarantees.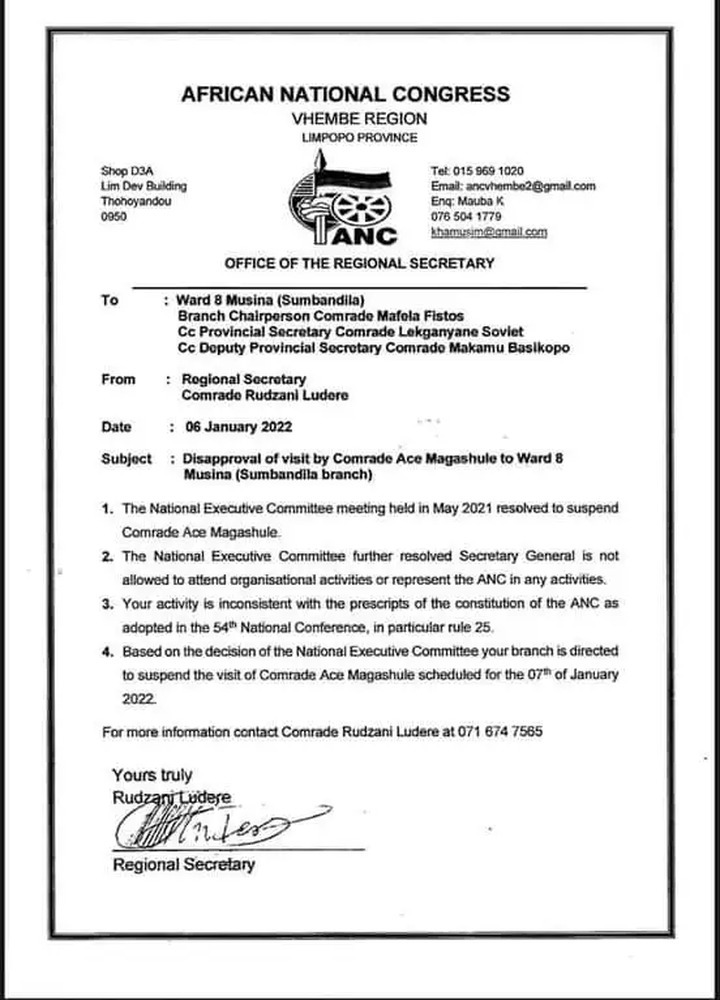 Your stubbornness resolute place that you were chosen by the gathering doesn't stand up to anything. Exactly the same meeting ordered the NEC to carry out its choices. One of those choices is that assuming any part has a case to answer the individual in question should move to one side.
Your trick to stay well known and significant is inappropriate. Your appearance out in the open wearing ANC formal attire, reciting ANC mottos and applauding recent pioneer and attempting to criticize current pioneer is an affront to the very ANC whose name you use.
As a suspended SG you ought to have been embarrassed to be found in Limpopo attempting to charm support for yourself. That is ethically off-base and extremely traditionalist.
Dube, Seme, Mahabane and a large group of others were taken out from administration and later ricocheted back. They didn't do what you are doing. Furthermore for that, we can't position of the ANC without referencing their names.
My recommendation to you Elias Segobelo Magashule, prominently known as Ace is to escape Limpopo and return home. Watch the occasion like large number of South Africans.
Focus on your legal disputes to demonstrate your innocence so you can be chosen back without flaws. What you are doing is damaging to the solidarity and recharging of the ANC which you will one day need.
Cde Ace, I didn't compose this letter to humiliate you or mocking you. I'm just encouraging you to sit back unobtrusively, resolve your legitimate issues and you will bob back more grounded than previously.
I'm keeping in touch with you to say quit assuming a troublesome part in the ANC. In the event that you love the ANC as you guarantee if it's not too much trouble, move to one side.
Leave the ANC alone greater than you.
Leave the ANC aggregate alone the middle that holds.
Pioneers travel every which way. You came and did everything you did, if it's not too much trouble, proceed to leave the recharging alone a reality.
As you probably are aware me I express my genuine thoughts without dread or favor. I'm transparently encouraging you to save my spirit in the event that you don't atone and to save yours assuming you apologize.
Content created and supplied by: South_Choice (via Opera News )
Opera News is a free to use platform and the views and opinions expressed herein are solely those of the author and do not represent, reflect or express the views of Opera News. Any/all written content and images displayed are provided by the blogger/author, appear herein as submitted by the blogger/author and are unedited by Opera News. Opera News does not consent to nor does it condone the posting of any content that violates the rights (including the copyrights) of any third party, nor content that may malign, inter alia, any religion, ethnic group, organization, gender, company, or individual. Opera News furthermore does not condone the use of our platform for the purposes encouraging/endorsing hate speech, violation of human rights and/or utterances of a defamatory nature. If the content contained herein violates any of your rights, including those of copyright, and/or violates any the above mentioned factors, you are requested to immediately notify us using via the following email address operanews-external(at)opera.com and/or report the article using the available reporting functionality built into our Platform See More