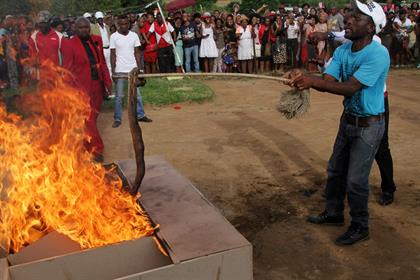 "Sangoma used Mamlambo to terrorize the community, now we caught & burned him& his Mamlambo" Said Israel Mashaba who was happy that finally the man who terrorized the community is now gone.
He said the sangoma was the most feared man in their village and he used his powers wrongly. when he went to a community meeting, he wanted his words to be final and whoever argued with him would be visited by his snake at night. Everyone feared him including Israel who said he once dated his side chick without knowing it and he made sure that he doesn't poke anyone anymore. Israel said his tool would sleep in a woman's presence and refuse to get up then when he is alone it would get up. This happened for six months and finally Israel decided to go to another sangoma who told him everything and told him the name of the person responsible for this.
"It was him; he made my life a living hell. We all made sure we were home by 8PM because the Mamlambo roamed around the streets after 8Pm and everyone knew that it doesn't play. Many people have different stories to tell about it. We once tried to attack him in his house as a community, but the leaders came out of the yard running and we all ran away, they said they were chased by a big snake. He terrorized the community so when a community meeting was called, he attended. There was an argument between him and another woman who he used to bed and then he started beating her up, community members joined in and he was beaten to death and a snake fell from his waist. It was killed too. Now we can live happily because the devil is no more." he said.
The picture is for illustrative purposes and it doesn't represent the actual person.
Content created and supplied by: MakhayaNews (via Opera News )