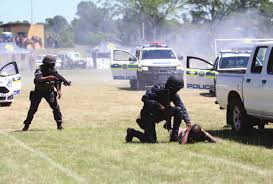 Cases of robbery keep on getting reported daily as businesses and individuals keep on losing their money and valuable assets to robbers.
Yesterday at about 15:00 hours, armed men accosted a store manager who was performing his routine duties with a group of colleagues at one shopping centre in Brighton Beach.
According to reports, the suspects held the manager and staff at gunpoint as they ordered them to open the safe.
In a bid to save their lives, they complied and the suspects took an undisclosed amount of money, cellphones and other valuables before they walked out.
An alarm was raised and among the respondents was the members of the police department in Brighton Beach and other security teams who were in the area. A joint operation was put in place as the members sought to hunt down the suspects.
A description was given of the suspects who carried out the robbery and within a few minutes the members spotted a man who matched the description. A search was done on him and the members found with a toy gun which is believed to have been used to commit the crime. The 27 year old suspect also had part of the cash which had been stolen from the store.
Tomorrow he is expected to make an appearance at teh Durban Magistrate Court facing charges of robbery as he is currently in police custody. The members are also profiling him if he was involved in similar robberies which were reported in the area and a manhunt for the remaining suspects is underway. A preliminary investigation revealed that the suspect works at a different branch and is employed at the same store he robbed.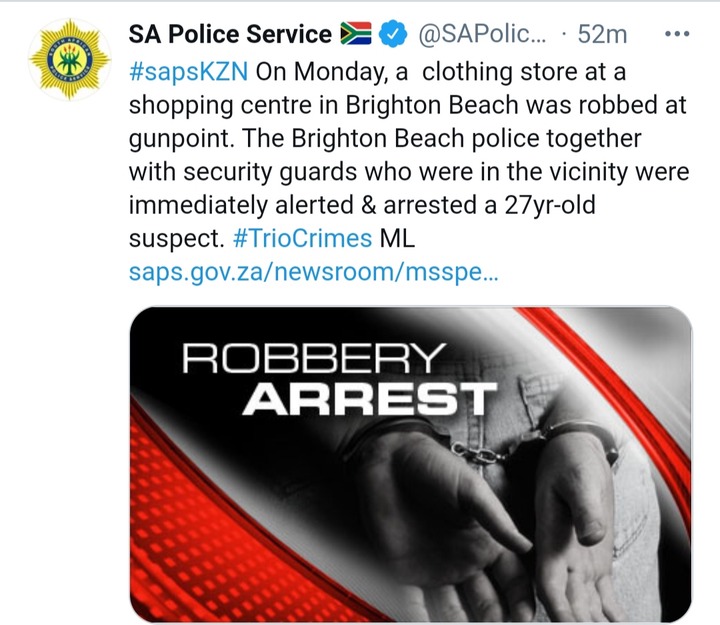 The swift response by the members led to the successful arrest of the suspect and the members were applauded for the splendid work they did in enforcing law and order in the area.
Content created and supplied by: CrimeSA (via Opera News )