14 years old Sami has fallen victim of the barbaric violence in DR Congo. The young boy had to watch his family being brutally killed right in front of him as no mercy was shown to them. After killing his parents they then turned their attention to Sami.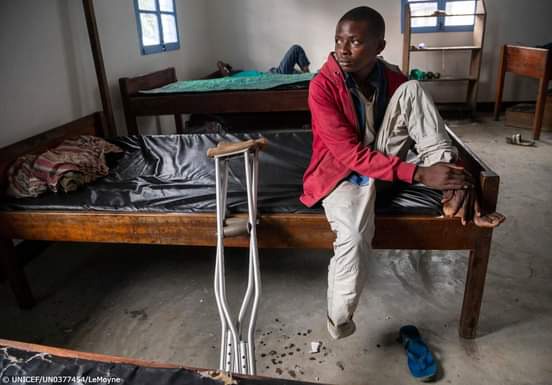 Sami lost his leg in the process when he was also attacked regardless of being a young boy. He can consider himself lucky as his life was spared. The only things he lost was his leg and his family. It will be a very challenging for him to forget about this tragic event.
"I watched them kill my family and then they attacked me with a machete." - said Sami
The children of DR Congo are facing the consequences of barbaric violence and UNICEF is calling for an end to the conflict that has taken so many lives and left children with no parents. 
Sami together with children like him are being supported with shelter and given psychological support to help with their state of minds. UNICEF and local partners are determined to help the children in any possible way and they are hoping to see the violence come to an end soon enough.
Source: https://www.facebook.com/unicef/
Content created and supplied by: MysteriousWorld (via Opera News )