The number of people to be arrested is expected to increase in the corruption case and money laundering concerning a tender of R47 million for the hiring of temporary police barracks in Kwazulu Natal during the 2010 World Cup.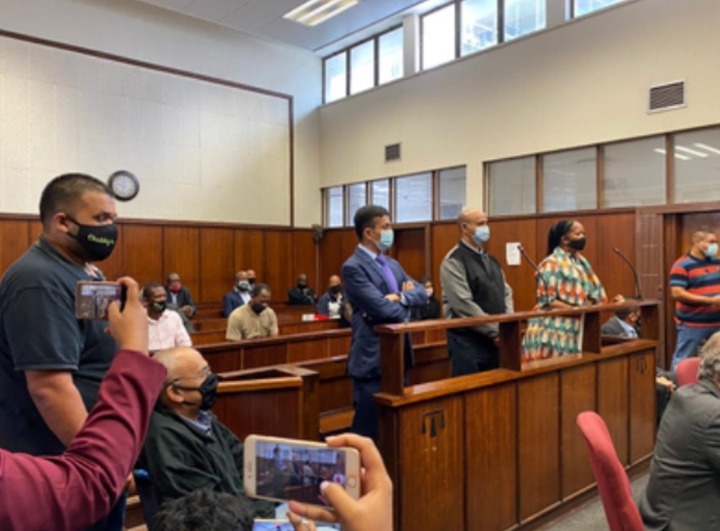 FORMER POLICE Captain; Ashwin Narainpersad (on the wheelchair), businessman; Thoshan Panday, former police Colonel Navin Madhoe, former commissioner of police in KwaZulu-Natal; Mmamonnye Ngobeni; when they appeared in the Durban Magistrate's court for a case of corruption and fraud concerning a tender of R47 million. Picture: Investigative Directorate
The Investigative Directorate (ID) of the National Prosecuting Authority (NPA); says it will arrest 5 more people on top of the 4 that have been arrested already; with regard to this case.
Those who have been arrested include; former Kwazulu Natal; police commissioner; Mmamonnye Ngobeni, former police Colonel Navin Madhoe; Captain Ashwin Narainpersad and businessman; Thoshan Panday.
The former members of the police force are suspected of colluding with businessman Panday to get the tender. Ngobeni is suspected for the kickback she received from Panday in the form of a lavish birthday party thrown for her husband.
She is believed to have not declared this gesture to the police which is expected and normal practice. She is also suspected of defeating the ends of justice.
On Monday; the four appeared at the Durban High court Durban and their case was postponed to 27 May; where they will appear with 5 others; who are soon to be arrested.
This time; the for suspects did not personally attend the court but they were represented by their lawyers.
The spokesperson for the Investigative Directorate; Sindiswe Twala said; the 5 suspects will be arrested any day soon; then they will appear for the first time at the Durban high court on 7 May.
Twala said there are 9 suspects who will appear together in court on 7 May. The 5 suspects with pending arrest warrants worked with Panday.
"The case concerns suspicion of corruption in the hiring of Kwa-Zulu Natal police barracks during the 2010 World Cup." Said Twala.
Panday is suspected to have collaborated with Madhoe; when they tried to bribe former head of Hawks; General Johan Booysen; to squash the investigation about their corruption.
Panday is out on bail of R100 000, Ngobeni was released on bail of R20 000, Madhoe and Narainpersad were given a bail of R10 000 each. They all handed themselves over to the police in October last year.
The Investigative Directorate says they have been given a mandate to add a case of money laundering by the head of NPA, Advocate Shamila Batohi; as she believes; they sat down and planned all this corrupt business.
There are 184 witnesses expected to be called during this court case.
https://www.isolezwe.co.za/izindaba/kuzoboshwa-abanye-ngecala-lethenda-yezigidi-4c88e679-3e79-42bb-a0f3-4e778e3f97da
Please like; share; comment and follow me for more news.
Content created and supplied by: TingTong1105 (via Opera News )