David Mpungose (52) who works at a farm called Mevamhlophe Livestock; in Mthonjaneni; rural Kwa-Zulu Natal; decries his dignity being tarnished by being beaten by his employer and security guards; in front of his wife who ran off and hid in the nearby bushes out of fear.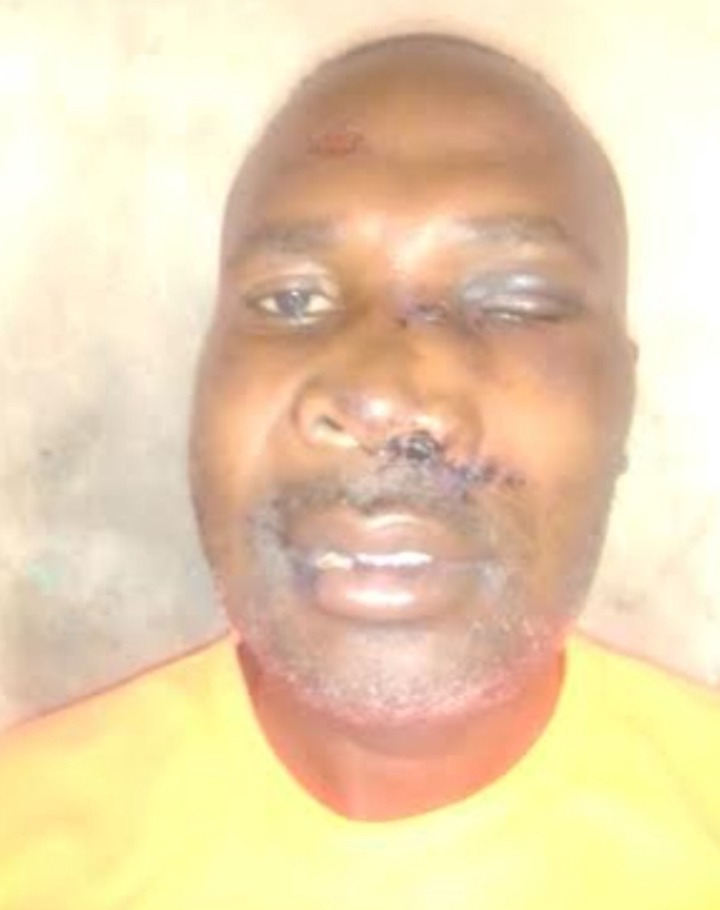 David Mpungose (52); was left black and blue; after being attacked by his employer suspecting him of being drunk while on the job.
David Mpungose (52); who was left with serious injuries after this incident; says they beat him because they were accusing him of drinking at work; though he says he does not drink at all. Even the breathalyzer depicted that he had not drank at all on the day.
He told the local newspaper that he does not know how he survived the attack by his employer and guards; which all happened in full glare of his wife.
He said it started with him calling his boss and informing him that the bakkie he drives for work is giving him problems. The farm vehicle is kept by Mpungose.
"The farm sells cows; my job is to deliver cows to the buyers. On the day of the attack; i phoned my boss informing him that the car needs to be fixed as it is giving me problems and the traffic officers also tell me that it needs fixing when I come across them on the road." Said Mpungose.
"He told me to bring the vehicle to him after finishing with the deliveries. I took my wife for company and went to him. On arrival; I came across him with the guard on their way out." Said Mpungose.
"Due to rain; I tried to do a quick U-turn and the car slid into the mud. He stopped his car and came directly to the one I was driving and told me that I was drunk. He said I had been drinking on the job." Said Mpungose.
"I told him that I don't drink alcohol but his guard took out a breathalyzer and asked me to blow on it. I did as I was told and he asked me to follow him" He said.
"When I followed the guard; the boss came to the vehicle and said I'm drunk; that is why the car slid into the mud. He told the guard to hold me; then he started assaulting me until I fell to the ground." He continued.
"My wife got out of the car; ran off and hid in the bushes; after seeing me being assaulted and lying on the ground. I was assaulted with a sjambok and punched." Said Mpungose.
He says he was assaulted until he lost consciousness and came to when he was in the vehicle's boot.
He told the local newspaper that the employer and the guards dropped him at the Babanango police station and told them that they caught him stealing a car.
"I explained to the police about what happened; they called an ambulance which rushed me to hospital." Said Mpungose.
He said he is in a difficult situation because he cannot eat without being assisted and he has lost his dignity because he was harmed in front of his wife.
"My wife is traumatized due to this incident; even when I comfort her; she just cries." Said Mpungose. 
Vither Udash who is a lawyer of Mpungose's employer said they cannot comment because a case has been opened; but what he can confirm is that Mpungose is telling lies when he says he does not drink because he was drunk on the day of the incident.
The spokesperson for the SAPS in KwaZulu-Natal; Captain Nqobile Gwala said; a case of assault with intent to do grievous body harm has been opened. The police are investigating.
https://ilanganews.co.za/ubalisa-ngokwehliswa-isithunzi-omuhluzwe-umqashi-epulazini/
Please like; share; comment and follow me for more news.
Content created and supplied by: TingTong1105 (via Opera News )