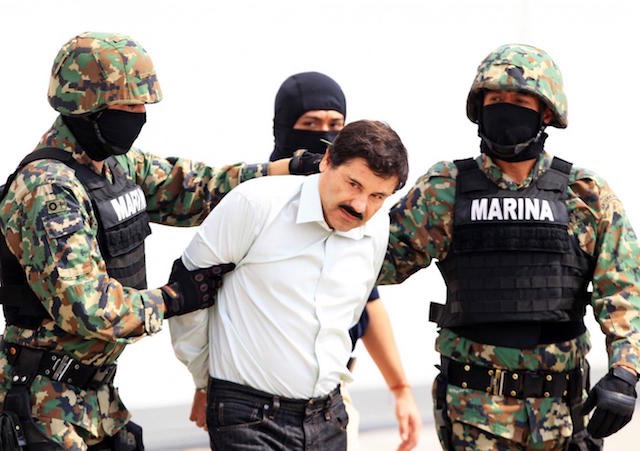 .10. Joaquin "El Chapo" Guzman Loera – Net Worth: $1 Billion Joaquin "El Chapo" Guzman Loera is a Mexican drug lord who is in charge of the Sinaloa Cartel and is considered to be the most powerful and notorious drug lord in the world today. Known as "El Chapo", Joaquin's cartel primarily concerns itself with the trade of cocaine, methamphetamine, heroin, and ecstasy, which are largely shipped to the United States for sale. He is estimated to be worth $1 billion and is well-known for his numerous prison escapes.El Chapo has been arrested and locked up a few times, but has escaped each time, most recently in July of this year. He tunneled out of a maximum security prison in Mexico and is still at large today.
9. Griselda Blanco – $2 Billion in net worthNext up is Griselda Blanco (a.k.a. the Black Widow, a.k.a. the Cocaine Godmother), with an estimated net worth of $2 billion. Griselda was a member of the notorious Medellin Cartel and was involved with the cartel during its most powerful years. During the 1970's and 1980's, Griselda primarily worked in New York and Miami, helping with the cocaine shipments that ended up in the United States. It is estimated that her operations in the United States at their height brought in some $80 million in revenue each month. However, Griselda became increasingly violent and paranoid over the years, like many drug lords (drug lady? ), and was eventually arrested, yet the case fell apart. She then fled to Columbia, where she laid low, before she was eventually killed in a drive-by assassination in Medellin, Columbia in 2012.
8. Carlos Lehder has a net worth of $2.7 billion.Carlos Lehder is a Columbian drug lord who is known as one of the original co-founders of the Medellin Cartel. Carlos worked with the cartel originally as a leader of a militarized guerrilla army that fought against the various other groups in Columbia that sought to fight and end the cartels. Additionally, during the 1970's, he purchased and operated an island in the Bahamas that acted as a way point for drug shipments that were headed from Columbia to the United States. He started to force the local population of the island to submit, and for a short time, it was essentially a law-less island that was run by Lehder and his guerrilla forces. Eventually, his cartel began to turn on him due to his increasingly militarized and radical behavior, which then led to his capture and arrest by the United States. He is currently held in a maximum-security prison in the United States.
7.Gilberto and Miguel Orejuela have a net worth of $2.5 billion.Brothers Gilberto and Miguel Orejuela were two of the co-founders and leaders of the Cali Cartel, a drug cartel from Columbia and one of the major rivals of the Medellin Cartel. Like the Medellin Cartel, the Cali Cartel rose to power during the 1970's. Initially, they primarily shipped cannabis into the United States, but soon turned to cocaine. While the Medellin Cartel was waging war against the Columbian government, the Cali Cartel was less violent and focused on making money. During their height, it is believed that Gilberto and Miguel had a combined net worth of $3 billion dollars. Eventually, both were captured, extradited to the United States, and are currently serving 30-year prison sentences in maximum security prisons.
6. Jose Gonzalo Rodriguez Gacha has a net worth of $5 billion.Jose Gonzalo Rodriquez Gacha was a drug lord from Columbia and one of the chief leaders of the Medellin Cartel, working alongside his friends and fellow associates, Pablo Escobar, the Ochoa brothers, and Carlos Lehder. Rodriguez was born into poverty and eventually became a hitman during his youth. He eventually moved to Medellin, where he would then team up with others to form the Medellin Cartel. Rodriquez assisted in setting up various trafficking routes throughout South and Latin America, in addition to constructing the various labs in the jungles where they actually made the cocaine. As their operations grew, Rodriguez began to diversify himself more, owning ranches and gem mines. When the Columbian government began to fight the Medellin Cartel more, Rodriquez was one of the chief individuals who organized kidnappings and bombings against the police, VIPs, judges, and various members of the government. Jose would continue to resist arrest and fight the government before he was killed in a police raid in 1989.
5. Khun Sa – $5 billion in net worthKhun Sa was a Shan military leader and drug lord who was also known as the "Opium King". Khun Sa grew to prominence during the 1960's when he fled into Burma at the end of the Chinese Civil War. He began to organize a small militia group of fighters that would eventually grow into an army that fought for the Shan State. Eventually, he got involved with the opium and eventually the heroin trade, as he oversaw the production and transportation of these drugs within South East Asia. Khun Sa was eventually indicted by the United States for his drug operation, and then surrendered to the Burmese government in hopes that he would not be extradited to the U.S. He was then never really locked up and lived out the remainder of his life in Rangoon.
4. The Ochoa Brothers – $6 Billion in net worthJorge, Juan David, and Fabio Ochoa were three brothers who were also co-founders and members of the Medellin Cartel. The Ochoa Brothers were already producing and trafficking cocaine before the Medellin Cartel was formed, and it made sense for them to join forces with Escobar, Rodriquez, and others. During the height of their operations, they were estimated to have a combined net worth of some $6 billion dollars. As their drug empire began to fall, Jorge and Juan David would eventually surrender to the Colombian government, and Fabio was extradited to the United States.
3. Dawood Ibrahim Kaskar-Net Worth: $6.7 Billion Dawood Ibrahim Kaskar is an Indian crime and drug lord who leads the notorious D-Company syndicate in India. Dawood's organization oversees everything from assassinations to drug trafficking. He is suspected of being the mastermind behind the 1993 Mumbai bombings and was a close associate of al-Qaeda and even Osama bin Laden when he was alive.It is estimated that Dawood is worth around $6.7 billion dollars, and he is currently one of the most wanted criminals. His current whereabouts are unknown, but it is believed he may be residing in Pakistan or the United Arab Emirates.
2. Amado Carrillo Fuentes has a net worth of $25 billion.Amado Carrillo Fuentes was a Mexican drug lord who overtook the Juarez Cartel after he personally assassinated the former leader, Rafael Aguilar Guajardo. Amado was known as "the lord of the skies" as he had 27 Boeing 727 jets that flew regularly into the United States carrying cocaine. It is estimated that he was worth $25 billion at one point, making him one of the richest drug lords ever. As various governments began to try and catch Amado, he opted to get plastic surgery on his face to change his appearance. During the operation, he died, but there are a few conspiracy theories out there that suggest that he is still alive.
1. Pablo Escobar – $30 Billion in net worthPablo Escobar is easily the most notorious and richest drug lord to ever live. He was the focal member and founder of the Medellin Cartel and was one of the wealthiest criminals in history. During the height of the Medellin Cartel and his empire, it was estimated that Pablo supplied 80% of the cocaine sold in the United States, and the cartel was bringing in over $60 million dollars every day. When he was alive, he was one of the richest individuals in the entire world. He fought extremely hard and violently against the Columbian government during the 1970's, 1980's, and 1990's, essentially waging a war. Escobar was eventually killed during a raid in 1993, leaving behind a notorious legacy.
Source:https://worthly.com/richest/10-richest-drug-lords-ever/
Content created and supplied by: BirminghamJ (via Opera News )
Opera News is a free to use platform and the views and opinions expressed herein are solely those of the author and do not represent, reflect or express the views of Opera News. Any/all written content and images displayed are provided by the blogger/author, appear herein as submitted by the blogger/author and are unedited by Opera News. Opera News does not consent to nor does it condone the posting of any content that violates the rights (including the copyrights) of any third party, nor content that may malign, inter alia, any religion, ethnic group, organization, gender, company, or individual. Opera News furthermore does not condone the use of our platform for the purposes encouraging/endorsing hate speech, violation of human rights and/or utterances of a defamatory nature. If the content contained herein violates any of your rights, including those of copyright, and/or violates any the above mentioned factors, you are requested to immediately notify us using via the following email address operanews-external(at)opera.com and/or report the article using the available reporting functionality built into our Platform See More