The man from Nkanini; in Eshowe; was caught on Monday hiding at a traditional healer's house. He is suspected of killing 6 of his extended family members on Saturday night.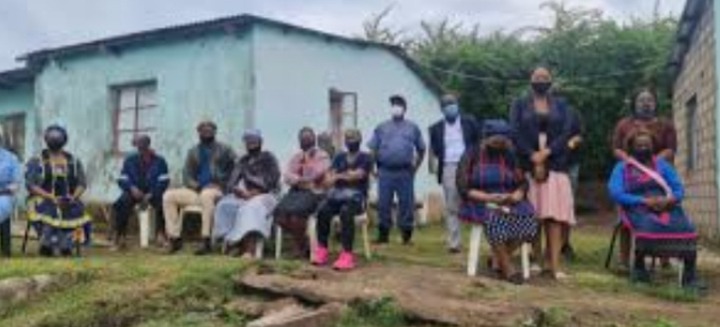 Sthembiso Mthimkhulu (36); who is a social worker at Esikhaleni; in Esikhawini; appeared in the Eshowe magistrate court on Wednesday; facing charges of killing his uncle; Christopher Khumalo (75), his wife Mazibani Khumalo; also known as MaSigampu (62), Sinothile Khumalo (18), Mbali Khumalo (29), Thabo Khumalo (10) and Elihle Sigampu. 
In this incident; a 9 year old child survived after hiding behind a curtain; throughout the ordeal.
Other members of the family were alerted to the tragedy by the late Khumalo's daughter; who was in hospital having a baby.
The local newspaper visited the Khumalo family homestead and spoke to Nhlanhla Sigampu; who is brother to the late MaSigampu, he and his family were enraged by this deed.
"My sister died after she had reported to us that all was not well with her marriage. They were calling her a witch and saying she and her husband were practising witchcraft. She told me that they suspected her of having something to do with the death of her husband's son in 2018." Said Sigampu.
"Though she told us these things; we never imagined that things were this bad. She told us that they received numerous death threats from the suspect; who always said he will revenge the death of his cousin." Said Sigampu
He said as Sigampu family; they are traumatised by the way his sister and her family were killed. What hurt them most is that the Khumalos never informed them of the incident; they only heard the news after they were informed by her daughter; who is in hospital.
The local newspaper learnt that the suspect was trusted by the family; they thought of him as someone kind. He was quiet and only spoke when he was drunk; which is when he would make death threats.
Another uncle of the suspect; Bhekithemba Khumalo; said as a family they are still shocked by this act done by their nephew.
We learnt that my brother and his family were murdered on Saturday around 11p.m. They said my nephew; who is my younger sister's child came and gathered them all into one room and shot them." Said Khumalo.
"On Sunday during the day; I got a call from the suspect; saying he is in Durban; he asked me to to rush to my brother's place because he heard that there were people who came and robbed them and took all their property." Said Khumalo.
"A short while after that; I got another call informing me that my brother and his family have been murdered. I immediately suspected that my nephew had a hand in this." Said Khumalo.
The local newspaper spoke to one other uncle of the suspect; Bhekinkosi Khumalo; the spokesperson for the family; who said they were not aware of a conflict in the family.
He apologised to the Sigampu family for not informing them about the incident; he said the reason was that they did not have a contact number of any of the Sigampu family members.
The local newspaper noted that the relations between the two families were not good because they agreed that the Sigampu family will take MaSigampu's body and those of her children and grandchildren and go bury them; themselves at Inanda; in Durban.
Khumalo will be buried by his own family.
The Minister of police; Bheki Cele; visited the family on Wednesday after hearing of the incident; to pass his condolences. He expressed his joy at the quick investigation and arrest of the suspect.
"I know that Eshowe is one of the places which have a bad reputation when it comes to arresting of murderers for reported cases. I'm happy to hear that in this particular case; a suspect was arrested." Said Cele.
"I plead with the police to solve the other unsolved cases using the route; they used on this case." Said Cele.
Cele did say that the suspect appeared in court on Wednesday; charged with six cases of murder. He is expected to appear again on 5 March 2021.
https://ilanganews.co.za/ubanjwe-enyangeni-obulale-abomndeni/
Please like; share; comment and follow me for more news.
Content created and supplied by: TingTong1105 (via Opera News )