A lot of roads in South Africa have been damaged due to heavy rains especially in the villages. Many pictures have been shared on social media whereby roads were flooded and some have collapsed. This has made it hard and dangerous for cars to drive just anywhere.
According to dailydispatch.co.za, roads in the Eastern Cape are badly damaged that most funeral parlours have decided to hire donkey carts so a coffin can be taken to the cemetery.
Some families use ladders to place a coffin and carry their loved ones to their graves because carrying the whole coffin while walking will be too heavy for them.
Source: https://www.dispatchlive.co.za/news/2021-02-10-only-a-donkey-cart-can-get-coffin-to-grave/?utm_medium=Social&utm_source=Facebook#Echobox=1612930690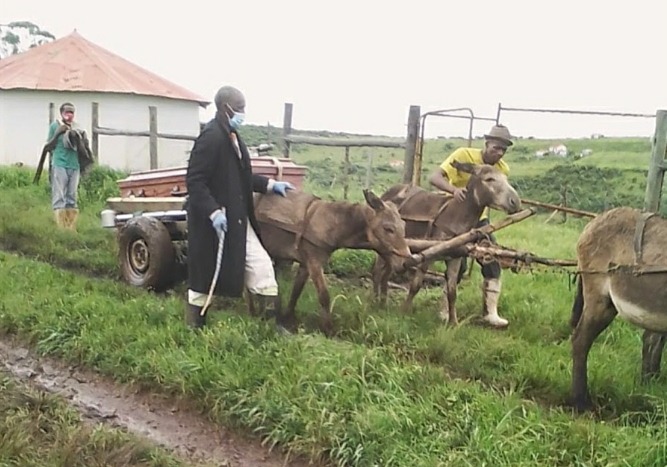 At Nyumaga village in Centane, Eastern Cape, mourners continue to carry their loved ones in ladders or donkey carts because their roads are badly damaged and cannot wait to long because a funeral should be over within two hours due Covid-19.
Now due to the bad infrastructure, mourners in the village have no choice but to bury their loved ones in disgrace. During rainy days, mourners have to quickly organise a donkey cart because a hearse cannot drive to the cemetery.
Malibongwe Pikisa who is a resident at Nyumaga says that their roads have been horrible for years and there has never been any contractor in the village. He calls upon the government to come and see how people are living there because the government itself has never visited their area.
Content created and supplied by: Sasatjie (via Opera News )