In less than a month, a part-time call center worker and her sound engineer husband got contracts worth nearly R30 million from Tembisa Hospital. This was part of a huge network of extortion that was found by the murdered whistleblower Babita Deokaran. Christine and Avikash Signarian each own five businesses that did a lot of business with the hospital. For example, the hospital hired them to make everything from ventilators to ICU beds.
More than a thousand "possibly fraudulent" transactions were flagged by Deokaran three weeks before she was killed. Seventy of those payments went to things they own. Her request for a forensic investigation into how the hospital bought things was ignored, and payments worth R850 million haven't been fully looked into yet.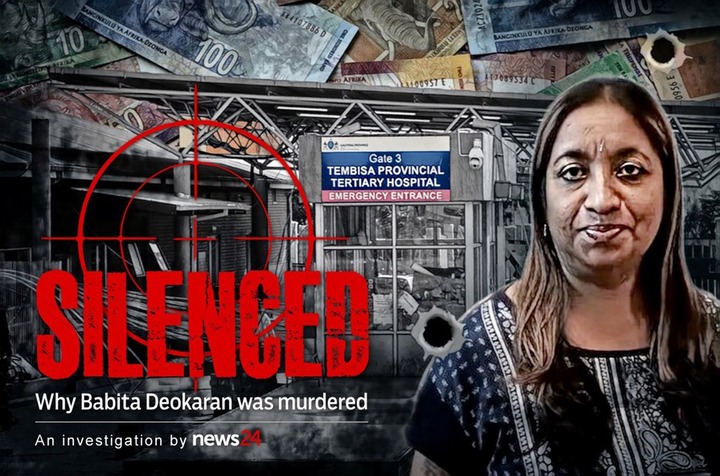 Gauteng Department of Health. She was assassinated in 2021. "/>
Thousands of emails from the Gauteng Department of Health were used in an investigation by News24 to find out: The couple's businesses are part of a bigger network of fake businesses that only exist on paper. Avikash Signarian is close to Samendran Chin, who got contracts worth nearly R8 million through five companies he set up on the same day with fake addresses.
Signarian and Chin both worked at Gresham Media, which is where they met.
The Signarians and Chin sold medical equipment in a way that was against the law. Now, the South African Health Products Regulatory Authority (Sahpra) is looking into the Tembisa Hospital bonanza.
Happy couple
Avikash and Christine Signarian are from Phoenix, which is north of Durban. They both worked at a call center in Umhlanga. They moved to Johannesburg, and two years after getting married, they were in charge of a group of companies with a direct line to the Tembisa Hospital supply chain management office.
We went to 10 different places where these businesses were said to be based. We were unable to find any offices or warehouses. None of them has an official website or a page on social media. All of the mail was sent to Yahoo and Gmail addresses. Avigeez's official address is a broken down building in Nigel that is now empty. Before the building was empty, a grocery store was there.
The business address of Sadie Ada is a care home in Krugersdorp for adults with mental disabilities. Deokaran noticed that something didn't look right, and she told the bosses of the Gauteng health department about her concerns in an official report. "Some of the companies that needed to be paid before they could be released were looked up on the internet, but it was not possible to find out if they were real.
"This seems to happen a lot at Tembisa Hospital, but there is a good chance that it also happens in other places," Deokaran wrote. On the same day, Christine Signarian was put in charge of her five businesses. Documents that News24 got show that the 32-year-old got six contracts from the Heidelberg Hospital worth a total of nearly R74,000 in less than a year.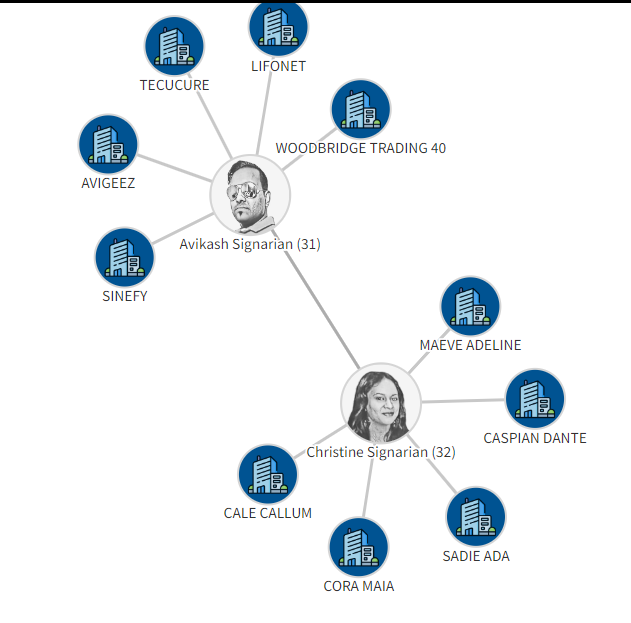 Shortly after that, Tembisa Hospital sent her a blessing. In a month, R10.85 million was sent out in 25 payments. Avikash Signarian made more money than his wife, whose earnings from 39 different transactions added up to R17.31 million. Key documents show that payments of R28.23 million from Tembisa Hospital to companies owned by the couple were all made at the same time. Their group of companies made an average of R1 million a day.
Most of their transactions were between R480 000 and R499 000, which was just below the amount that Tembisa Hospital CEO Ashley Mthunzi had given them permission to do. It was because of all these payments to a network of companies that were run by a small group of people that costs went up by a factor of ten.
All but one of the 64 payments to Signarian's companies were made after Mthunzi was named acting CEO and then CEO for good. Comparing the prices of two contracts shows that the hospital paid a lot more than it should have for the medical equipment it bought. The number of items offered is also a red flag. Tecucure was hired by a hospital with 840 beds to supply them with 1,000 blood pressure cuffs.
With procurement below the threshold, the SCM staff at Tembisa Hospital could ask for three bids on medical devices or goods. If the rules were followed, the inflated payments to Tecucure and Cale Callum were the least expensive. This suggests that the bidders may have used "cover quotes" or worked together.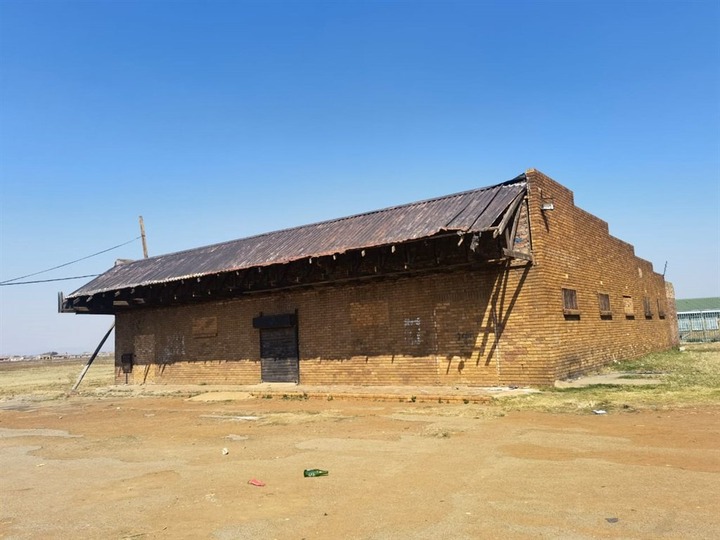 Sounds like a match
News24 confirmed that both Avikash Signarian and Samendran Chin worked as sound engineers for Gresham Media and were close friends. Chin wouldn't answer questions and said he had been told not to talk to reporters, but he wouldn't say who had told him that. The contracts given to his companies, which were all set up on the same day with fake addresses, are worth R7.88 million as a whole.
Gresham Media said these things in a statement:
"News24 recently told our company that Samendran Chin and Avikash Signarian are the personal owners of several companies, which our company did not know until July 29, 2022. We can say for sure that neither of them works for our company any longer."
It is thought that both of them quit right away after Gresham was asked for his opinion.
Illicit trade
Medical devices can't be sold or distributed without a license from Sahpra, and state institutions can't do business with people who don't have a license. If you break this rule, you could be charged with a crime and sent to prison. The watchdog said in response to questions, "This is to make sure that health products on the market that South Africans can buy are safe, effective, and used the way they were meant to be used."
Documents that News24 got show that the medical devices were sold by companies without Sahpra licenses: Electrosurgical pens from Lifonet worth R492 000; electrosurgical pens from Tecucure worth R493 000; ICU beds from Cale Callum worth R495 000; Caspian Dante got ICU beds worth R494,000; Cora Maia got ventilators worth R496,000. Cora Maia got incubators with ventilation capabilities worth R496,000. Maeve Adeline got breathing filters for ICU patients worth R493,000.
Yuven Gounden, a spokesman for Sahpra, said that the 10 companies run by the Signarians have never asked for licenses. He also said that they were looking into Tembisa Hospital at the moment. "It's something Sahpra should worry about," he said.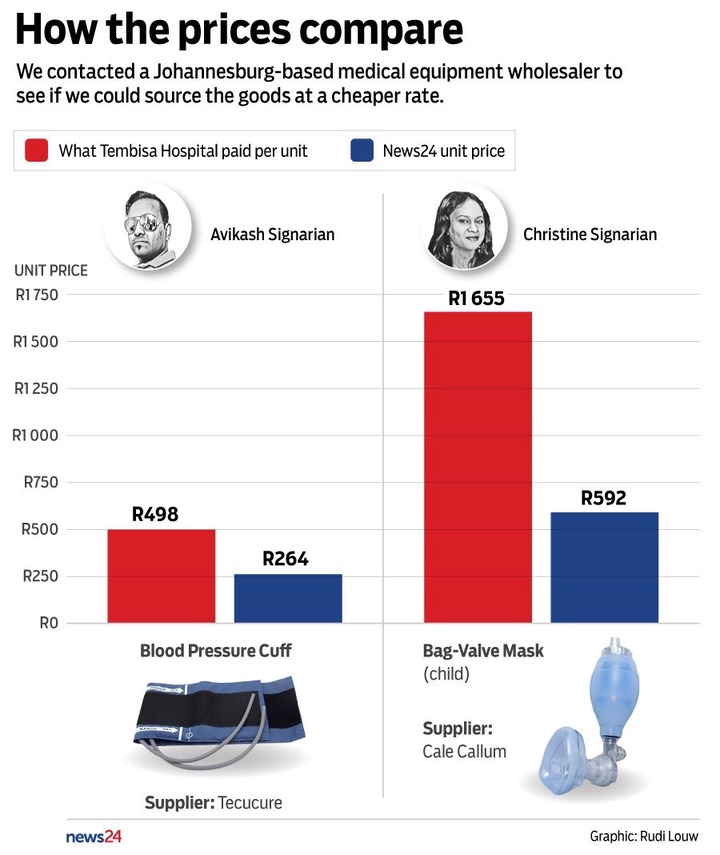 Silence
The Signarians and Chin could not be reached by phone, no matter how hard people tried. Allegations and questions were written to Chin and sent to him by email. Letters were also sent to the couple's relatives in Phoenix. They didn't say anything. Christine Signarian's mother, Calvarine Sonmugasundrum, said that her daughter was a good person.
"I don't think that's the right person... My daughter doesn't work for anyone... She doesn't act like that at all, "she told me. When given more information, she said she had nothing else to say. Adrian, her brother, said he had been trying to get in touch with her but had not been able to.
He said, "I think she changed her number because I've been trying to reach her for a couple of weeks and can't." News24 went to the small house in Lotus Gardens, outside of Pretoria, where they rented a back room. Their old landlord, who did not want to be named, said that the couple moved out quickly in May.
"They left in a hurry... I never even saw them go. They gave their house keys to a neighbor "she told me.
Their departure happened around the same time that News24 first talked to Chin and asked him about his business dealings.
Inaction
The Gauteng Department of Health didn't answer questions, but instead put out a general statement saying that it wouldn't comment on what was going on.
"As we've already said, the Gauteng Department of Health is worried about the serious accusations that have come out of a series of stories that News24 has published in response to your ongoing investigation into the circumstances surrounding the death of Ms. Babita Deokaran, a former senior finance official.
"The Department reiterates its position that serious action will be taken against its employees who are found to have failed to do their jobs in accordance with the Public Finance Management Act and other applicable rules," it says.
Outrage
Stefanie Fick, the executive director of OUTA Accountability, said that Deokaran had been let down by the Gauteng health department and that promises to get rid of corruption were just words. "It looks like they aren't really trying to get rid of corruption in the health department... They didn't look into her complaints well enough, so they didn't hold the people responsible for the illegal transactions accountable "she told me.
Six alleged hitmen who were arrested three days after Deokaran was killed by gunfire have been charged with her murder in Johannesburg's Gauteng High Court. The Hawks' search for their paymaster is still going on.
SILENCED | Love me tender: How husband and wife bagged R30m in Tembisa Hospital contracts | News24
Content created and supplied by: The_Returnor (via Opera News )
Opera News is a free to use platform and the views and opinions expressed herein are solely those of the author and do not represent, reflect or express the views of Opera News. Any/all written content and images displayed are provided by the blogger/author, appear herein as submitted by the blogger/author and are unedited by Opera News. Opera News does not consent to nor does it condone the posting of any content that violates the rights (including the copyrights) of any third party, nor content that may malign, inter alia, any religion, ethnic group, organization, gender, company, or individual. Opera News furthermore does not condone the use of our platform for the purposes encouraging/endorsing hate speech, violation of human rights and/or utterances of a defamatory nature. If the content contained herein violates any of your rights, including those of copyright, and/or violates any the above mentioned factors, you are requested to immediately notify us using via the following email address operanews-external(at)opera.com and/or report the article using the available reporting functionality built into our Platform See More