A man from KwaNtombiziyaqonywa; in Mahlabathini; rural Kwa-Zulu Natal said it will take time for him to forgive his uncle for attacking him with a panga on the side of the head. He said his uncle did this to protect his wife's honour.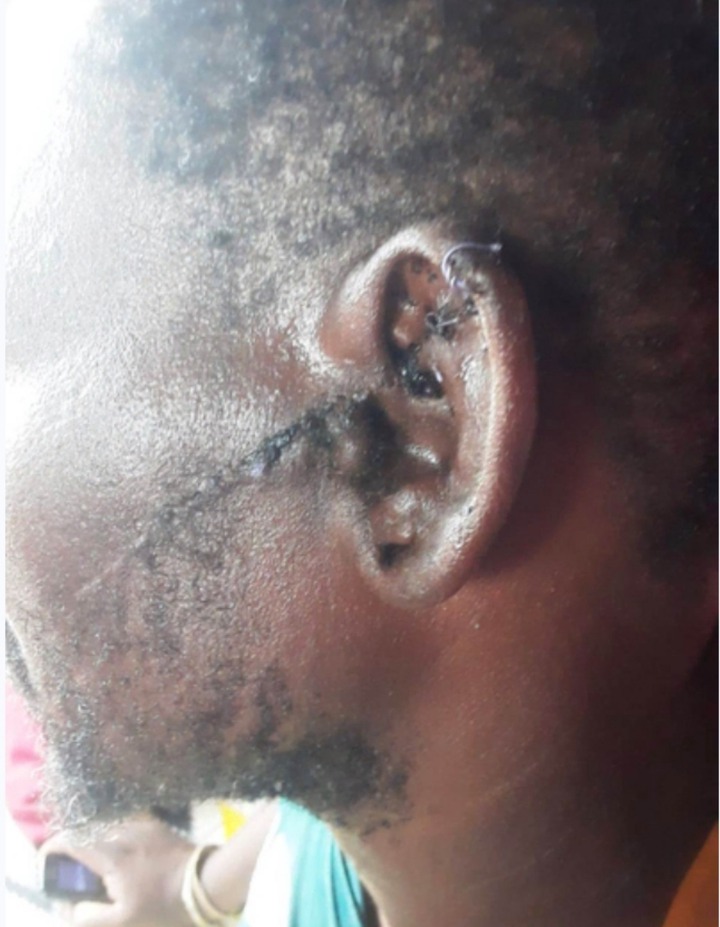 Sfiso Mncwango (43) from KwaNtombiziyaqonywa; in Mahlabathini; almost died after being attacked with a panga by his uncle. Picture: Supplied
The wife of the man; who is a preacher at Nazareth church; is rumoured to have an affair with her nephew inlaw.
Sfiso Mncwango (43) told the local newspaper that he is still asking himself a lot of unanswered questions; about why his uncle keeps spreading ugly rumours about him and his wife; who is a member of the Snethemba church; which falls under the Nazareth Shembe church.
Sfiso said this conflict has been going on for a while and was started when he was suspected to have relations with his uncle's wife. The family has had a meeting to discuss the matter where it was agreed that Sfiso will pay a fine to resolve the matter.
Then his uncle decided to ignore the family's arrangement by attacking him with a panga. While the victim was sitting with two friends he was attacked by his uncle who was brandishing a panga. The uncle cut Sfiso's left ear and side of his face open with a panga.
"I was lucky to turn around and face him in time; when he thought he would finish me off. His intention was to cut my head open; I would be dead by now. As we speak the pain is unbearable because I was stitched on my ear and side of the face." Said Sfiso.
"I told him from the beginning that I do not know anything about these rumours he is accusing me of. I agreed to pay the fine to end the argument and talking about this issue. I was making arrangements to buy the goat (for the fine) when he attacked me." Said Sfiso.
He continued to say that; though the family has told him to forgive his uncle; it will take time for him to forget; because he almost died. He wants the law to play its role by arresting him so that he will pay for what he did to him.
The preacher of Snethemba Nazareth church; Leonard Mncwango refused to comment.
"I would not comment about the matter because it is now in court. What surprises me is that it has been spread out to the public." Said Mncwango.
The spokesperson for the SAPS in Kwazulu Natal; Colonel Thembeka Mbele; confirmed the incident of a man who was attacked with a panga.
The police from Mahlabathini police station have opened a case of assault of a 43 year-old man. A 48 year-old man was arrested and appeared before the Mahlabathini magistrate on Monday." Said Mbele.
https://www.isolezwe.co.za/izindaba/usinde-egencwa-ngocelemba-nguyise-96a17b36-e207-477a-88a3-29a1e5482bb8
Please like; share; comment and follow me for more news.
Content created and supplied by: TingTong1105 (via Opera News )