An investigation has been opened as a result of police allegedly failing to act as a man was manhandled and assaulted inside the premises of a White River Police station.
According to the owner of Divergent Ops, Jacques Meiring, his client Delia Human and her fiancé were allegedly attacked by members of another security company. The attack happened after they were followed by a convoy of vehicles that tried to push them off from the road.  
Meiring said those police officers ordered his offers to stand down and do nothing as the man was being assaulted, adding that could not intervene as they were not allowed to step in on something that was not within the jurisdiction of the police, if they did they would only defy an official police order.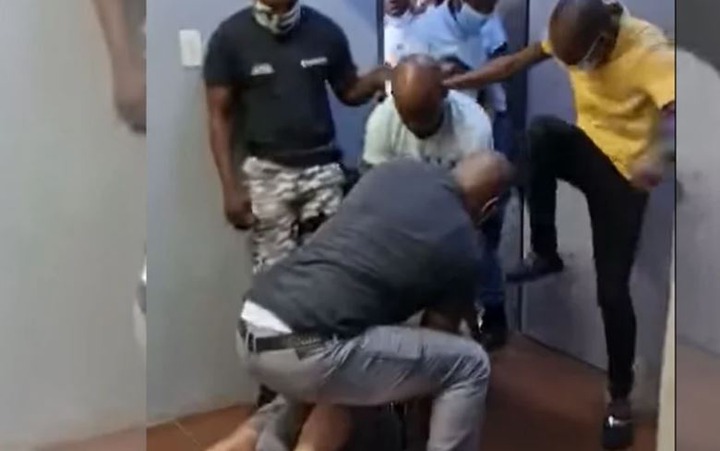 Brigadier Leonard Hlathi, The Police spokesperson on Monday said that the incident was an unfortunate one and shows lawlessness on the part of the persons involved. Emphasizing that the police station is not a battleground.
He advised that the incident has been reported to the Independent Police Investigative Directorate (IPID) and is under investigation.
On Monday, attempts to contact the director of the other security company were made to no avail and a family member to the director said they were also unable to reach him, but messages had been sent to alert him of the attempts to contact him.
A request for comment had been directed to a man claiming to be a co-owner of the particular security company, but there was no comment yet by Monday night.
Meiring told the media that his security officers were ordered by the police not to do anything about the attack. He said, unfortunately, all they could do was watch as the man was attacked and his cellphone, containing video footage of the convoy's alleged careless driving was destroyed. The greater part of the incident, on the road and at the police station, was captured in the cellphone footage.
According to a Facebook post by Human, the ordeal started on Sunday as the couple left their farm to buy groceries in White River. She said she posted the information publicly for her own protection after legal advice, as they were threatened throughout the ordeal, with their attackers allegedly claiming they would track them down and kill them.
Human said on a Facebook post, the whole incident started on Sunday as the couple set off from their farm to go to White River to get some groceries. She decided to post the information publicly in order to protect herself after getting legal advice, as their entourage threatened throughout the ordeal, the attackers promised to track them down and kill them.
She explained that they were driving on the R40 towards White River, close to the White River Country Club Estate, at about 10:16 am when a number of cars started to overtake them on a single road, pushing them and other vehicles to the side.
"At this point, my fiancé, Barend, told me to take his phone and start recording them as they were driving very dangerously and recklessly. I proceeded to record them using his iPhone," she said in the Facebook post.
Check Out The Video - https://www.facebook.com/derek.wormald.9/posts/4354916321191153
As they approached a traffic circle they realized they were "basically surrounded" by the vehicles after a black Range Rover that had no registration numbers stopped suddenly in their front.
Human's fiancé hooted at the car and the driver of the black Range Rover came out of his car and pulled out his firearm as he walked towards the driver's side of their vehicle. "My fiancé was keeping an eye on the man with the firearm, telling me to get down low as he was concerned the man would shoot. Then the other man, approaching from our rear, swung a large, concrete divider at the drivers' side window, smashing it instantly," said Human.
In order to get out of the situation, Human's fiancé reversed his vehicle and smashed into the vehicle which was blocking them from behind, and then swerving off-road and driving through traffic barriers.
They saw several cars chasing after them including a white VW that had company branding on it.
Human's fiancé gave them a signal that he was driving to the police station, but some of the vehicles persisted to race after him and tried to push their vehicle off the road. She confirms that they were several other vehicles chasing after them and had to "go over sidewalks" to ensure they made it to the police station.
"We managed to get to the police station and ran inside. I shouted for help and told the police we were being chased by armed men," she said.
She said the police officers led them to the radio room as they wanted to have a full view of what was happening outside, they were able to see their vehicle which still had their dog inside. In the meantime, she said that Barend was recording on his phone throughout. These men "gathered outside the police station," she said.
According to Human, "Some of them stayed outside and surrounded our vehicle and others came inside the police station, telling the police to 'let us out, and that they wanted our cellphones. We felt that our lives were in danger. I could not understand how nothing was being done to these men who had already pulled firearms on us."
It seems the police were not happy that Barend was recording videos inside the police station.
A warrant officer ordered them to hand over their phones to the men, but they refused to say they had a right to record what was transpiring.
She said that one of the men then forced himself into the control room, and addressed her fiancé by his full name, and used his full address — "telling us they will come for us".
"This was done in full view and earshot of multiple police officers while my fiancé was recording everything with his cellphone," she said.
This whole incident happened in the presence of multiple police officers at a police station. Human and her fiancé felt threatened the entire time.
She said, "All the police did was threaten to take our phones, telling us repeatedly to hand our phones over to them and the men. We refused."
Barend and Human tried to contact friends, attorneys, and security companies. Eventually, one of their friends arrived and Barend left the police station to try to get their dog out of the car. At this point, security officers from Divergent Ops had arrived at the police station.
Meiring said Human contacted his control room, and he sent members to observe the incident taking place inside the police station.
"We couldn't go and interfere in a case where the police are involved, because then it's obstruction of justice," said Meiring.
Sadly, when Barend went outside he saw that the men were "now intimidating our friend, trying to prevent him from helping us with our dog".
"Barend was still recording this and the men chased him inside the police station to get his phone — in full view of police and security companies," said Human.
"He wanted to get back inside to me when four men started assaulting him, inside the police station." Unfortunately according to Human the none of the police officers present even tried to stop the men from entering the station.
Barend was assaulted by four men in her presence and in full view of police officers at a police station. Some of the men were heavily armed, according to Human.
They told him they would shoot him, as they dragged him outside by his head. "I thought he was going to be shot, I thought we were both going to be shot," she said.
The men smashed and took Barend's phone in front of the policemen, and by this time Meiring had also arrived at the police station.
Meiring requested that both Barend and Human cooperate with the police in order to complete the crash reports and statements about all that transpired and informed them that an advocate was already on the premises for the couples' sake.
He said there was a huge misunderstanding and tension between the couple and the police officers as the couple, feeling ill-treated, vented at the cops. He said, he spoke to police to bring the friction and tensions down.
It is alleged that when his security officers tried to get involved, police ordered them to stand back and not get involved. His officers can be seen in one of the videos standing and watching as Barend is being assaulted.
Meiring's men were stopped from interfering in what was happening at the time and now, unfortunately, it looks like they did nothing about the situation – their hands were tied and there would be also a risk of being arrested if they got involved.
The police had informed them that a team of independent investigators was being set up to investigate the claims.
Hlathi said that the conduct of those involved in the physical fight was "unacceptable".
Hlathi said, "The man who appears on the video seen being pressed down [Barend] to the ground is urged to register a criminal case for investigation purposes."
"The district commissioner of Ehlanzeni, Major General Dianah Mashele, has urgently attended to the matter and established a team to investigate the matter.
"An inquiry has been opened and a criminal case of malicious damage to property and crimen injuria has been opened against the man who was [assaulted] as he is accused of colliding with a certain vehicle and allegedly uttered racial slurs," he added.
SOURCES
https://www.timeslive.co.za/news/south-africa/2021-03-30-investigation-launched-after-cops-allegedly-stood-by-as-man-was-assaulted-inside-a-police-station/
https://www.iol.co.za/news/south-africa/mpumalanga/watch-saps-launch-investigation-into-white-river-police-station-assault-562fb12b-9bb0-44ca-98f2-eb48fe06d148
https://www.news24.com/news24/southafrica/news/video-showing-alleged-assault-at-white-river-police-station-to-be-probed-police-20210330
Content created and supplied by: LUAATTA (via Opera News )
Opera News is a free to use platform and the views and opinions expressed herein are solely those of the author and do not represent, reflect or express the views of Opera News. Any/all written content and images displayed are provided by the blogger/author, appear herein as submitted by the blogger/author and are unedited by Opera News. Opera News does not consent to nor does it condone the posting of any content that violates the rights (including the copyrights) of any third party, nor content that may malign, inter alia, any religion, ethnic group, organization, gender, company, or individual. Opera News furthermore does not condone the use of our platform for the purposes encouraging/endorsing hate speech, violation of human rights and/or utterances of a defamatory nature. If the content contained herein violates any of your rights, including those of copyright, and/or violates any the above mentioned factors, you are requested to immediately notify us using via the following email address operanews-external(at)opera.com and/or report the article using the available reporting functionality built into our Platform See More