The Secretary General of the ANC Ace Magashule is expected to appear before the Bloemfontein magistrate court on Friday.
Magashule is facing 21 charges of corruption, fraud and money laundering in relation to the asbestos tender audit amounting to R255 million. Magashule appeared before the Bloemfontein magistrate court last year and he was released on a bail of R200 000.
The Radical Transformation suppoters are to hold a night vigil from 8 pm as Magashule is set to appear before the court.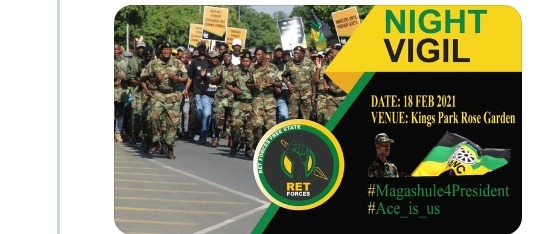 Magashule's supporters believe that his charges have nothing to do with the law but politicaly motivated. Mahashule will be apperring with other 15 other suspects including Edwin Sodi. The Hawks arrested three senior gorvenment officilas in conection to the R255m asbestos tender audit.
"The independence of the judiciary is compromised. We are calling for an immediate investigation into the capture of the judiciary. The judiciary is to step aside from politics and keep to its primary mandate," RET co-ordinator Malifu Mofokeng said at a media briefing in the city on Wednesday.
This comes after the former president Jacob Zuma accused the judges of being bribed so that they can seal the CR17.
Content created and supplied by: Phukubjenthaa (via Opera News )