Rwanda Diaspora Killed in Cape Town by Gunmen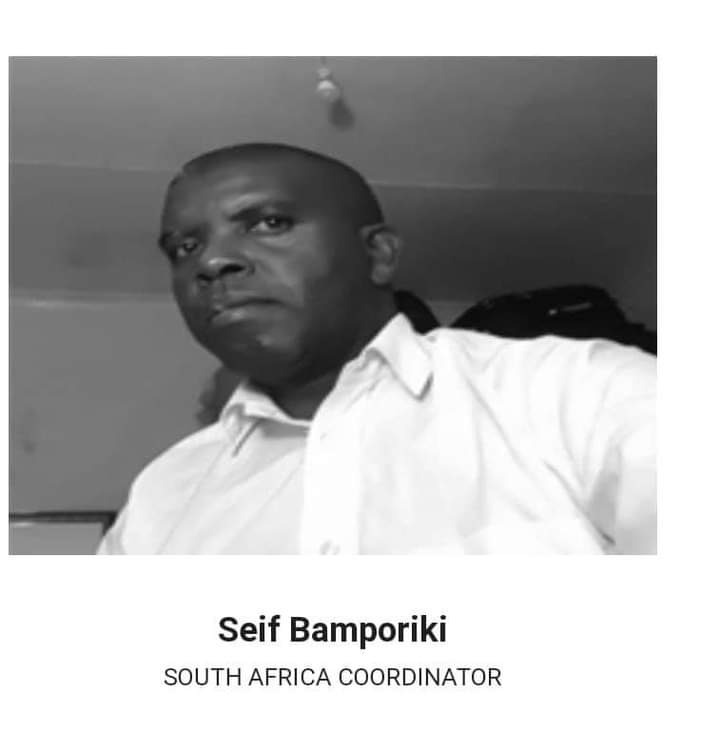 Rwanda National Congress (RNC) Coordinator in South Africa, Seif Bamporiki has just been assassinated by what a Rwanda Human Rights activist- Robert Patrick Fati Gakwerere, called operatives of the Rwandan President Paul Kagame administration.
South Africa-based Rwandan diaspora group leader, Seif Bamporiki was killed late Sunday night in Cape Town. South African journalists, Nomsa Maseko and Judi River have both confirmed the incident.

According to Robert Patrick Fati Gakwerere, Seif Bamporiki had been an active and devoted member of Rwanda National Congress of General Kayumba Nyamwasa. Gakwerere insisted that Bamporiki was killed by Rwanda's external intelligence operatives using silencer handguns.
It was further reported that Seif Bamporiki actively participated in remembrance ceremony, 20th February 21, where Rwanda National Congress (RNC) members and well-wishers remembered all those who have lost their lives in what many believe was politically motivated murders.
Rwanda political observers say this is not the first politically motivated murder involving key Rwanda nationals to have taken place in South Africa
"It looks like there's a serial killer in the Rwandan government, this is not the first killing of opponents of government," says Moraka 2nd wa Phooko.
According to South African journalist, Maria Zakharova, another Kagame critic was killed in Cape Town a year or two ago in what was later reported as a highjacking,
"Rwandans don't do crime in SA for sure, call your friend to order," said Zakharova.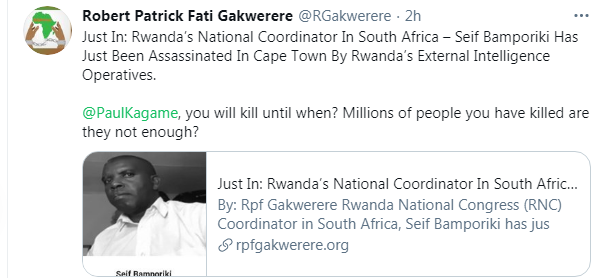 The Republic of Rwanda is a landlocked country in the Great Rift Valley, where the African Great Lakes region and East Africa converge. Since the turn of the decade, Rwanda has put behind the woes of the genocide behind it to become one of the fastest developing on the continent of Africa.
Under the its charismatic leader, Paul Kagame, Rwanda has undergone a major makeover in policies and implementation making the country- one of the best to do business in Africa. Also, Rwanda's capital city is believed to be one of the most clean and beautiful in Africa
Content created and supplied by: Daily-Godly (via Opera News )