It is suspected that a fight between lovers caused the boyfriend to strangle the mother of his child to death; which was followed by him going to throw himself in front of a train and died. This happened in Klaarwater; Mariannhill on Tuesday.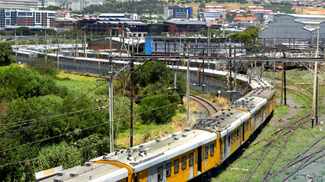 Thalente Dlamini (26); is suspected to have killed Buhle Cele (25) from Desai; with whom he had a one-year-old child. Cele was found unresponsive and cold with blood and foam flowing from her nose. She was lying face-up on the bed with a knife in her hand.
The suspect murdered his girlfriend during the afternoon; then went and sat with his friends who noticed that he was emotionally disturbed. He eventually left under the pretext of going to buy one of them cigarettes.
A rope was found in Dlamini's room; which is suspected to have been used by him in an attempt to hang himself but failed because the roof is low and he was tall.
The local newspaper learned that; Dlamini wrote a suicide note bidding farewell to his family; he even told them that he was going to throw himself on the rail tracks in front of a moving train. He further sent text messages to his friends and brother; bidding them farewell
It also emerged that the relationship between the two lovers was no longer going well and that Dlamini was always unhappy. He kept saying that he was going to kill himself and no one paid attention to him. The suspect's family was shocked and embarrassed by what happened in their own yard.
Smangele Dlamini; the suspect's sister; agreed that the lovers would fight now and again but they will make up as all the lovers do; she did not think it will end this way.
"He was a quiet guy; you would not think he would do something like this. We are disappointed as a family." Said Dlamini.
She said the suspect's friends kicked the door to his room after receiving text messages that he sent them, that is when they found the body of the mother of the child.
The family says they had to stay with Cele's body for the whole night; together with the cops and neighbours waiting for the vehicle from the morgue to come and collect her remains.
The spokesperson for the SAPS in KwaZulu-Natal; Captain Nqobile Gwala said; a case of murder is being investigated; after a body of a woman was found with wounds on her body.
Captain Gwala; said an inquest docket was opened regarding the body of a man found at the Klaarwater train station. The motive for both incidents is unknown.
https://www.isolezwe.co.za/izindaba/ubulale-unina-wengane-waziphonsa-esitimeleni-073392c0-91e0-40f9-8c26-000175c23b88
Please like; share; comment and follow me for more news
Content created and supplied by: TingTong1105 (via Opera News )