Uzalo teasers has announced the departing of Gabisile from the SABC 1 Soapie Uzalo.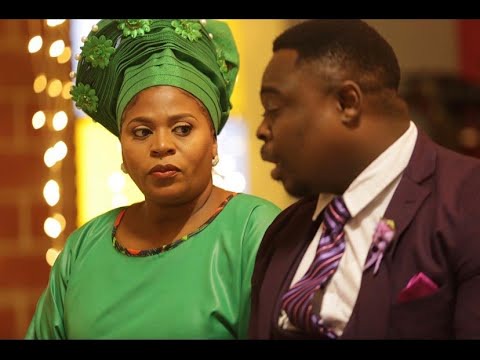 Gabisile is currently being investigated for the murder of Nomcebo and Khehla. Ok let rewind a bit back. khehla came onto our screens as a long lost son who was looking for his father for reconciliation, he then met with Gabisile when he was renting one of Gabisile's rooms. They both had no idea who was who. By the time everything came into light gabisile was already sleeping with Khehla, and Khehla was already in love with gabisile.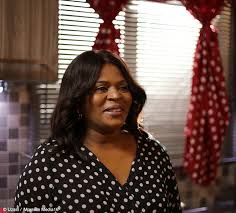 After some time we met Nomcebo who was Khehla's mother, who came to Kwamashu to look for his son since he hasn't returned home for a long time. When Nomcebo arrived at Qhabanga's they decided to pick up from where they left off in the past. This made gabisile to hate Nomcebo so much and she tried s hard to win Qhabanga back.
Alright back to now, as to why Gabisile is the suspect in both deaths. Well there was a time where Gabisile and Khehla had an argument at the church in the back room, it was more like Khehla wanted to force himself on Gabisile so in defence Gabisile hit him with some object and that how Khehla died. The only crime that Gabisile committed was to hide the whole incident and buried Khehla's body in the church.
The second death, which is Nomcebo's death, was committed by Sbonelo who is Gabisile's son. Gabisile was also there but Sbonelo was the one who pulled a trigger. This was due to Nomcebo knowing the whole truth about the death of her son, which she got the truth from Mazaza who knew the whole story and was now blackmailing both Sibonelo and Gabisle.
According to Uzalo teasers gabisile will tell Qhabanga the whole truth about the death of his son. It also shows that Gabisile will die on the following day of confessing. For now it is not clear as to what the cause of her death will be. See the teasers below:
Friday 12 February 2021
Episode 245
Gabisile is ready to give up her freedom for a clear conscience. MaMlambo and Zekhethelo make plans to return to KwaMashu but this proves more difficult than they anticipated. Nonka is turned off by Phelelani's sentiments about Valentines Day.
Monday 15 February 2021
Episode 246
Gabisile tells Qhabanga that she killed Khehla. MaNgcobo tells Nonka that she cannot go to school at the expense of her business. Phelelani surprises Nonka.
Tuesday 16 February 2021
 Episode 247 
The church learns of Gabisile's death. MaMlambo and Zekhethelo turn their house into a home. Phelelani's Valentine's surprise comes to an abrupt halt.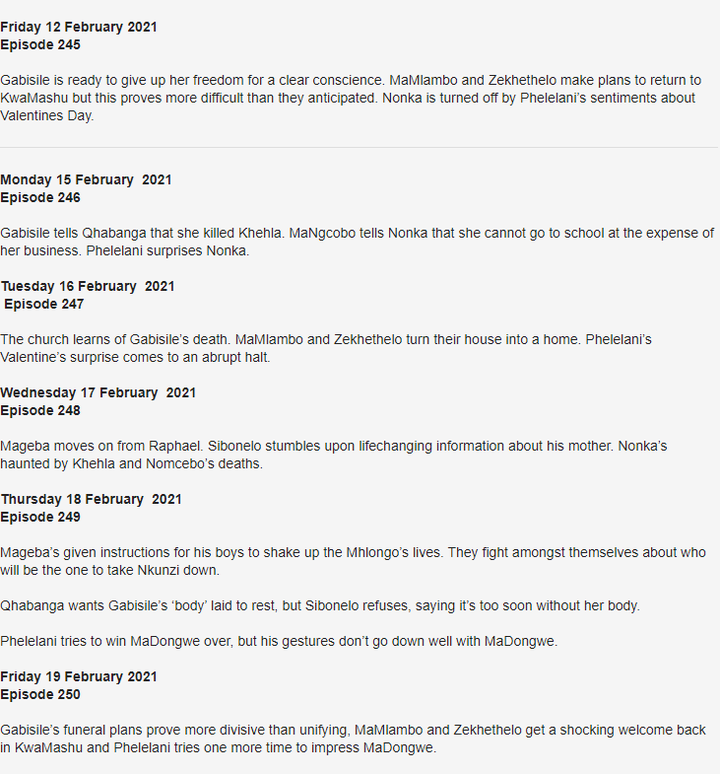 Keepwell and stay safe everyone.
Please subscribe to my Youtube channel @ THEY CONQUERED
Content created and supplied by: Nomfundo-Ntombela (via Opera News )