Twitter handle @marvintangeni posted a picture of two ladies sleeping on him bed and caption it "They were drunk, I did not take advantage of the situation. I offered them my bed just to sleep in my car."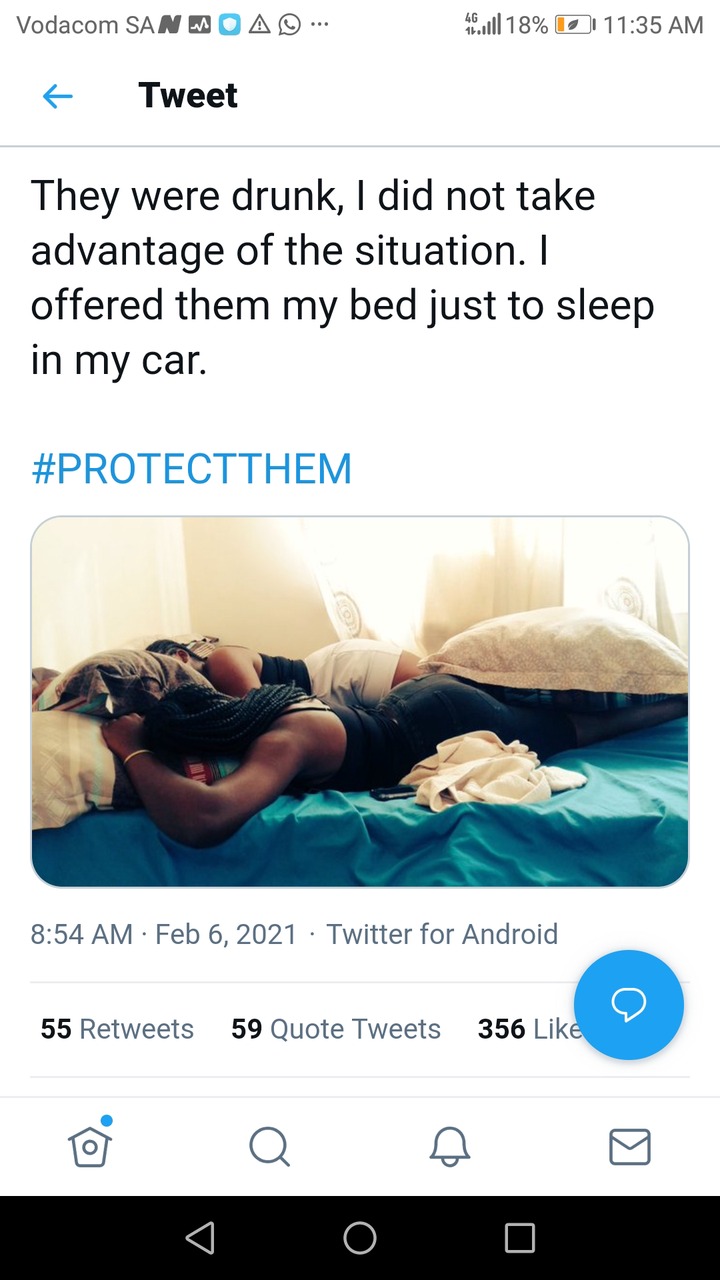 He slept on his Car and gave the young ladies his bed to sleep because they were drunk and he didn't take advantage of that they are drunk by trying to force his way into them.
Because nowadays days we live in another generation where women are not safe they are in a world full of men who raping, killing, kidnapping them even younger especially children just to make money and so do it for self gratification by hurting women. It is very rare to see a man not taking advantage of women.
Here are comments left by tweeps
@tjekupe one of the tweeps left a comment " Don't let the negative comments of some people drag you down or make you sad. You had pure intentions and you just wanted to let us know that, that's how MEN should take care of our sisters. I'm proud of you fam, continue taking care of them, that's what we're ought to do really"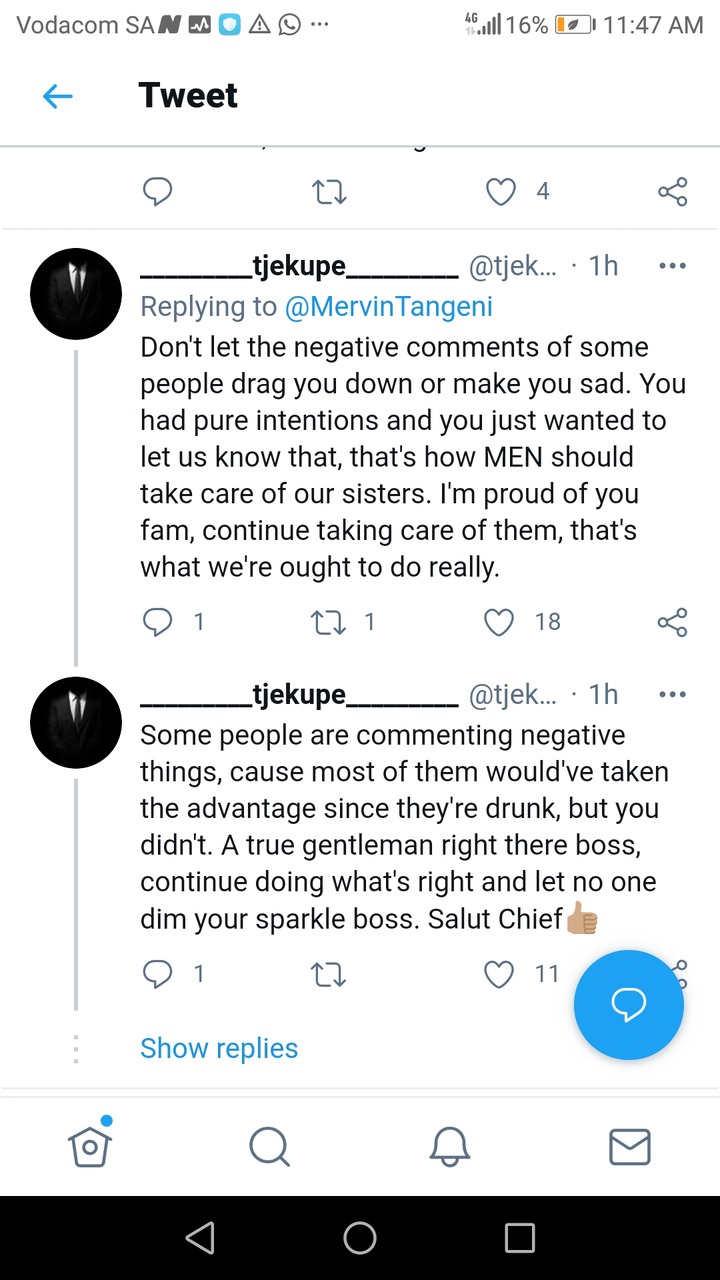 " Some people are commenting negative things, cause most of them would've taken the advantage since they're drunk, but you didn't. A true gentleman right there boss, continue doing what's right and let no one dim your sparkle boss. Salut Chief" he praised him and thanked him for what he did to those ladies
And @reginaldo " whatever anyone say don't focus on it. You are my hero. In a world full of men raping, killing, kidnapping women you chose to protect them. This is an awareness to others out there to do like you, i am inspired by the act also. You are my hero. You are a man"
Also a young lady @olethokuhlecinisile thanked Marvin for what he did " I am busy reading at the comments and I must say your replies are quite impressive brother I know I shouldn't be praising you but also when someone does good to make change, they wed to be acknowledged. Thank you so much for protecting us (Ladies) may you continue"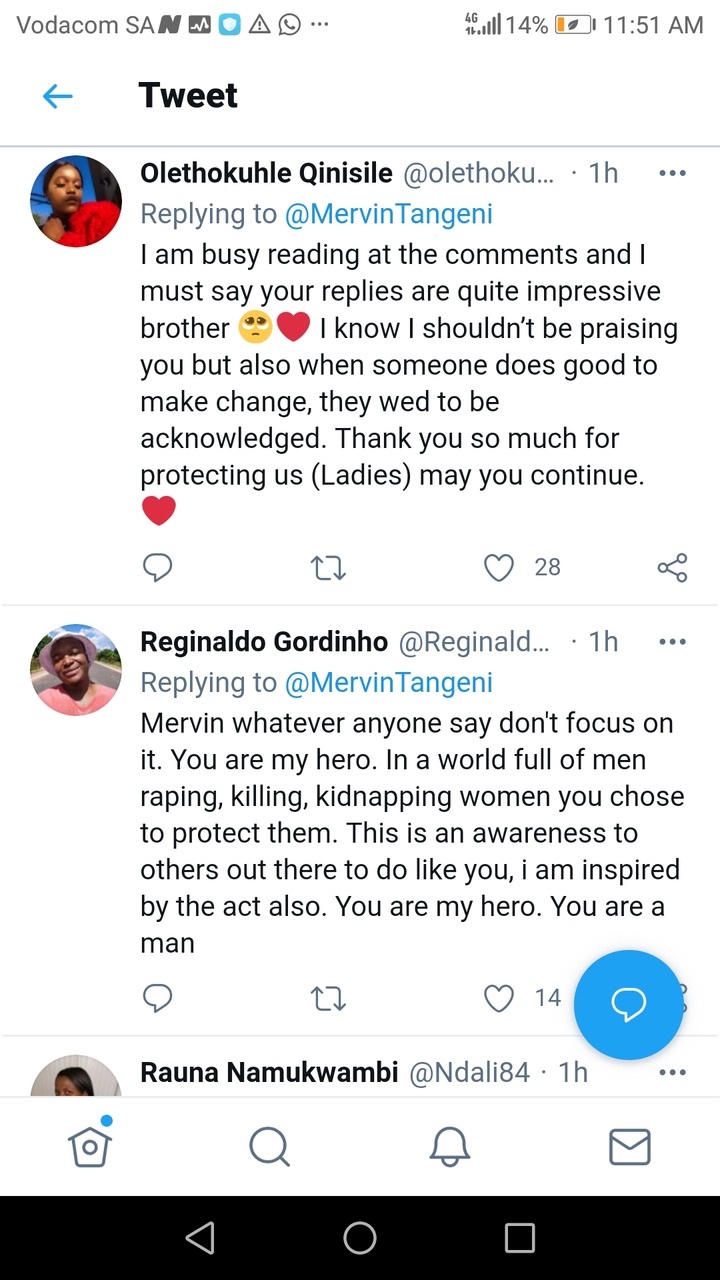 Men Learn to protect women no matter what, think about when someone take advantage of your sister you won't like that so do it to someone else sister or mother but protect them. 
Content created and supplied by: Mthulisa (via Opera News )