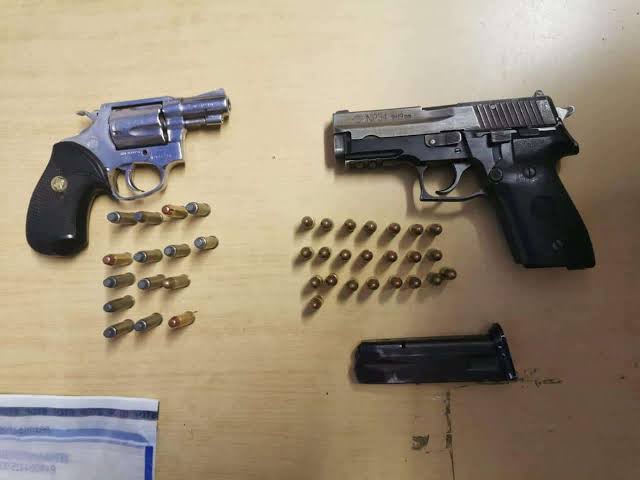 A Blue Security armed response officer was lucky to escape injury when shots were fired as robbery suspects fled from the scene of a crime in Glenmore in Umbilo, Durban in the latter part of last week.
"The officer had been responding to a call for backup at a nearby school when he saw a vehicle exit the property and speed towards him. As he climbed out of his car he noticed that, not only was the speeding suspects' vehicle heading straight for him but one of the passengers was pointing a firearm in his direction," said Blue Security community and media liaison officer, Andreas Mathios.
Several shots were fired and the officer ducked for cover.
The getaway vehicle, which contained at least four suspects, was last seen heading south along Wanless Road. Several bullet shells and shrapnel were later found scattered at the scene.
"The shooting followed an initial callout from security guards onsite at a school in the area, informing Blue Security of a break-in on the premises shortly after 6am on Friday morning," Mathios said.
The suspects had confronted the onsite security guards in their guard hut during the shift change, removed their cellphones and frogmarched them onto the school premises, demanding to know the location of the computer room.
"The guards feigned ignorance, saying they were new and did not know where the computer room was. The guards were later able to escape, as they approached the library, and raise the alarm with the guard at the adjoining college," he said.
The guards alleged that the suspects were armed.
With the arrival of Blue Security at the scene, they were informed that a suspect was still at large on the school grounds, trying to make his escape.
"An intense search immediately got underway and the Blue Security officers were successful in flushing out the suspect. The intruder was later positively identified as one of the accomplices involved in the break-in at the college," he said.
Further investigations revealed that the gang had gained entry to the administration offices by forcing open the doors. The offices were ransacked. A security gate prevented the suspects from gaining entry to the library, even though the door had been forced open. A number of computers were taken in the raid.
Members of SAPS Umbilo attended the crime scene and investigations are continuing.
https://www.bluesecurity.co.za/suspect-apprehended-after-shots-fired-during-school-break-in-glenmore-umbilo/
Content created and supplied by: Crime_spotter (via Opera News )