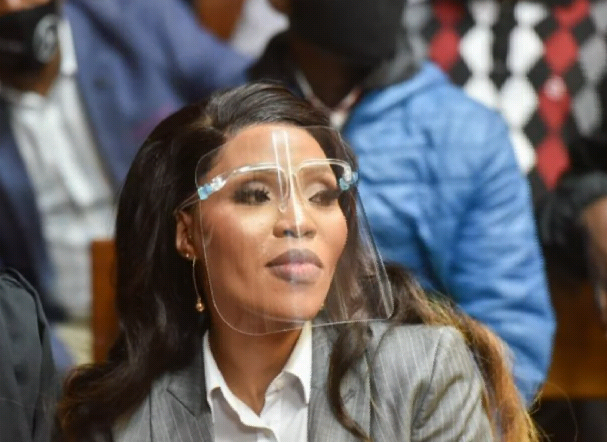 The on going drama between Norma Mngoma, her ex-husband and former Home Affairs Minister, Melusi Gigaba, just took an interesting turn. As she was arrested around July last year, after damaging a Mercedes Benz G-Wagon, that belonged to Melusi Gigaba's friend.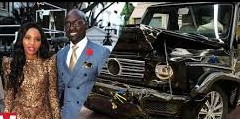 This because she was furious over her former husband's cheating allegations and it was also alleged that his friend was the one who helps him with cheating. Norma, was later arrested by the Hawks, which she has been openly calling a orchestrated plan to confiscate her gadgets.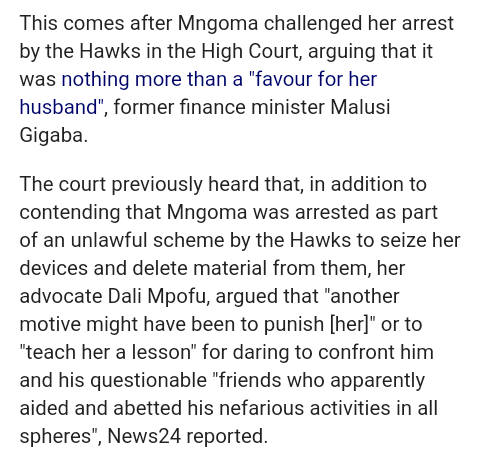 In order to delete to delete any information, that could be harmful and destroy the former finance minister. The Pretoria High Court disagrees with the actions taken by the Hawks, of taking Norma's phone and laptop in order to allegedly delete certain information.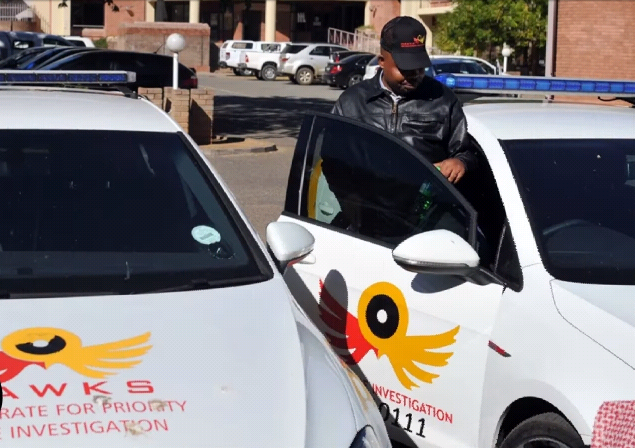 Therefore, the court declared Norma Mngoma's arrest unlawful, and stating that the Hawks had abused their power. " The Hawks that arrested Norma Mngoma, appeared to be motivated by an abuse of power, by a former minister." said Judge Cassim Sardiwalla.
"The purpose for deletion is completely nefarious, unlawful and potentially constitute criminal offense. That it has been perpetrated in conjunction with the Hawks, is totally uncondemnable." said that the judge. He also ruled that the individual members of the Hawks, must pay the cost of punitive scale and return all information deleted from Norma's gadgets unlawfully.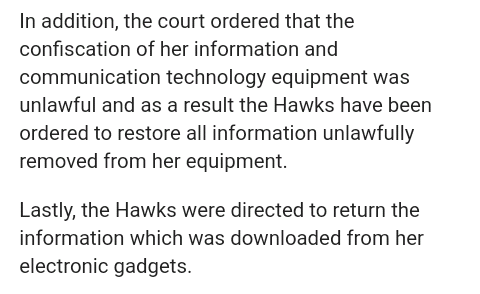 While nothing was said about her case of damaging property, which is strange given that's why she was arrested in the first place. All we can do now, is to wait and see what will the next round of Norma Mngoma vs Melusi Gigaba, be like. What are your thoughts on this recent development?, let me know in the comments down below. Please do Like, Share, & Follow, more articles and the latest daily news.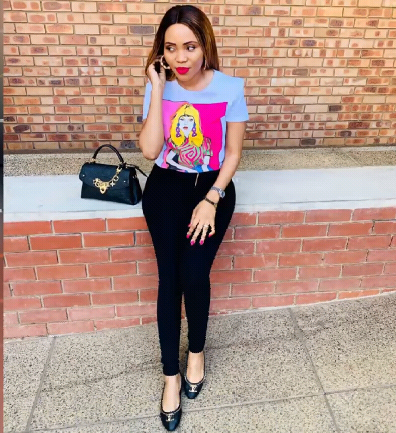 Source:https://youtu.be/iVSj7-cs4p8
Content created and supplied by: CAIRO-MediaNews_SA (via Opera News )