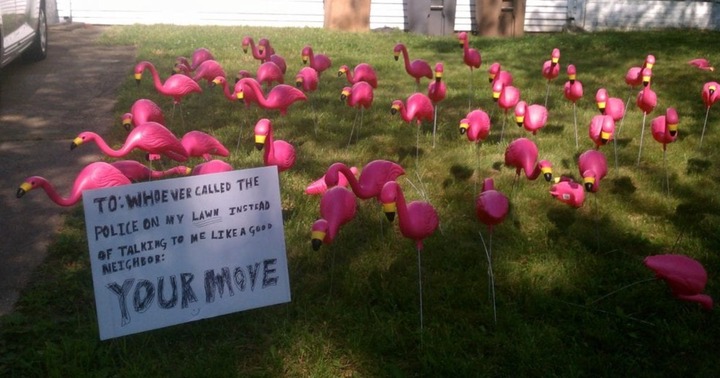 1) Canadians Eh-holes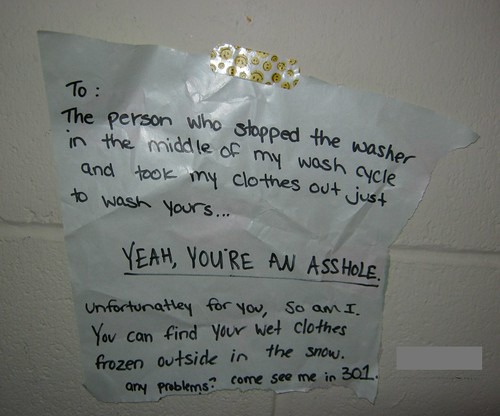 But they're nice eh-holes. This person was kind enough to use smiley-faced Bandaid to stick the note the wall.
"To the person who stopped the washer in the middle of my wash cycle and took my clothes out just to wash yours… Yeah, you're an ***hole! Unfortunately for you, so am I. You can find your wet clothes frozen outside in the snow. Any problems? Come see me in 301."
2) Fine And Dandy-lion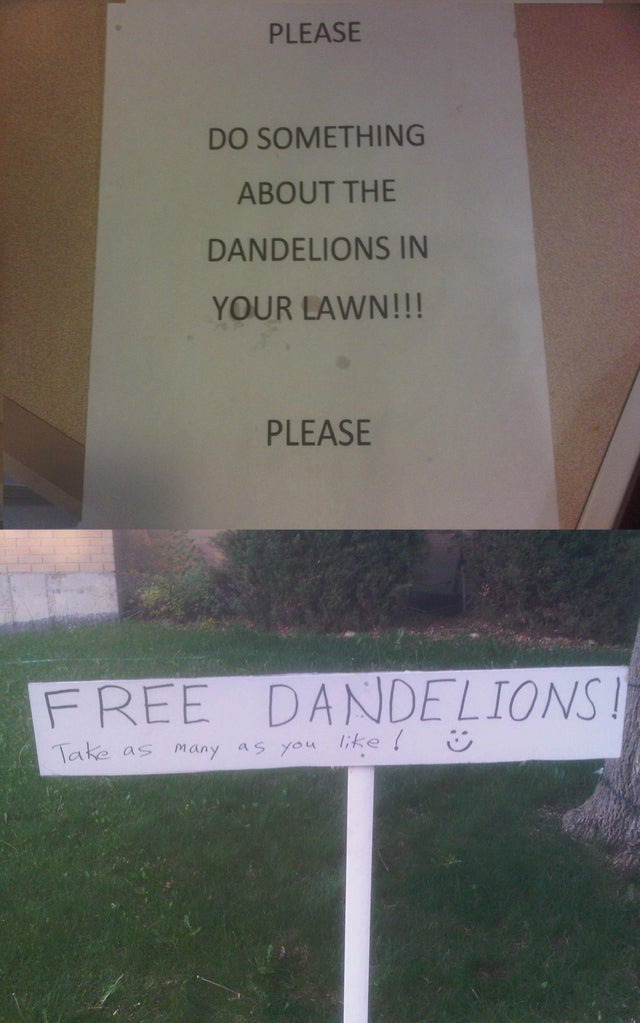 This neighbor called a truce by giving a peace offering of dandelions. How sweet!
@PoopThoughts3:
"When you receive a complaint from your neighbors, it's important that you do your best to resolve it."
3) The Arctic Cold Front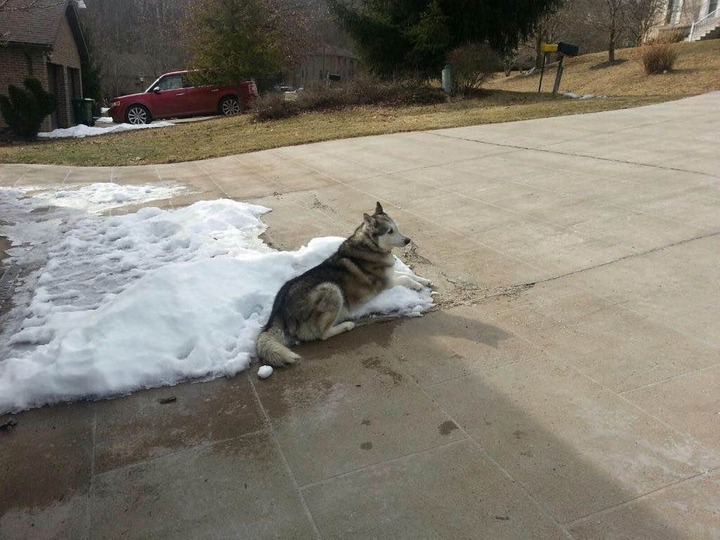 I'm pretty sure that's what winter coats are for. This pup looks pretty comfy to me!
@seabass023:
"My neighbors complained that its too cold for my dog to be outside all day during the winter. I sent them this."
4) The Finger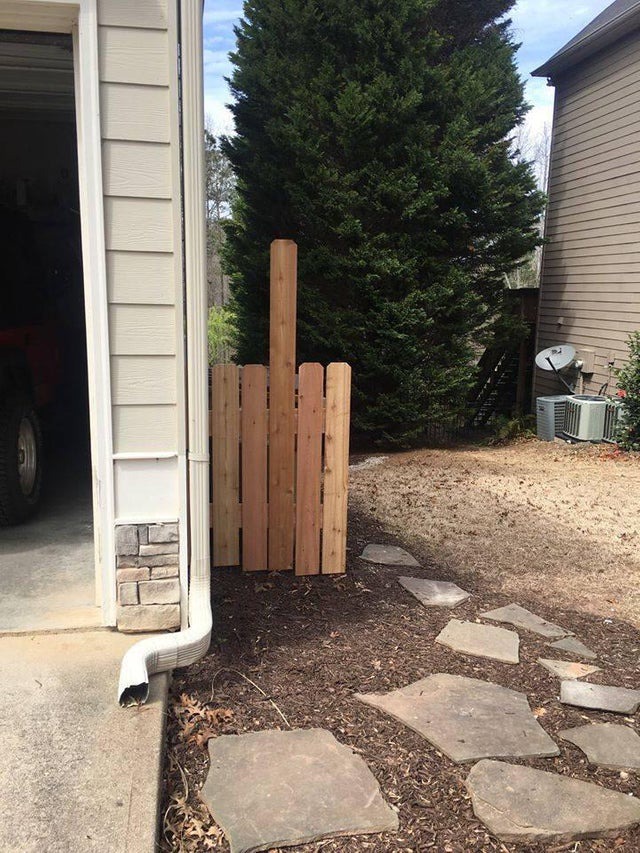 Before we invented language, everyone was gesturing with their hands to communicate their thoughts. Looks like we've come full circle!
@kalinkabeek:
"The HOA in my friend's neighborhood recently threatened her neighbors with a fine if they didn't hide their trash cans, even though they've been in the same spot for over a decade. This is their solution."
5) Digital Savagery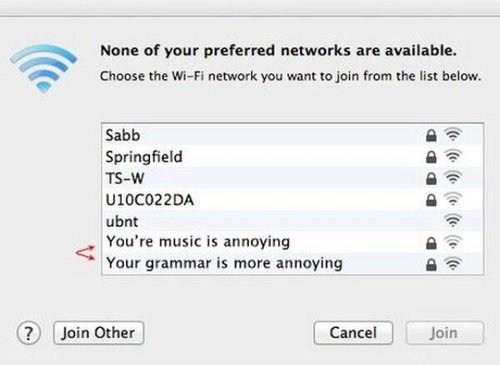 Passive-aggressiveness has gone digital! These two creative blokes are silently communicating via their wireless connection. Their hotspot names read:
"You're music is annoying" and the retort, "Your grammar is more annoying."
6) The Naked Truth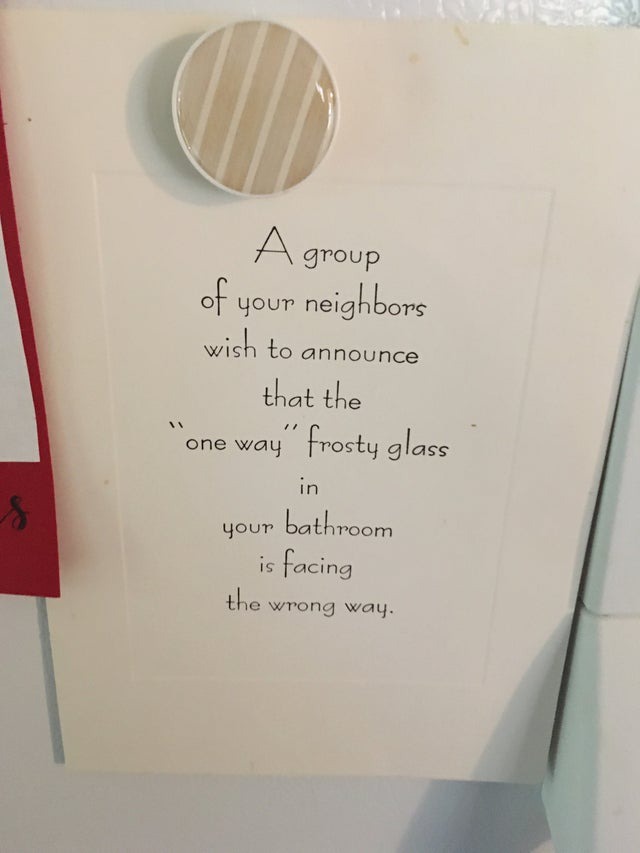 These Peeping Tom neighbors could tell no lie. The truth was just too blinding to ignore!
@ekoorb12:
"My sister and her husband live in a small town, they came home to this note on their door."
7) Sign Language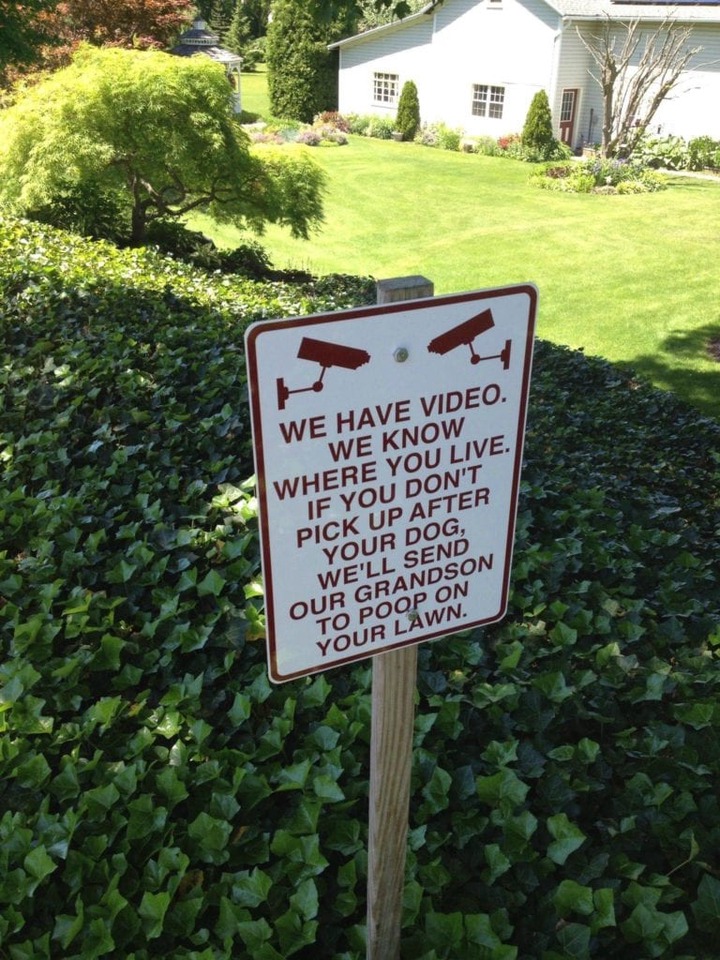 There's no possible way for their neighbors to misread this sign. It's spelled out "brown" and clear.
@SrgntPeppers:
"Our elderly neighbors have this sign posted on the bike path in their backyard."
8) Spreading Christmas Cheer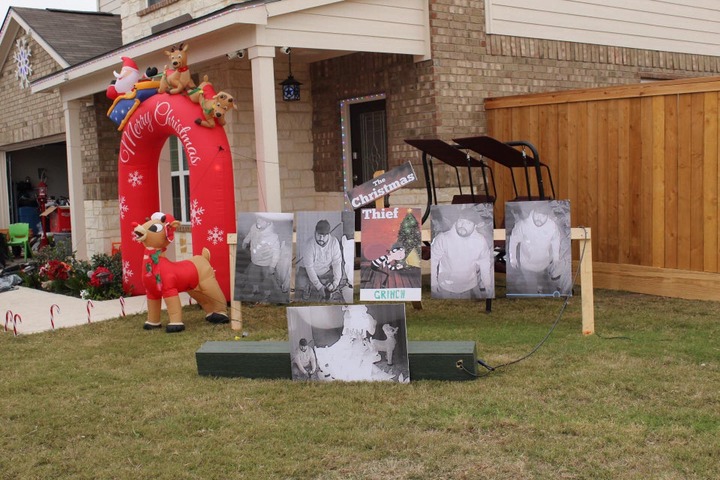 The holidays are all about giving. These neighbors gave the thief who nicked their reindeer exactly what was coming to him – photos of him in the act of being a grinch.
@PrincessAlterEgo:
"My neighbor got his reindeer decorations stolen so they put out grinch ones instead."
9) One-Man Dog Band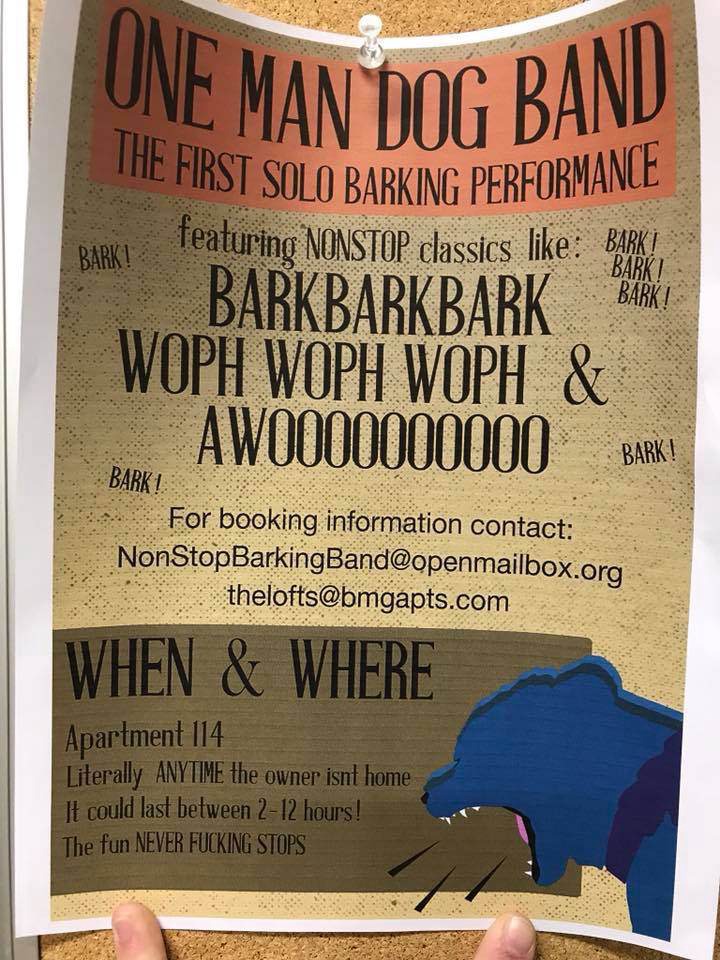 This neighbor apparently wasn't a rabid fan of the solo barking performance going on next door.
"When & Where, Apt 114. Literally anytime the owner isn't home. It could last between 2-12 hours. The fun never f***ing stops!"
10) Frosty Treat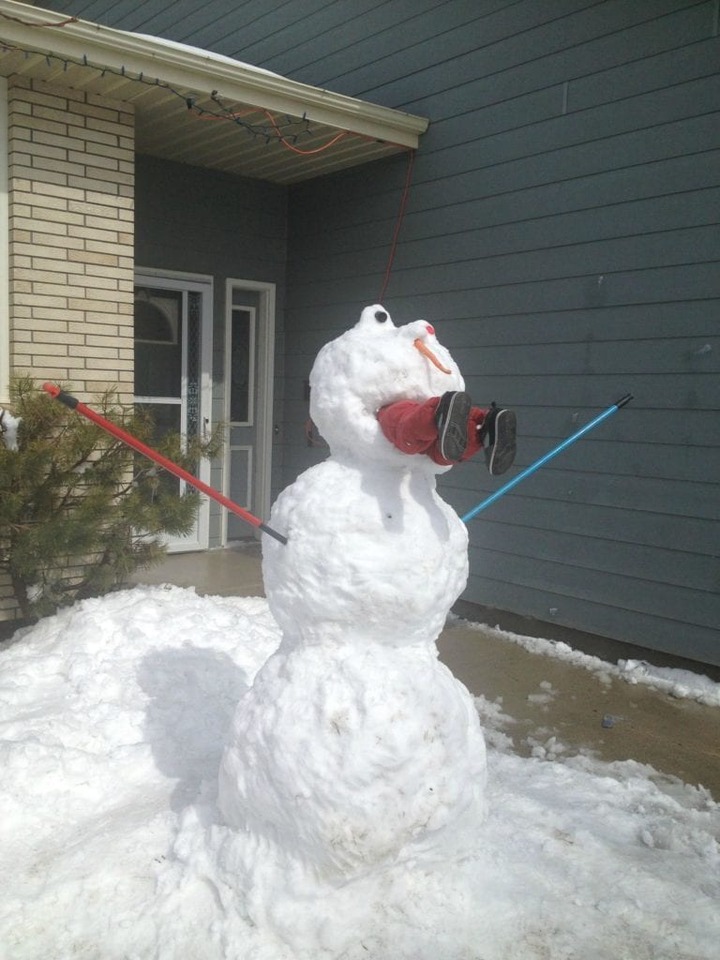 Frosty the snowman was a jolly, happy soul. Especially after he ate the neighbor's kid for lunch.
@kristindawn:
"My neighbour's kid is always playing in my yard and leaving his toys. When he left two broomsticks, I left this in his yard as a warning. And yes, it is still winter in Canada."
11) Love & Fishes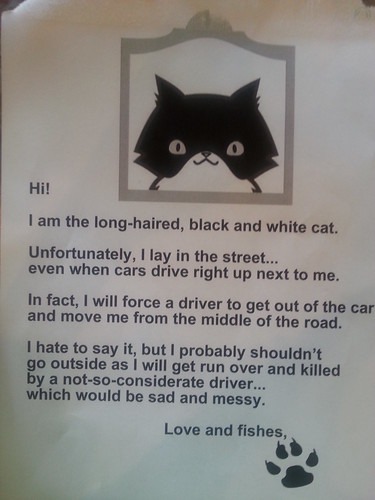 If your cat has a death wish, then you need to read this sign. He could be in danger!
12) Checkmate!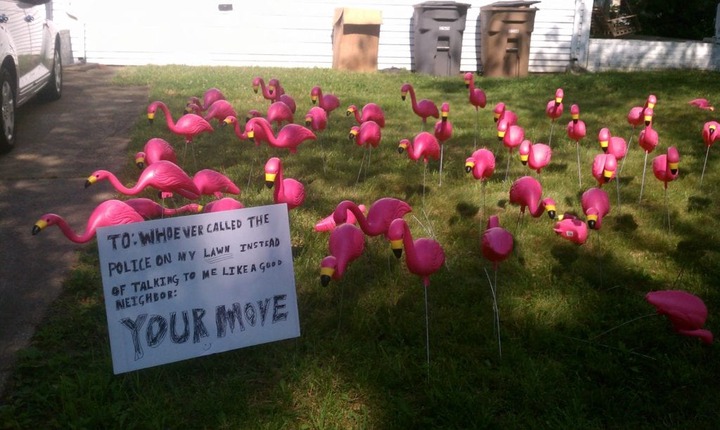 There was probably only one or two pink flamingos in the yard. Thanks to a nosey neighbor, they've multiplied!
"To whoever called the police on my lawn instead of talking to me like a good neighbor: YOUR MOVE."
13) 50 Shades Of Midnight Gray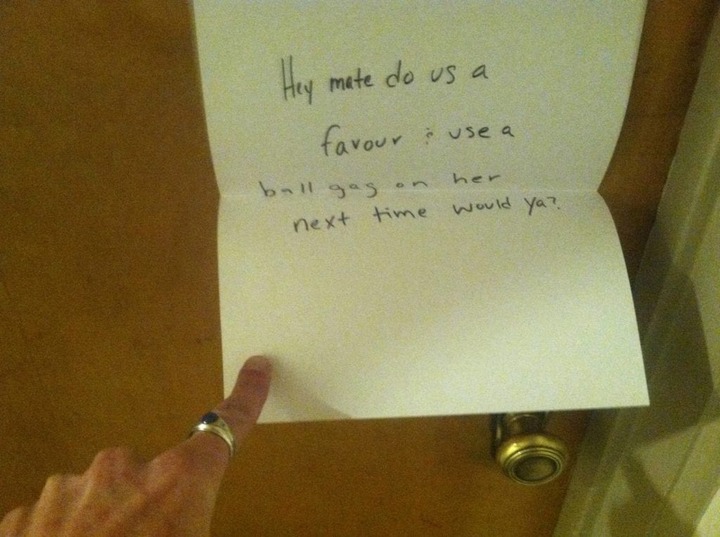 It's probably best to keep your bedroom antics a little bit on the quieter side. Especially when everyone can hear you.
@CYBER_NOID:
"Saw this on a neighbors door coming home at midnight."
14) This One Really "Stings"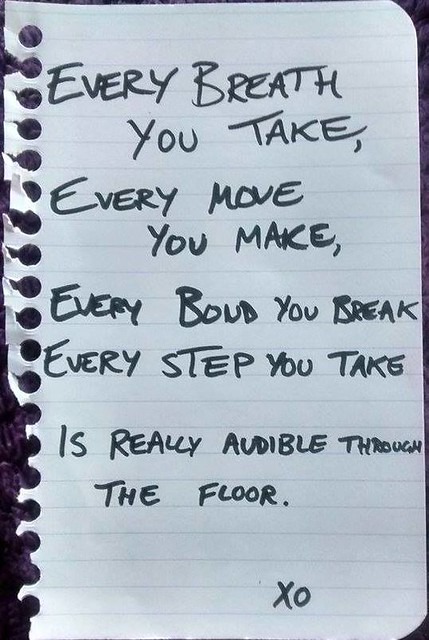 Instead of calling the cops, this neighbor got creative and wrote some new lyrics to go with an 80's classic tune. Just like Sting, he'll be watching you.
"Every breath you take, every move you make, every bound you break, every step you take…is really audible through the floor."
15) He Crossed The Line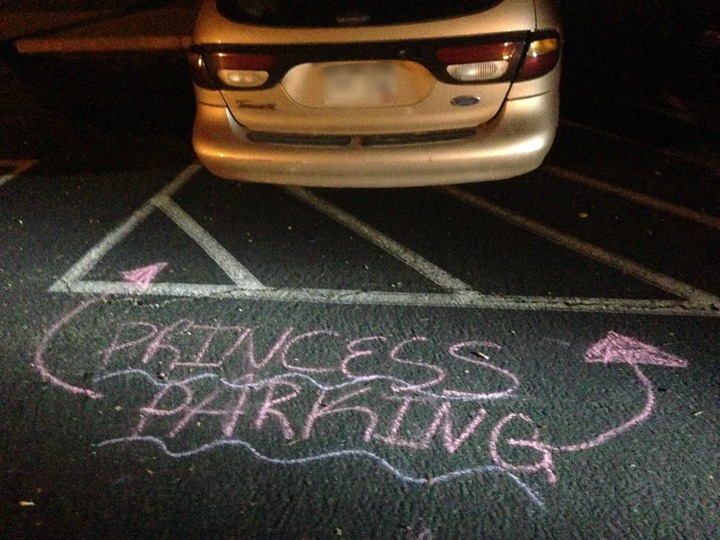 Because when you're a d-bag, you deserve your own designated princess parking spot. Next time, don't cross the line!
@sum33:
"My friend parked like a d-bag. The neighbor kids left him a message."
16) Battle Lines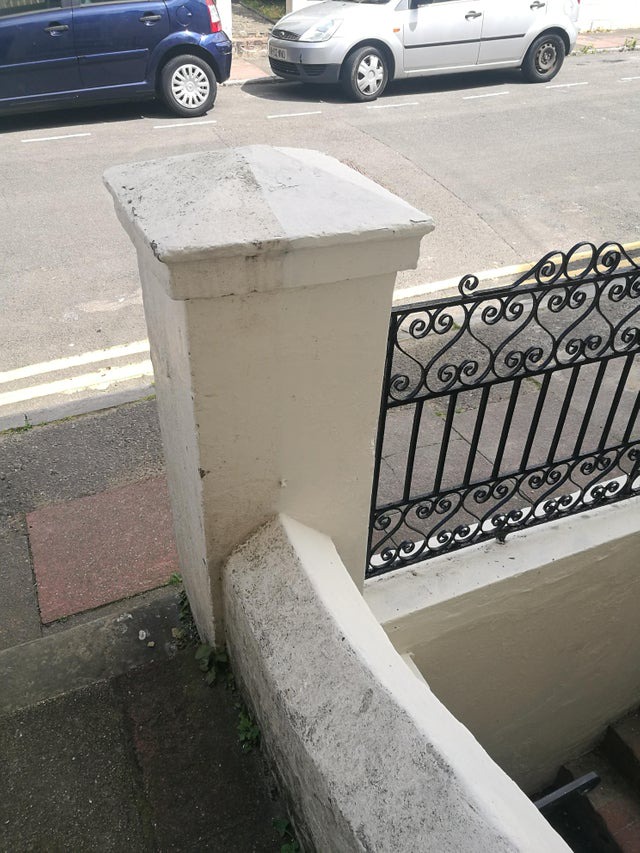 This militant neighbor clearly outlined the battle – and property – lines on the wall.
"Our neighbours very precisely only cleaned their part of the wall"
17) The Grammar Cop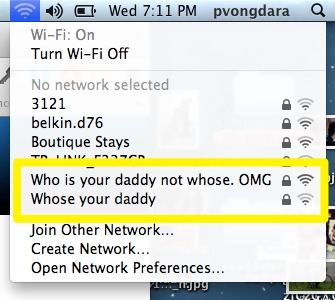 The grammar police are everywhere. They're even hiding on public wi-fi feeds!
@plebmaster:
"My neighbour's wifi name was bugging me for ages…"
18) All About That Bass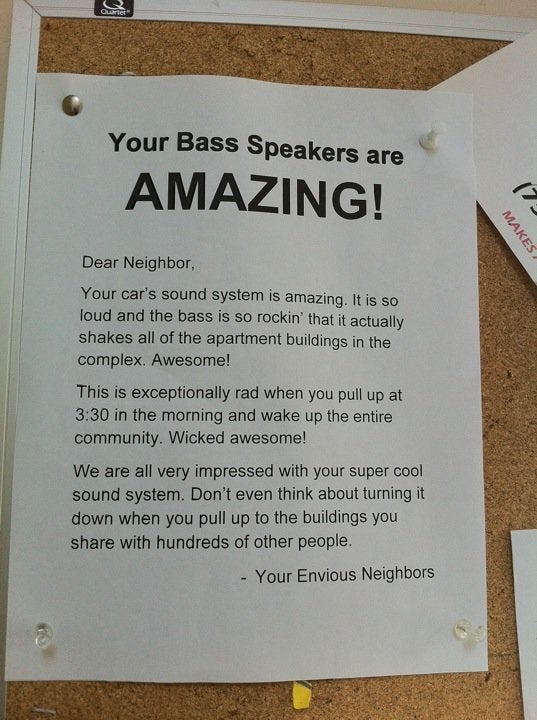 This noisy neighbor had amazing bass speakers that just couldn't be ignored. The compliment posted by their envious neighbors speaks volumes!
19) Pretty Petty Doormat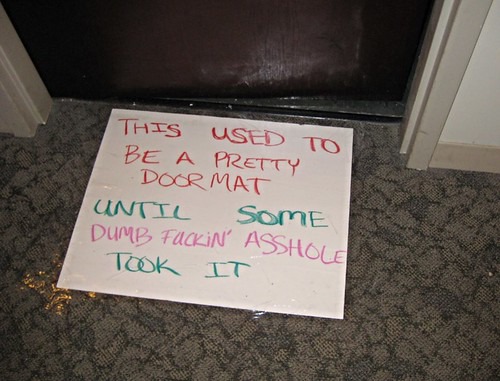 Being petty works. After this doormat was taped to the floor (so it too, would not get stolen), the original magically re-appeared!
20) Cuts So Deep
This is what happens when crop circles go ghetto. Unlike the enigmatic geometric patterns found over in England, there's no mistaking what this one means.
@xenygmax:
"An anonymous neighbor called code enforcement on a friend of mine for not cutting his grass. Here's his response."
21) He's Got Balls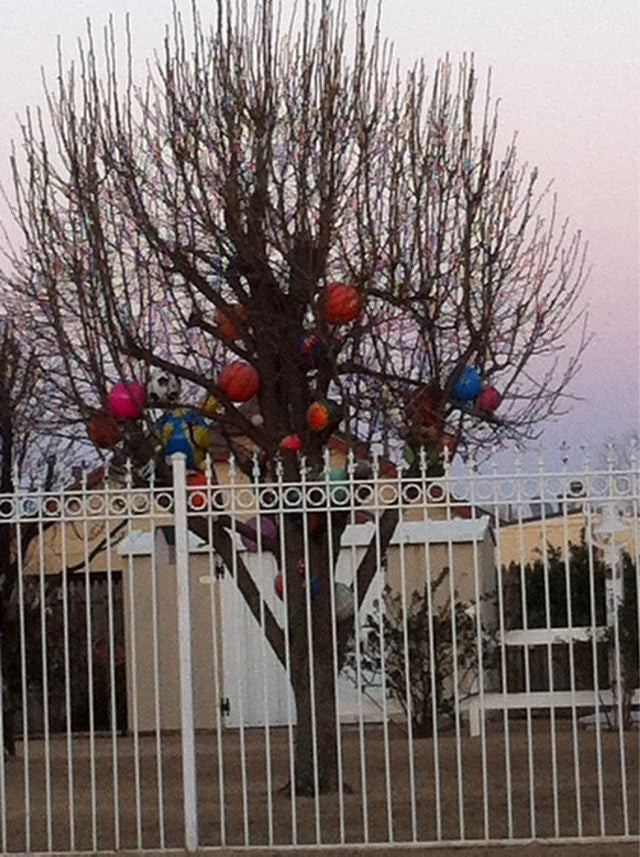 There's basketballs, soccer balls, beach balls, you name it! I guess the ball is now in his court.
@ham9294:
"Whenever a ball goes into my neighbors yard, he puts them in his tree so no one can get them back."
22) Dear Neighborhood Hobo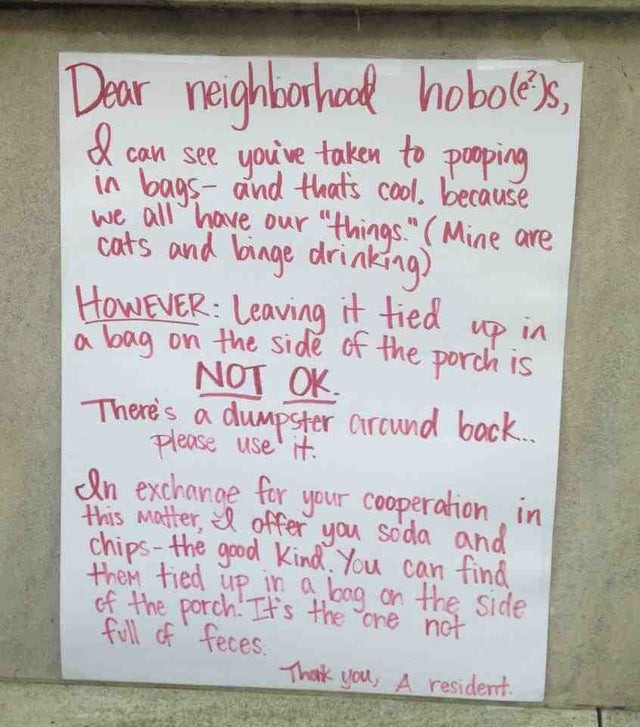 This sign was found on a neighbor's porch. The author admits that they're into cats and binge drinking, but bags of poop tied to their fence are just not their thing.
23) Birds & The Bees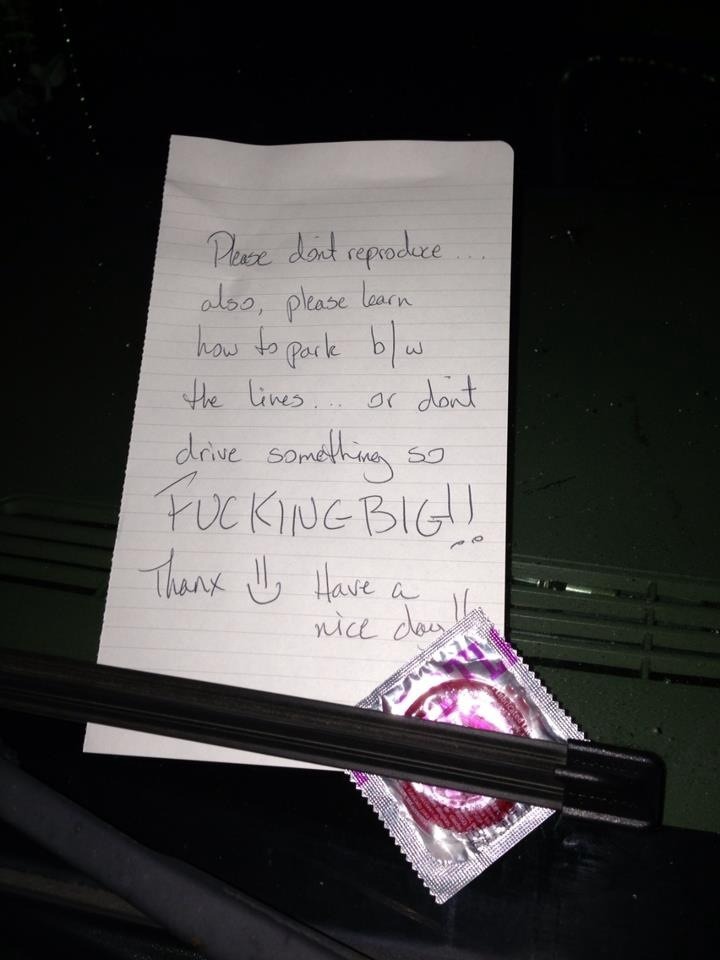 Getting that awkward "birds and the bees" talk from your parents is one thing. But getting the downlow from a stranger is just plain embarrassing!
24) Not So Peachy Keen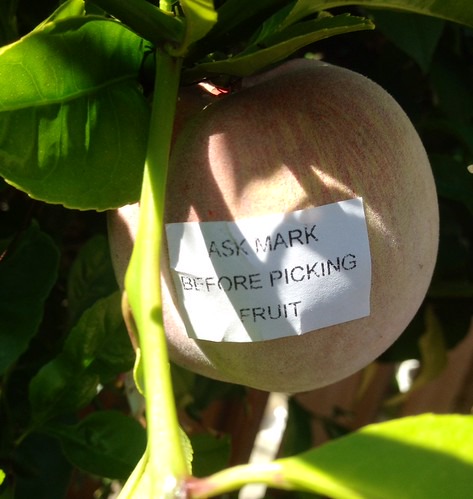 Ask, and ye shall probably not receive. This is Mark's sourpuss way of saying "No way Jose!"
"One of my neighbors, Mark, has a lemon tree and he always tells everyone to 'Help themselves!' However, last week, someone took the last lemon — which really upset Mark. A couple hours later, we noticed what looked like a peach on the lemon tree."
25) Barking Mad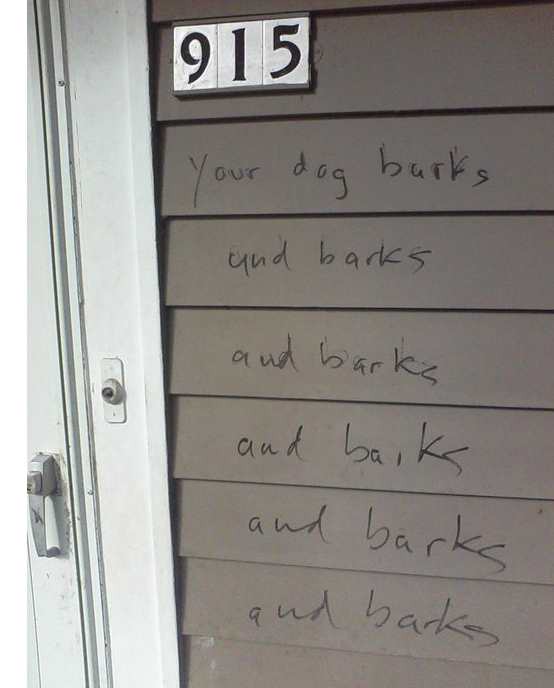 This is the kind of neighbor that makes you glad to have a watch dog. You never know who is going to keep a scorecard of the number of barks your pup makes!
@jagershotzz3
"Of course the dog is barking; you're creepily standing by the front door of his house."
26) Trash Talk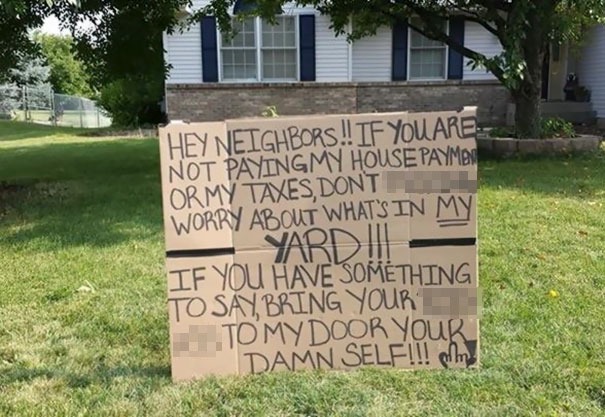 Well that's certainly one one to get your point across. To put it in context, here's how the situation unfolded.
@Unwiggly:
"From what I gathered the homeowner had cleaned the garage and had some garbage out for pickup one day early. Neighbor called city to complain. City stopped by and made homeowner put it back for a day. Cops showed up today and made homeowner edit the profanity out of the sign. Good times."
27) Tomato Thief!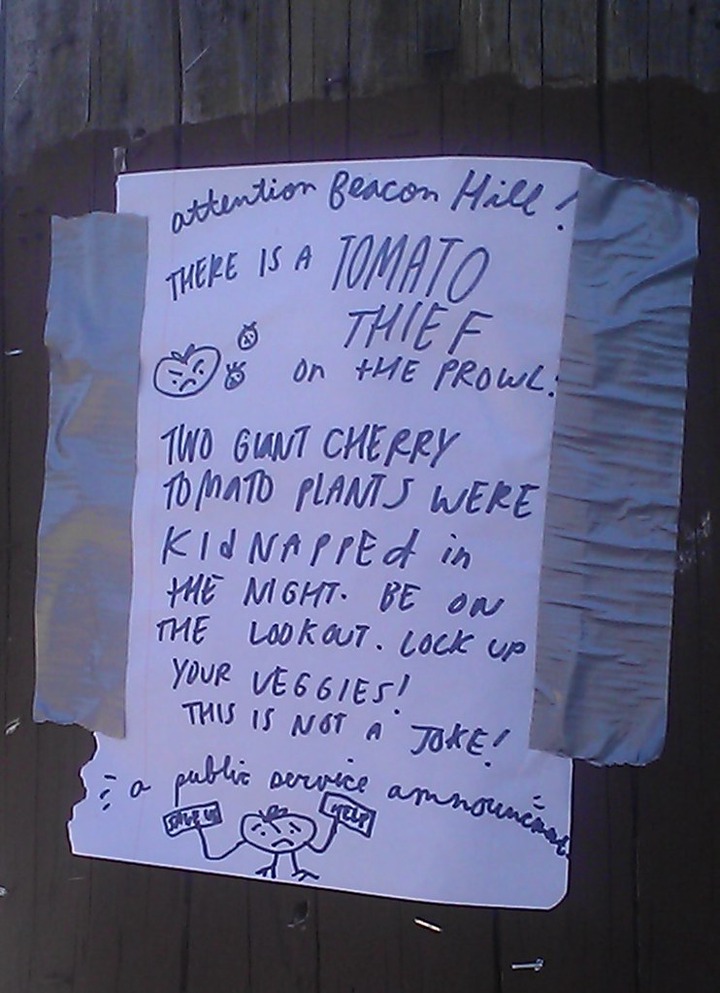 Attention Beacon Hill: hide your kids, the dog, and even grandpa! There's a hungry tomato thief on the prowl.
"Two giant cherry tomato plants were kidnapped in the night. Lock up your veggies. This is not a joke!"
28) Pennies For Your Thoughts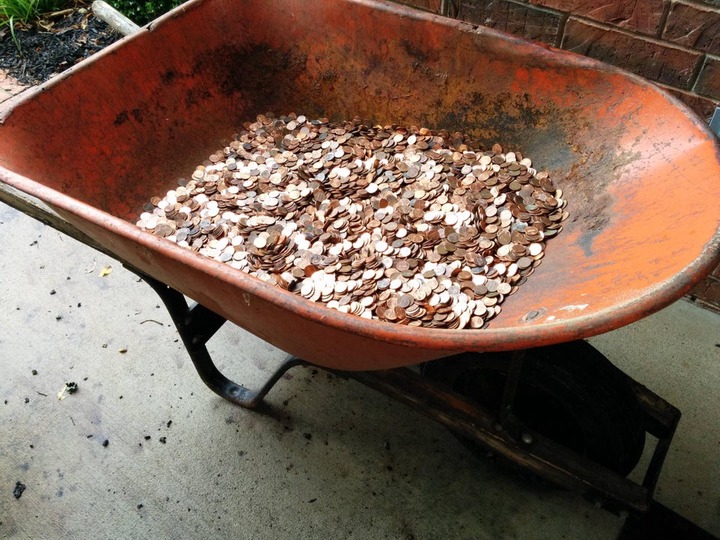 Well, you know what they say about payback. At least they got a free wheelbarrow out of the deal.
@dreampopper:
"My neighbor owed me $288.66 for my vet bills after his Great Dane attacked my Golden. This is how he paid me, one day before I was going to take him to small claims court."
29) This Doesn't Belong Here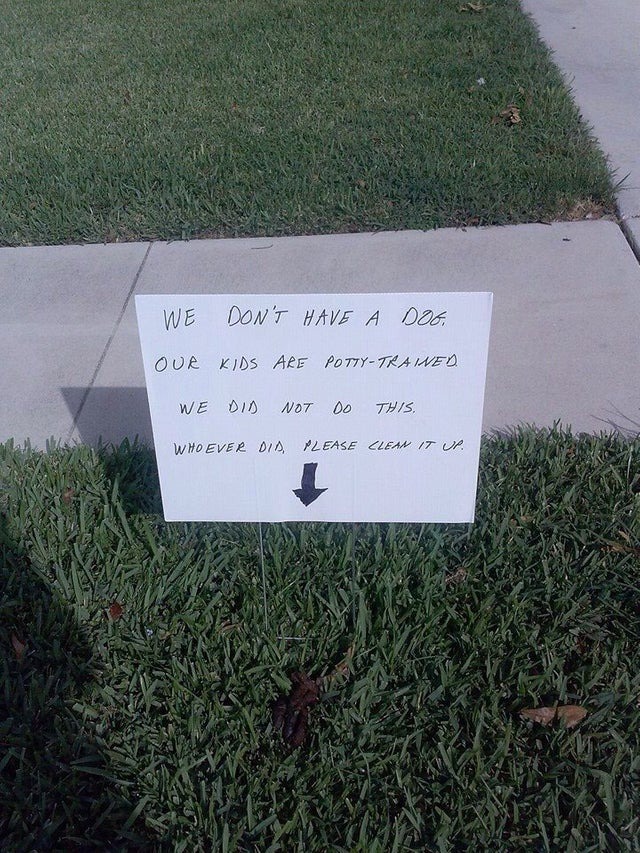 This guy got sick of his neighbor not cleaning up their dog's mess. So he took it upon himself to point out what doesn't actually belong on the grass.
@azozel:
"Well, if he's lucky maybe the owner of the dog will respond with a sign of his own. He's turned his lawn into an extremely slow message board."
30) Curious George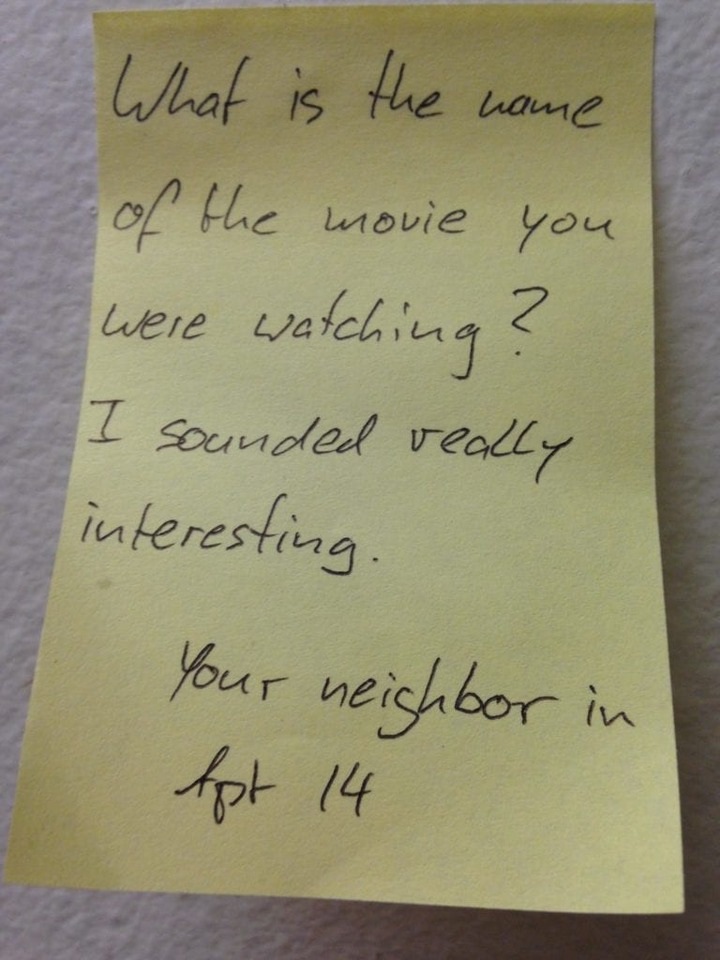 This neighbor was very polite in their passive-aggressive request. They just wanted a recommendation on which show to watch on Netflix.
Content created and supplied by: Shanelize (via Opera News )