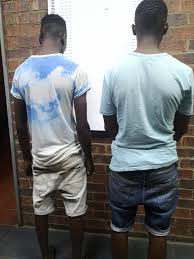 Two hitmen in KwaZulu Natal appeared in kwamsane Magistrate's court for the disheartening murder of an older couple
Source:https://www.saps.gov.za/newsroom/msspeechdetail.php?nid=31040
According to the SAPS news report the two hitmen named Ncebo Mthethwa and Zandiswa Mncedisi murdered an older couple at their home in Mtubatuba last year on 21 November 2020, the police found the the older couple with multiple gunshot wounds on the body and head.
At this point it is unstated why the hitmen shot the couple more investigation will be done on the matter, the first suspect was first arrested while hiding out in Tembisa, the second suspect was arrested in Mtubtuba they were all taken to jail for the murder of the couple.
The two hitmen appeared in Kwamsane Magistrate's court yesterday 16 February 2021 for the murder charges, the case was remanded to 22 February 2021 which is on next week Monday they will be called for a bail hearing, many people in Mtubtuba were heartbroken because the couple are said to be friendly people who had no issues with anyone.
Source:https://www.saps.gov.za/newsroom/msspeechdetail.php?nid=31040
Content created and supplied by: TshiamoMbiza (via Opera News )