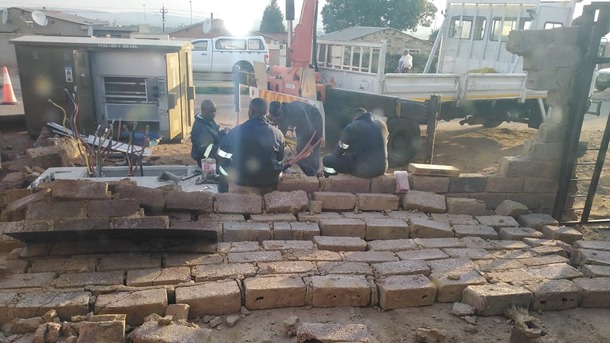 For every decision or doing there's its consequences to suffer later, but it no secret that those that have power within the society are likely to get away with it.
The reckless job of the power utility Eskom has left a 5-year-old child with injuries after a crane that was used to lift up an electricity box hit the wall, which resulted to topping on the child.
The electricity box is located outside the 5-year-old mother's house. It is said that when the crane was attempting to raise the crate, it hit a wall surrounding the house during the repairs. In turn, the wall collapsed on the minor child who was at the time playing inside the yard.
It is understood by the time this incident happened the mother of the child was at work. The mother have decided to include the law in this matter, following numerous attempt to get hold of Eskom officials with failure. The mother and other parents whose children were affected by this incident, are taking the power utilities to court demanding 1.4 million for the damages.
In the letter of demand, it is reported that Eskom had a legal obligation to fix the electric box. In doing so, it was a responsibility to guarantee that this was done in a way that is safe for those nearby, and in a way that does not pose a danger to the property or well-being of others.
Source:https://www.iol.co.za/pretoria-news/news/eskom-sued-for-r14m-after-crane-lifting-electricity-box-hits-wall-which-falls-on-boy-9a5f77ca-1a7d-4faa-90bd-03091d091bf6
Content created and supplied by: ArthurM (via Opera News )