Maake is known as the "Wemmer Pan Killer" because it was in this area (Wemmer Pan) of Johannesburg that he targeted most of his victims, beginning in April 1996. At first the Brixton Murder and Robbery Unit of the South African Police Service (SAPS), the unit primarily responsible for investigation of serial killers in the Johannesburg Police Area, did not link his crimes together, believing that they were the work of two separate serial killers due to the difference in patterns between the murders. During the investigation of Maake's murders, two separate criminal profiles were created; one for the "Wemmer Pan" murderer and one for "Hammer" murders.
Maake was arrested in December 1997 as a suspect of the "Wemmer Pan" murders and initially acknowledged responsibility for the crimes. He cooperated with police officers on several occasions to lead them around the vicinity and point out the locations of his crimes. The data generated by this was later used with Geographic Information Systems (GIS) and crime mapping technology to provide diagrams of the geographical extent of the serial murders. The Wemmer Pan serial killer trial was one of the earliest uses of GIS to aid in court prosecution by the SAPS. Geographic profiling later revealed that the majority of Maake's murders were centered on his two residences, the place where he worked, and the residences of his brother and girlfriend.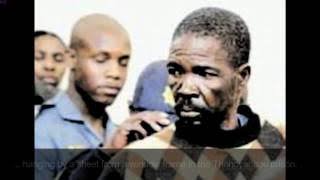 He was arrested on December 23rd 1997, convicted on September 6th 2000, sentenced to 27 life sentences + 1159 years and 3 months imprisonment at Johannesburg, South Africa. Maake was convicted on charges of murder and other possible charges during his lifetime.
It is also unfortunate to note that serial murders are not new to this country. In fact, South Africa has the second-highest number of serial killers in the world. In this list, we'll take a closer look at 12 of the most insane ruthless serial killers who have murdered countless South Africans over the last century.
He strangled women, usually with their own underwear, and then wrote the word 'bitch' on their corpses. He recruited his victims by promising them false job interviews.
Content created and supplied by: Lucccc (via Opera News )