OpSome of the comments on this post teach us that our society is now so broken it doesn't even know the role of Government, Police and some of it totally lacks a crucial brain!
1. This was a State event, the State had an obligation at law to put measures in place to protect property. Yes graves are property.
2. The State put in place a lockdown measure and said not more than 30 people should be at a burial, even at heroes acre is is adhered to.
3. But the same State allowed that rule to be broken mainly by ZANUPF youths who belong to the party that runs the State!
4. There were police officers and soldiers at this burial, yet graves were desecrated under their nose. Yet we have citizens who don't see all these 4 points, and still want to rant about how it has nothing to do with Government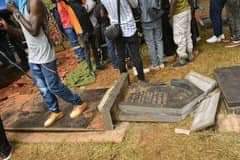 It's so embarrassing to learn how our youth have brainwashed, to a point whereby they don't even know the roles that must be played by the state. Infact the whole Nation as a whole had been deliberately brainwashed by this MONSTER GOVERNMENT
The main problem why the young Generation had been thrown under the bus, in every aspect it's because, the youths of Zim still rely on the old age to give them new ideas, and last importantly the youth are the backbone of the nation
But the youths of today are not even participating in day to day running, of their mother land which is so sad to notice
https://www.facebook.com/1714941312061233/posts/2959687010919984/
Content created and supplied by: MangenaC (via Opera News )