who had upbraided him for burglary. Picture: Supplied
We know the killer and where he stays, says mother referring to regard
Cape Town – A Steenberg mother's world came whipping on Sunday night when she was drawn nearer to come and see a body flooding with blood just meters from her home.
Masuret August says she was dazed to discover the body had a spot with her 33-year-old young adult Lloyd, who was purportedly beat down by miscreants who had chided him for burglary.
Lloyd passed by temperance of his injuries on the scene at the association of Banjo Road and Choir Street.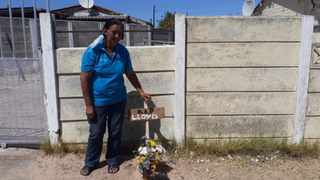 "He was not a hooligan, he didn't save the benefit to pass on like this," cried Masuret. He was beat down by a lawbreaker and his partners.
Lloyd August Picture: Supplied
"The accountable party was around when the police appeared at the scene, yet they didn't get him.
"We were told they reproved him for taking, yet everyone understands that isn't right."
The mother of five says she needs a motivator for her youngster.
"I'm not OK plan that his killer is sans walking. It is hard for us as a family to see that he is no more."
The family has put a cross and blooms where Lloyd's body was found.
Masuret says her youngster was gay and was conspicuous locally. She is mentioning that eyewitnesses approach.
"We know the killer and where he stays. We should stand together and demand a motivation for Lloyd," she says.
SAPS' FC van Wyk says: "The conditions wrapping the event are being investigated. The acknowledges got away from the area and [are] yet to be gotten."
Anyone with any information about this event can contact Steenberg SAPS on 021 702 9000 or Crime Stop on 08600 10111.
https://www.iol.co.za/news/south-africa/western-cape/we-know-the-killer-and-where-he-stays-says-mom-demanding-justice-c8bb9959-c385-4c17-bad0-de19aeee1f8b
Content created and supplied by: Joyce28 (via Opera News )