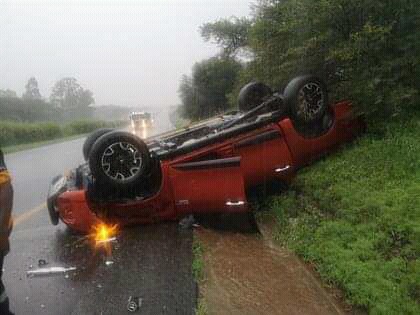 Zandile Majuba(43) from Lehae, Lenasia said her husband was with another woman when he was involved in an accident.
Majuba said she always heard rumours of his cheating but she didn't take them serious because her husband is a bubbly person and he has many friends, both male and female. Before the accident she called her husband and he said he was in a meeting and they will talk when he gets home. She said she then started cooking because it was raining and when it rains they normally have electricity problems, so she devided to cook before the electricity goes off.
"I started cooking and as i was busy cooking i received a call from my niece who told me she saw a car that looks like my husband's car next to the road and it was involved in an accident. She said she was not sure if it was his because she didn't stop since it was raining, but the man she saw was with a woman, so i didn't think it was him because it happened in Welkom and my husband works in Johannesburg so i thought it can't be him.
I then received a call from an unknown number and it was the private hospital they had taken him to. I rushed there and when i got there he was lying on the bed and a polive woman explained everything to me. The woman he was with was there and i didn't even talk to her because i was angry and in disbelief. She apologized for everything and said she will stay away from him when he gets discharged but i wasn't interested, he was cheating on me and maybe if it was not for the accident i wouldn't have known that he's taking me for a fool by cheating on me while im loyal to him. When he gets discharged im going to divorce him" she said.
Content created and supplied by: Wiza88 (via Opera News )