A Man Killed His Friend At His Own House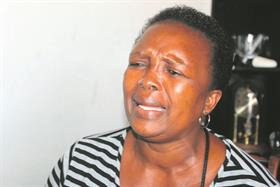 Too many killings are happening in our Country, people kill one another because of jealousy. A person who you call a friend can end your life.People aren't easy to trust,trusting a person wholeheartedly can sometimes lead to a disaster.
A man killed his friend in his own house in zone 2 of Langa, Cape Town. After murdering him, he left his body to rot in the house.The man was killed on the 20th of January, and his body was found on the 24th of January.
The Langa Safety Patrol was alerted about the incident by the suspect's girlfriend.
The Daily Sun was told by the team's Vuyani Tshamulambo, that the woman told them the victim Luyanda Pentle was killed by her boyfriend.
" I think the boyfriend tried to stop her from reporting it, but she couldn't stand a smell.When we arrived at the house, it was like a rotting rat was somewhere in the yard.The body was already turning green when we found it, said Vuyani Tshumulambo Team."
The mother of the deceased couldn't believe the news when she heard.She was at work on the day when she got the devastating news.She went home,and she got there people were crying.
A tenant who stays at the backroom said,she heard screaming on Wednesday, and the next day she saw a suspect cleaning the house.
The Police are currently looking for the suspect.
Source:Daily Sun News
Content created and supplied by: mpotsengmmatli60 (via Opera News )