It is so bittersweet how some people out there have been looking for true love with no luck of finding it.
"I need someone who can deal with me. I need a guy who will make me see things from a different point of view, a guy who will make me talk about the things that scare me. Also, I need a guy who will make me open up to him. A guy who won't give up on me", these words surely mean a lot to the influx of ladies out there !
Real ladies need guys they can talk to about almost everything. They don't prefer the ones who get worked up over tiny details, who always make a tissue an issue. Men usually say women are complicated and they don't know what they want in life but to be honest women are not complicated. They are like that book that intrigues you, the one that you always make sure read from the first page to the last one !
If you can perceive them like that then I can assure you that you will know how they operate. When women are content, they don't become too much of a hassle. They need love, care, honesty and the bonus of it all is money especially if they are jobless, but the most important is the love and the care.
While still on the love and care, there's a beautiful plus size woman who took to social media to seek love from any man who's willing to give her just that. It seems this woman I'm referring to is willing to chuck out R200 000 monthly just for appreciation! Here's her post that elaborates that in full :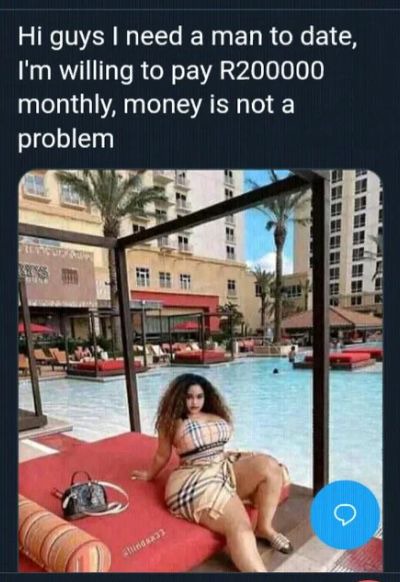 According to her post, she needs a man to date. If there was something else she needed, I think she would have laid it down too.
Note : The post and the picture above was obtained from social media
Content created and supplied by: Septic (via Opera News )